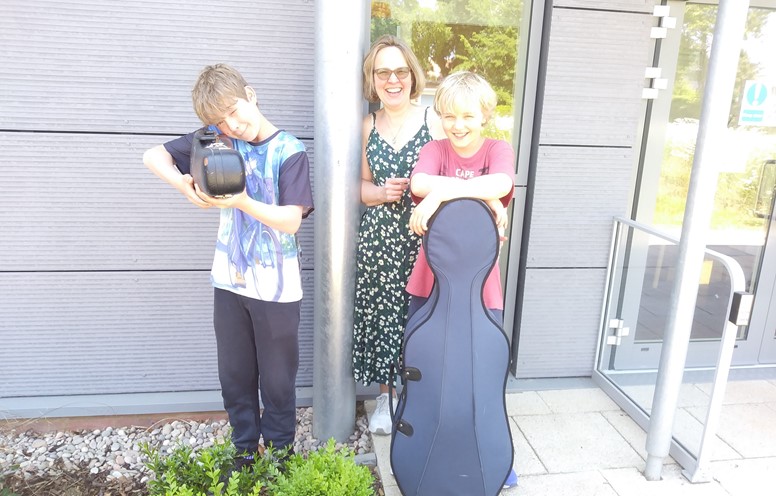 During the summer months of July and August – school and college holidays! - Nick, Annette and Clare have been working flat-out keeping up with the influx of new borrowers, 'upgrading' borrowers and instruments returning at the end of loans as well, not to mention Marco's steady stream of repair and servicing work in the workshop.
19 new borrowers have competed for appointment times with 13 upgraders – these appointments involve checking instruments in and out – and 27 returning instruments. That's 32 instruments going out and 40 coming back into the Loan Scheme.
In addition, we have received some generous donations, notably an attractive Wamsley cello (London, 18th c.) and a beautifully crafted violin from American maker Celia Bridges, who was visiting Benslow for a residential course.
Perhaps the highlight of this period has been the completion of the thorough-going restoration of a Salomon cello (Paris 18th c.) generously lent to the LS by an Australian benefactor - yes, really - and the very next day borrowed by an exceptionally talented youngster who started her studies at the Menuhin School the very next day. Sometimes it just works out like it was always meant to be!
Finally, it is proving a wonderful experience for me personally, to be working in the Loan Scheme since being handed the reigns by Etta in May, and for so many reasons: working with a fantastic, dedicated team here in the impressive new Aston Building; being surrounded by and managing hundreds of instruments; drinking great coffee on demand; and perhaps supremely, the almost daily interaction with our extraordinary, energetic, talented, aspirational and grateful borrowers, ambassadors all, for our unique Loan Scheme.
If you are interested in finding out more about the Benslow Music Instrument Loan Scheme and what we can do for you or how you can support us, please visit our website.
Nick Evans-Pughe - Head of Benslow Music Instrument Loan Scheme