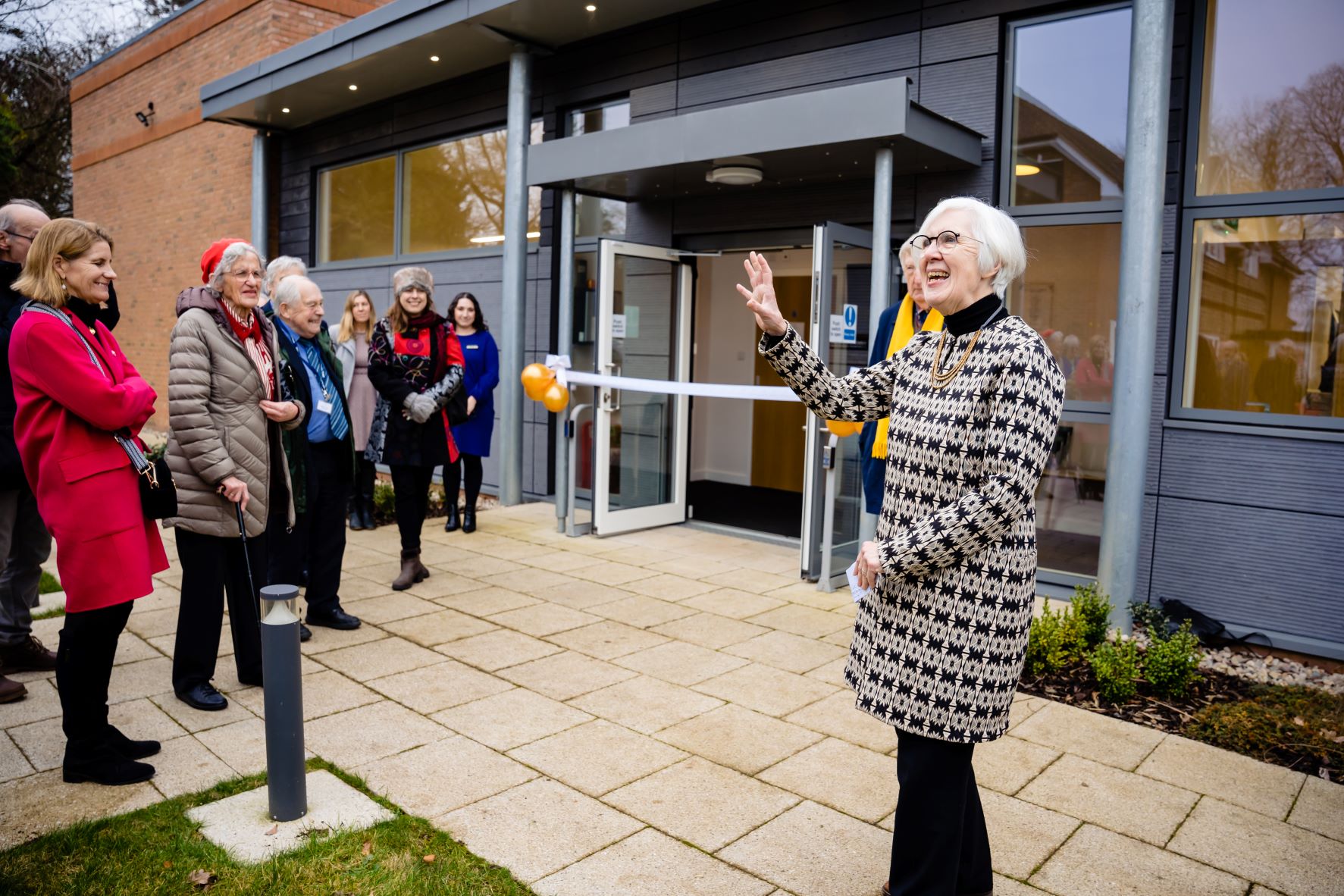 On Sunday, Master of the Queen's Music and President of Benslow Music Trust, Judith Weir CBE, officially opened The Aston Building - a new facility for the UK's oldest and largest Instrument Loan Scheme which celebrates its 90th anniversary in 2022.

The Benslow Music instrument Loan Scheme (BMILS) started humbly with a letter to The Times newspaper in 1932, and has blossomed into a well-respected organisation whose operation over the last 9 decades has offered thousands of aspiring young artists the opportunity to borrow high quality instruments to enhance and further their musicianship.

The afternoon included performances by two current BMILS borrowers, Olivia Trezise and Apollo Premadasa.
Olivia is 16 years old and after studying at the Royal Academy of Music for one year, she now attends the Junior Guildhall School of Music and Drama. Olivia, who has borrowed two previous instruments from the scheme, currently plays an old English violin by George Craske, generously on loan to BMILS from the Hope Scott Trust since 2009. Apollo Premadasa is 8 years old and he plays an English ¼ size cello by Colin Garrett, (first loaned to BMILS in 2000 by the maker, later donated to the scheme in 2017). He currently also studies at the Junior Guildhall School of Music and Drama. Apollo also plays trombone, orchestral percussion and piano as well as conducting and composing his own work including Pandemia, dedicated to all the victims and heroes of the pandemic to celebrate the anniversary of the NHS. Apollo played on of his own compositions entitled Sentiment at the event.
Judith Weir said "Ladies and gentlemen. How honoured I feel to be cutting the ribbon on the Aston Building, and indeed we're all honoured to be here on this auspicious occasion. We're celebrating not just the opening of this important resource, but also the 90th anniversary of its original inspiration, a letter written to The Times by those great ladies, Edith and Editha, proposing that the nation's "Good Violins Lying Idle" could be lent out to young learners. It's a reminder of the importance of having good ideas for the future, and sharing them with others - and also of how long it can take before your idea becomes a reality. Many people here will remember how Benslow, until recently, had to store the donated instruments, firstly in a portacabin, and then in a few small bedrooms on campus. Today we're celebrating the quality of the scheme, which provides developing musicians with a crucial upgrade to a good instrument just when that encouragement is needed. Of course we're also about to celebrate the quality of this beautiful new building, and of Benslow Music Centre as a whole. We visitors experience it as a friendly and accessible place, but the work done here by teachers and administrators is of the highest professional quality. These days when we read about music education in the media, it can alas often be a bit of bad news, about a funding cut, or another curriculum setback for school music - and it's important that these things are made known. But there is also a positive narrative be told. Many wonderful things are being done in music education today, and our new Aston Building represents a storehouse of good deeds: think of all the donors and lenders, the teachers, parents, families and of course performers represented by this fine facility. Although we're marking the 90 years which have brought us to this important moment, it's also a new beginning for our loan scheme. The next job is to spread the word about how accessible and inexpensive an instrument loan from BMILS can be, and how easily it can be organised. Please remind your teacher and musician colleagues, and help to spread Benslow's imaginative generosity around the nation!"
Etta Dainty, Head of BMILS said "Having benefitted from a similar scheme as a student, I'm fully aware of how important affordable access to quality instruments can be - and consequently how a lack of access can potentially stop a life of music in its tracks. There should be no barrier to young people pursuing their musical dreams, and at BMILS we strive to make ourselves visible and available to potential borrowers from all backgrounds. By increased collaboration with institutions including national Music Hubs and schools, and charities such as Awards for Young Musicians we aim to help as many young musicians as possible. Seeing a young player's face light up when they first try an instrument of significantly better quality than previously available to them is priceless! A whole new world of sound opens up."