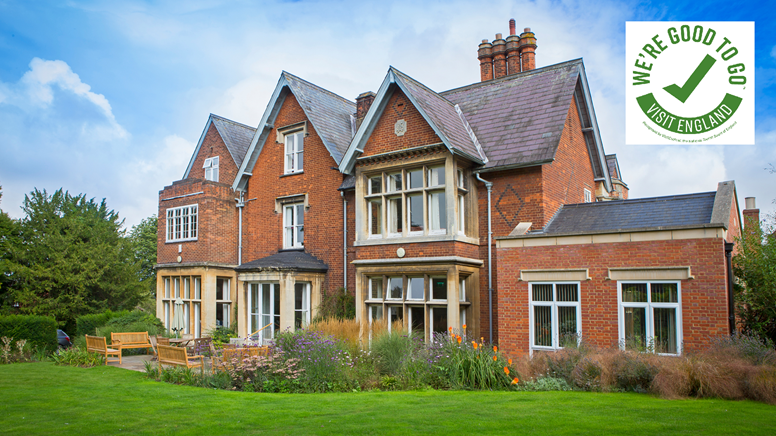 We are focused on operating our courses, concerts and events in a responsible way that continues to give our guests opportunities to create enjoyable Benslow Music memories. We have to manage our activities in a very different way from what we've known before.
Our phased reopening will demonstrate a deliberate approach, with limits on course attendance and controlled guest numbers to align with guidance on social distancing. This will inevitably mean that we will not be able to run as many courses as we would like. We're committed to doing our part and we need our guests to do their part too as we work together to focus on safety. Our policies and procedures are under continuous review and are subject to change as we monitor conditions and receive guidance from health and government authorities.
We are pleased to have acquired Visit England's "We're Good To Go" Industry Standard mark which means that we have followed government and industry COVID-19 guidelines, have a Risk Assessment in place and a process to maintain cleanliness and aid social distancing.
We were very disappointed to read the latest Government guidance (see here) which limits singing, wind and brass playing in groups or in front of audiences to professionals only. This guidance will severely impact the types of residential courses that we had planned to run in the coming months. If you are a singer, wind or brass player and have booked a course with us, please wait for us to contact you directly to confirm the status of your course.
What we are doing to ensure that you can enjoy your visit to Benslow Music:
How will the music sessions be run?
Courses will take place in our large rehearsal rooms to allow for adequate social distancing and there will be limits on course participant numbers.
Is it safe to play the Benslow Music pianos and instruments?
Music stands will be wiped down periodically (or bring your own if preferred) as will piano stools. Special care of our pianos will follow expert guidance. Pianists please wash hands carefully before and after playing each time; we recommend you wear a face mask to minimise spread of moisture on to music desk and keys; keys will be cleaned each day and may be wiped by players with slightly damp (not wet) soapy cloth under supervision. Sanitiser gel will be available in each practice room.
What is the cleaning regime?
Sanitisation stations will be installed around the Benslow Music campus and house staff will follow a frequent (at least thrice daily) pattern of surface cleaning, including all entrance doors, door handles and push points, light switches, staircase handrails, lift control buttons, water coolers and communal toilets.
How do I check in to my course or B&B booking?
We will allocate arrival time slots (as far as possible) for each guest. Please report to the Main House entrance hall (not to Reception) and use the sanitisation stations to clean your hands before entering. Face masks and gloves are provided should you wish to use them.
Bedroom keys will be sanitised before they are issued and upon their return.
Do I need to wear a face mask?
Face masks and gloves are provided should you wish to use them, these are not compulsory. Please bring with you any additional PPE and hand sanitiser that you feel you need (for example, if you have any skin allergies or as extra personal protection).
Will my bedroom be serviced during my stay?
We will not service your bedroom during your stay, however on request we are happy to change towels and replenish consumable items. Your bedroom will have been made up several days in advance of your arrival. Where possible we aim to allocate rooms with an empty room between each occupied and have only one bedroom using what is usually a shared bathroom.
What's going to happen at meal times?
You will have a pre-allocated dining room seat for the duration of the course set to allow for adequate social distancing (no more than 3 guests to a table). Staff will serve meals wearing a face mask and gloves. Our usual etiquette of clearing plates between courses will not be observed, in order to reduce chance of cross contamination. Instead all courses will be served. Used crockery and cutlery will be cleared by house staff after guests have left the dining room.
Meal service for lunch and dinner will consist of either a buffet served by staff observing appropriate distancing, or individual plated service taken directly from the kitchen to you at your table.
For breakfast service orders will be taken at your table for tea, coffee, fruit juice, toast, continental or cooked breakfast as on menu.
What's going to happen at break times?
A member of staff will pour and serve your drinks and cakes as required. A one way system will be in operation in the Main House and Waldeck building to ensure social distancing.
Will the bar be open?
Yes staff will be serving you wearing face masks and gloves. Drink orders will be put on a tab to be settled up on your departure using contactless credit or debit card. We discourage use of cash and we would like you to help us keep any direct contact to a minimum.
I feel unwell prior to my stay. What should I do?
Prior to your stay with us, should you feel unwell or develop symptoms of COVID-19, please do not travel to Benslow Music.
I feel unwell during my stay. What should I do?
Should you feel unwell or develop symptoms of COVID-19 during your stay, you should self-isolate in your bedroom and contact our Duty Manager on +44 (0)1462 429205. Put on a face mask and gloves if you have them. We will ask for contact details of your doctor and family/friends who will be asked to collect you so that you can return home safely.
When will I be notified whether my course will be going ahead or not?
We will notify all participants whether their course will run or be cancelled by email between 4-5 weeks before the start of their course. Please wait for us to contact you directly to confirm and avoid contacting us to enquire about courses later in the year. Our small team are currently dealing with a high volume of correspondence and decisions will be made on the viability of courses on a rolling weekly basis. Thank you for your patience and understanding. Please visit www.benslowmusic.org/courses for our latest list of residential, day and online courses.
We will refund fees paid for all events cancelled and are honouring the cancellation terms in our tutor contracts.
My course hasn't been cancelled but I do not want to / am unable to attend because of COVID-19. What will happen to my payment?
If you decide not to attend due to COVID-19 or if you are quarantined by a local/area lockdown as instructed by government, we will happily transfer your payment to a future course free of charge or issue a full refund in Benslow Music Vouchers, which you can use towards a future course, concert, shop purchases and Membership subscriptions.
Local lockdown restrictions have been put in place by Government in my area, what should I do?
Please contact us if you live in any affected local areas as regrettably you may not be able to attend your course. The latest information on affected local areas and the restrictions is available here: www.gov.uk/coronavirus. If you are unable to attend your course due to local lockdown restrictions, we will happily transfer your payment to a future course free of charge or issue a full refund in Benslow Music Vouchers, which you can use towards a future course, concert, shop purchases and Membership subscriptions.
When will I be able to book for courses in 2021?
The current crisis has unfortunately delayed the release of next year's music programme and we will not be producing and distributing a printed brochure this time round. We hope and aim to launch next year's courses on our website in Autumn 2020. More details to follow!
What is Benslow Music doing to keep us COVID-safe at concerts?
As we welcome you back to our first concerts since the COVID-19 outbreak, please be assured that your safety and that of our performers and staff is our top priority.
The key changes in coming to concerts at Benslow Music include: reduced capacity in our Peter Morrison Hall to ensure we maintain social distancing of at least 2 metres; outdoor performances in our beautiful gardens; live-streamed performances; shorter performances with no interval; audience members will need to wear face-coverings (unless they are exempt as per the Government's guidelines); live-streamed performances with no audience; no printed programmes; clear signs and helpful staff to make your visit straightforward; regular and thorough cleaning, with hand sanitiser for you.
General guidance:
We have reduced the capacity of our Peter Morrison Hall and outdoor performance spaces to ensure we maintain social distancing of at least 2 metres.
Performers will be socially distant from each other, and from the audience, following Government guidelines.
If you or someone you know has experienced any of the symptoms of COVID-19 in the 2 weeks prior to the concert you should self-isolate and not come to Benslow Music. Please email info@benslowmusic.org to transfer your tickets to a future event free of charge or request a full refund in Benslow Music Vouchers, which you can use towards a future course, concert, shop purchases and Membership subscriptions.
We will clean the Peter Morrison Hall and its seating between performances.
Audiences, staff and stewards must wear face coverings inside our buildings and throughout the concert. Please bring your own mask to cover your mouth and nose.
We will follow our usual e-ticket systems so audiences should bring print at home tickets (either printed out or on mobile a device) or evidence of their ticket purchases for entry.
We will not produce a printed programme, but the performance will be introduced from the stage.
Some indoor performances will be an hour or less, with no interval.
Toilets will be open and available before and after concerts. Hand sanitiser will be placed at key locations and staff will be on hand to guide and answer questions.
Arriving at Benslow Music:
There is amble of car parking facilities on site, including spaces for blue badge holders. The Peter Morrison Hall will be open from 30 minutes before the start of the performance. Please follow the one way system to make your way there and be ready to show your ticket. Staff and signs will help you find your way around. Audience members should join the queue and will be led into the concert halls in safe groups.
During the concert:
We will be using a one way system to enter and exit the hall. Entry will be via the Peter Morrison Hall foyer and exit will be through the fire exit leading the gardens. All fire exits will remain accessible in case of an emergency. We will leave the concert hall doors open with the windows open to improve air circulation. If there is an interval, our bar (pre-ordered drinks only) and toilets will be available. At the end of the performance please stay in your seats until asked to leave by a member of staff.
Please email info@benslowmusic.org or complete the contact form on the right hand side of this page if you have any further questions. We look forward to welcoming you back to the "Benslow Bubble".
Updated 12 noon on 5 August 2020