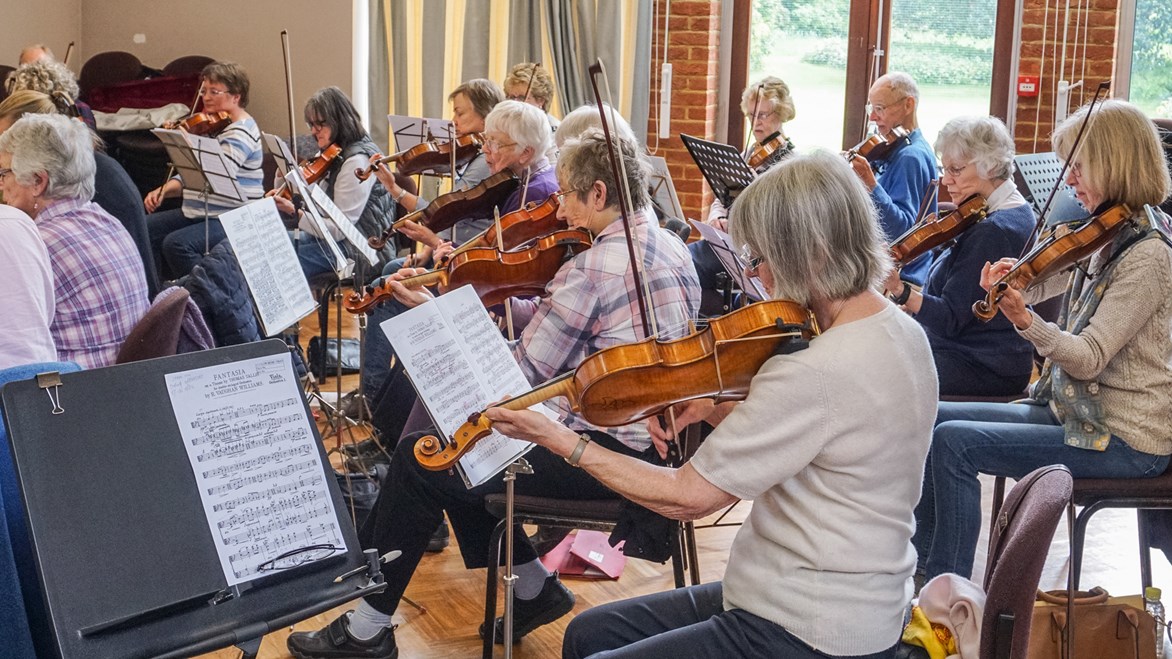 Booking courses
The easiest ways to book a place on one of our courses are by completing the online application form attached to the course listings or by calling us on +44 (0)1462 459446 between 9am and 5pm from Monday to Friday. If you choose to apply online we will contact you to confirm your place by email and arrange payment within 48 hours.
If you prefer to book by post, please complete the booking form at the right hand side of this page, including either a cheque (made payable to Benslow Music Trust) or card details, and post it to us at Benslow Music, Benslow Lane, Hitchin, SG4 9RB.
We ask for a non-refundable deposit in order to secure your place as follows (this must be received within 7 days, otherwise your reservation will be released):
000 Series Full course fee
200 Series £40.00
300 Series £50.00
400 Series £60.00
500 Series £70.00
600 Series £80.00
The balance must be paid no later than four weeks before the course begins. If it is not you will forfeit your place as well as your deposit. All bookings made less than four weeks before the course begins must be paid for in full at the time of booking.
Occasionally we may be obliged to delay confirmation of your booking but will take deposit/payment only when we know that we can accept it. We accept Benslow Gift Vouchers, cheques, cash, and most major debit or credit cards (please note that we do not accept American Express).
Benslow Music is committed to environmental sustainability and aims to reduce its paper waste wherever possible; confirmation of booking and other information will be sent by email. If you prefer to receive this by post please let us know.
What does the course fee include?
A residential course fee includes Standard single accommodation (with hand basin and shared bathroom facilities), tuition, use of relevant facilities and full board, including any hot beverages, biscuits and cakes which might be served at break times. Supplemental charges are payable for an en-suite room and for single occupancy of a double room.
A non-residential fee includes all of the above less accommodation and breakfast.
On a few courses part-time attendance might be possible. Please contact us.
En-suite accommodation and single occupancy of double rooms
You are advised to reserve your preferred room type at the time of booking.
Please note that the following supplements and deposits will be payable for all courses at the time of booking from 1 January 2020:
Under Occupancy
Course Number
Deposit

Single

Ensuite

Double/Twin

Ensuite Sharing

Double/Twin

Standard Sharing

Double

Standard

Double

Ensuite

000 Series
Full
N/A
N/A
N/A
N/A
N/A
200 Series
£40
£40
£30
-£10
£20
£50
300 Series
£50
£55
£40
-£15
£25
£70
400 Series
£60
£70
£50
-£20
£30
£90
500 Series
£70
£85
£60
-£25
£35
£110
600 Series
£80
£100
£70
-£30
£40
£130
Bursaries
Guests under 27 are entitled to a 25% discount on basic course fees (this reduction does not apply to room supplements). Bursaries are available to those individuals (normally, but not always, aged between 18-25 years old) who can demonstrate need for financial assistance to enable them to attend our courses. Bursaries normally cover up to 50% of the standard inclusive course fee and bursary holders must occupy standard accommodation only. Please contact us for details and application forms.
Refunds
Refunds for withdrawal from a residential course only for any reason apply as follows:
a) more than 28 days before the start of the course – full refund less deposit
b) 22 – 28 days before the start of the course – 75% refund less deposit
c) 15 – 21 days before the start of the course – 50% refund less deposit
d) 8 – 14 days before the start of the course – 25% refund less deposit
e) Less than 8 days before the start of the course – no refund
The date of refund is calculated once we receive a completed Cancellation/Transfer Form (these are available from info@benslowmusic.org). Refunds are not available for non-residential courses or for any other Benslow Music event or product, including concert tickets (unless an event has sold out or is cancelled). We strongly recommend that you take out insurance to cover cancellation costs.
For information about our COVID-19 cancellation policy and other frequently asked questions, click here.
Deposits
All deposits are non-refundable in all circumstances save where Benslow Music cancels a course. No deposit is required from those who are placed on waiting lists.
Transfers
Fees may be transferred from one course to another subject to availability up to 14 days before the commencement of the course originally booked. A compulsory administration charge of £20 is payable. Transfers for current members of Benslow Music Trust may be made without charge as long as the 14-day notice period is observed.
Disclosure
We do not at any stage disclose to any clients the names of those who have booked places on any course as per our privacy policy.
Benslow Music reserves the right to change without notice the tutors, performers, concert details and course programmes in the case of unforeseen circumstances.
Waiting Lists
If there is not an available place for you on a course at the time of booking, we will add you to a waiting list at your request.
If a place becomes available for you on the course, a member of the team will contact you by telephone (leaving a message if you are unreachable at the time). You will then be given until 5pm on the next working day to respond to the offer of a place. If we do not hear back from you before this time, your place will be offered to the next person on the waiting list.
No deposit is required from those who are placed on waiting lists and we do not at any stage disclose any other client names on waiting lists.
Photography
Benslow Music reserves the right to video and/or take photos of visitors to our campus. Material is used on our website, brochures and social media platforms. By submitting an application, you are giving your consent for these images to be used. If you would prefer photographs were not taken of you, please let us know.
Safeguarding
Any applications from those under the age of 18 should be discussed with us before booking to ensure that adequate safeguarding proceedures are in place. Guests under the age of 16 must be accompanied by an adult.
Privacy
Please refer to our policy here to see how we process your personal data and how this affects your privacy.
Online Course Guidelines and Safeguarding
Familiarise yourself with how to switch your camera on/off, and how to mute/unmute your microphone. Please mute your microphone whilst other another person is playing or talking, and keep your video turned on throughout the session. Please do not record sessions.
Be sure to wear appropriate clothing and consider that your surroundings will be captured on camera; ensure that the location you are broadcasting from is free from explicit, personal, sensitive or controversial content. Avoid broadcasting from a bedroom.
Remember to close any browsers or application windows which are not intended for broadcast — screen sharing is easy and allows others to see your computer/tablet/phone. You would not want to share sensitive information by mistake.
Make sure that you are aware of turning on "Original Sound" in Zoom (we will send instructions on how to do this ahead of the course_. If playing a digital piano or keyboard, please check that transposition has been turned off; these might have been unknowingly transposed at some point and may not be at the same pitch as an acoustic piano.
Attendees must be over the age of 18 at the time of the online course. Attendees under the age of 18 must have a guardian present, who is able to see the screen at all times.
Obey the standard rules of online safety regarding sharing of personal information — never share passwords or personal details.
COVID-19
For frequently asked questions, including our COVID-19 cancellation policy, click here.