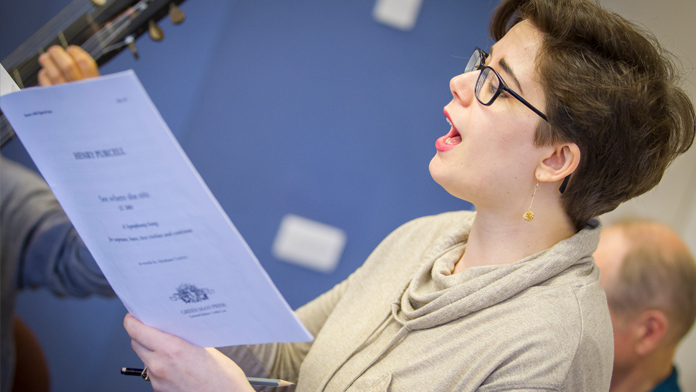 An inclusive course for all to experience Gregorian chant in a friendly, entertaining, informative and enjoyable context. A shared exploration of its music and cultural history, works towards daily performances of a meditative chant sequence.

STANDARD: IMPROVER, CONFIDENT, SKILFUL

Resident: £480 Non-Resident: £366 (25% off for under 27s) Code: 23/334
What is the course about?
Above all the course aims to sing the music of Gregorian chant; and through this to discover some historical and meditative aspects of our earliest music. Each day's work is experienced in the context of a simple structure based on the original shorter Benedictine Hour services sung mainly in English. You will work towards the performance of a meditative sequence of chant which includes some of the rich heritage of Latin chant. These will be on the subjects 'Sing'; 'Light'; and 'Mother'.
Gregorian Chant is the traditional unaccompanied vocal music of the sacred texts of the Western Christian Church. Originating in late 7th century Rome, it has been used in the church ever since in varying forms. During the 9th century the invention of a sophisticated notation to set down this orally transmitted Roman chant was a highly significant moment in European history. There will be time for a very basic introduction to these early Gregorian chant notations and the performance possibilities indicated by it.
The course will use the traditional printed Gregorian notation which will be fully explained.
All are welcome; singers and non-singers alike, beginners and experienced. Also those with interests in the history of music and cultural history.
What will we cover?
Chant notation and performance. Gregorian Chant in Latin, together with simple recitations in English. Examples of Chant for the Mass and for the daily Monastic service.
What will we accomplish? By the end of this course you will be able to…
Read and sing the chant from modern printed chant notation, and also recognise early 9th/10th century chant notations and some later mediaeval notations. Have a practical experience of singing a number of original Gregorian chants from the Mass, and have experience of reciting together with others the straightforward music of the Office.
What level is the course and do I need any particular skills?
Standard: Improver, Confident, Skilful
Singing experience is welcome though not necessary; former participants considering themselves not to be singers have been surprised and enjoyed themselves by simply joining in. An acquaintance with choral society or church choir singing in Latin is an advantage; and experience of using chant is naturally helpful.
How will the course be taught, and will any preparation be required?
Teaching is principally through practical singing and recitation both in Latin, and in English. No preparation is required.
Will music be provided in advance of the course?
A course booklet is given to each participant containing all the music to be used, which will be done at the beginning of the course.
Is there anything I need to bring?
Your enthusiasm would be a wonderful asset.
What previous participants said about this course…
"I learnt an enormous amount from an expert in his field."

"Very pleasant, good-natured and accommodating tutor with a well prepared programme. Enjoyed the diversions into the history and context of the music - John is very knowledgeable and was happy to answer any questions, no matter how far from the immediate topic."