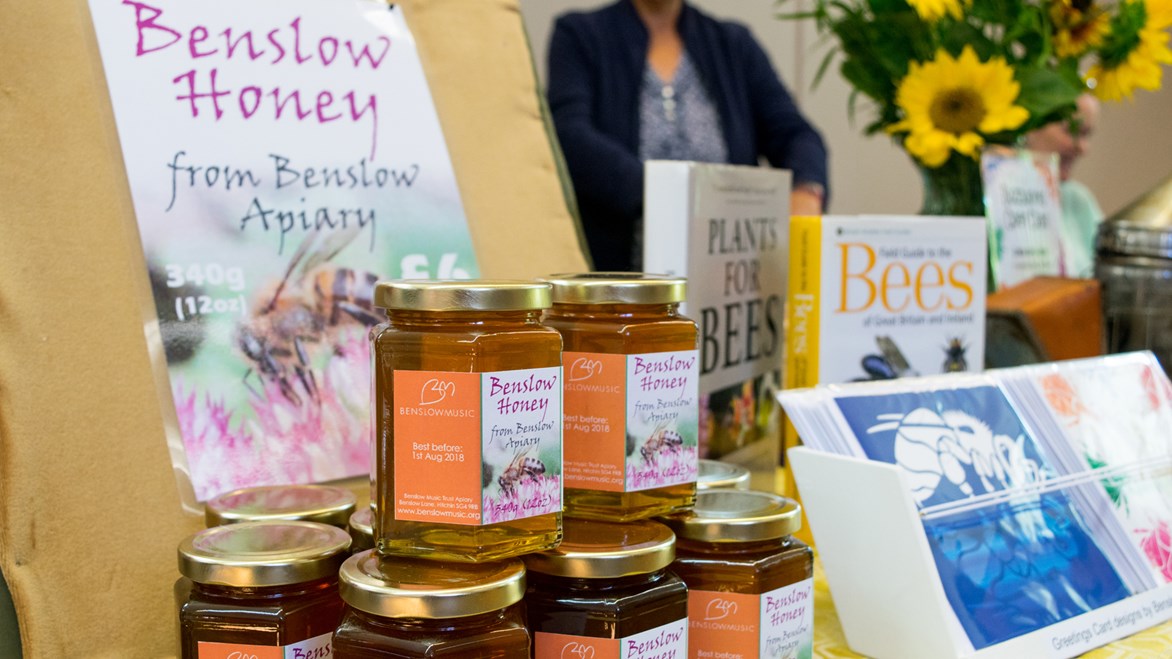 The Benslow shop is located in the Main House foyer. If you wish to purchase anything please ask a member of the Reception staff. If you require change this is usually available, cheques and credit cards are also acceptable.
Our stock currently includes a selection of seasonal Benslow Honey, celebration cards, cups and lots more! Check it out on your next visit!
The perfect gift for all musicians!
Gift vouchers are available from as little as £1.00 and can be used to pay for courses, concerts, purchases from our shop and membership subscriptions. Please ask at Reception or call 01462 459446 to enquire.
Missing Benslow Honey?
We're delighted to offer our famous honey for sale.
Clare, Finance Assistant for our Instrument Loan Scheme, and her daughter Lilah have very kindly offered to deliver our honey to customers locally in Hitchin, Hertfordshire by bike.
PRICES:
£8.00 per jar for local delivery in Hitchin
£10.00 per jar for UK delivery
As I'm sure many of you will agree, our honey is delicious! The bees at Benslow Music forage mostly in urban gardens which means the bees are taking nectar from a great variety of plants and this is what makes our honey so good and a lot nicer than other commercial and processed supermarket honey. Many people also swear that a teaspoon of local honey each day desensitises you to pollen and helps alleviate hay fever symptoms.
HOW TO PLACE AN ORDER?
Please email joanne@benslowmusic.org to place your order. Limited stocks remaining!