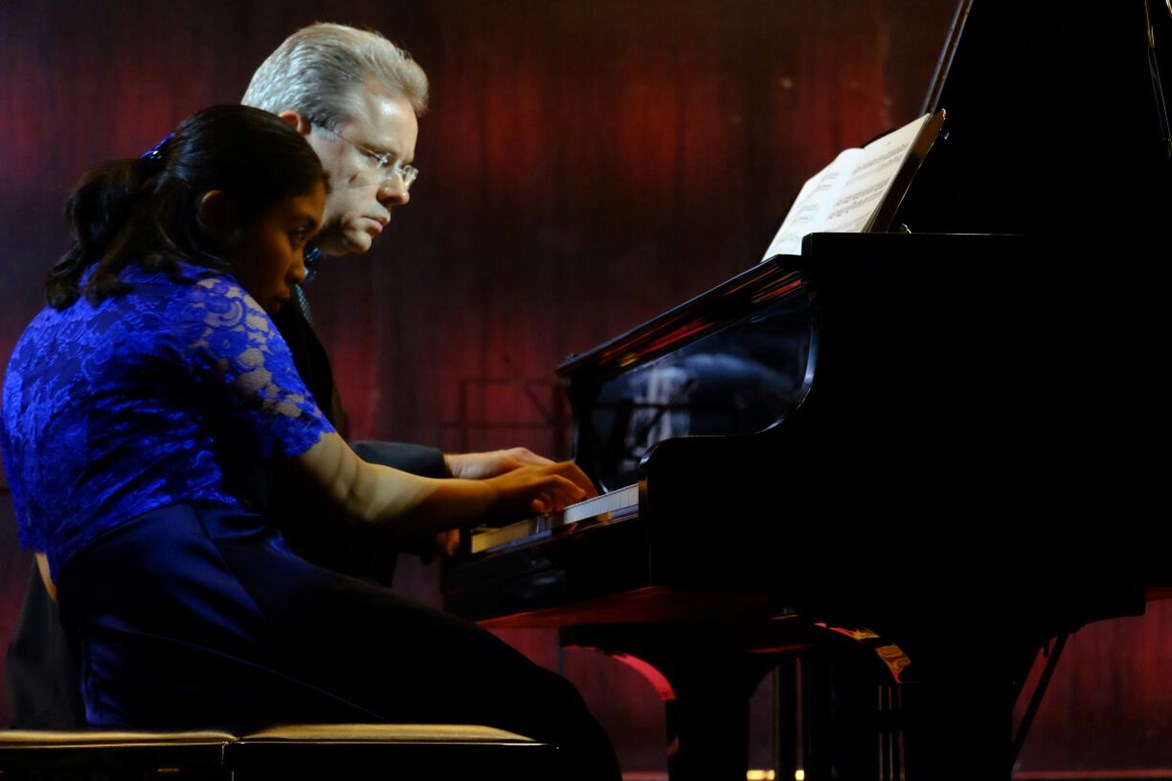 An opportunity to play and perform piano duets in a beautiful setting. Prepared works will be used to explore particular skills of duet playing in lessons, workshops, masterclasses and a final concert. A question and answer session, and a pub quiz (with Prosecco!) add extra fun!

STANDARD: CONFIDENT, SKILFUL

Resident: £359 Non-Resident: £260 (25% off for under 27s) Code: 23/291

Booking for Members opens at 11am on Tuesday 16 May, 2023

Non-Member and online booking opens at 9am on Tuesday 13 June, 2023

For details on how to become a Member to take advantage of early booking, see here.
What is the course about?
Benslow Music regulars Nigel Clayton and Imma Setiadi return for this popular course. Nigel and Imma will guide participants through some of the diverse and rewarding repertoire written for piano duet, whilst helping with the particular skills needed to play as a four hand team. Both pre-formed pairs and individual applicants are welcome, and although this is a piano duet course, there is also scope for work on two pianos.
Tutor websites: www.nigelclayton.com and www.immasetiadi.com
What will we cover?
Exploring your chosen pieces
Interpretation and musicality
Ways to improve ensemble particularly in piano duet settings
Rehearsal techniques
Repertoire knowledge
The ability to learn music more quickly
Spontaneity in performance and ensemble playing
Piano 'technique' in general (fingering, posture, pedalling, etc)
Piano duet for teaching purposes
What will we accomplish? By the end of this course you will be able to…
Gain more insight into your pieces
Acquire more technical security in your piano playing
Perform with more confidence and enjoyment particularly in piano duet settings
Have more ideas about effective rehearsal techniques for piano duet
Improve your quick study skills
Know more about the repertoire available for piano duet
What level is the course and do I need any particular skills?
Confident, Skilful
How will the course be taught, and will any preparation be required?
Several coaching sessions for each duet group
Masterclass
Workshop on piano duet related topic(s)
Q and A session
Final informal concert
Participants are required to let the tutors know in advance what repertoire they are planning to play. Suggestion for repertoire is available upon registration.
Will music be provided in advance of the course?
Participants are requested to bring their copies with them. Further copies will most likely be available in Benslow's amazing library. IMSLP also has a wide range of parts and scores.
Is there anything I need to bring?
Yourself and your duet partner with plenty of good humour
Music
Writing equipment
What previous participants said about this course…
"This is the best course I've ever attended at Benslow Music. The quality of tuition was superb, and the air was alive with inspiration. I've never worked so hard in my life, and I'm so looking forward to the same course next year."

"Nigel and Imma are a fantastic team. The quality of the tuition couldn't be faulted."

"Nigel and Imma were superb, they gave very helpful feedback, were good fun and very inclusive. I learned a lot!"

"A perfect blend of individual tuition, plenary workshops and performance opportunities."

"A unique chance to have the best of teaching and experience with others who inevitably share issues in duo/duet playing."