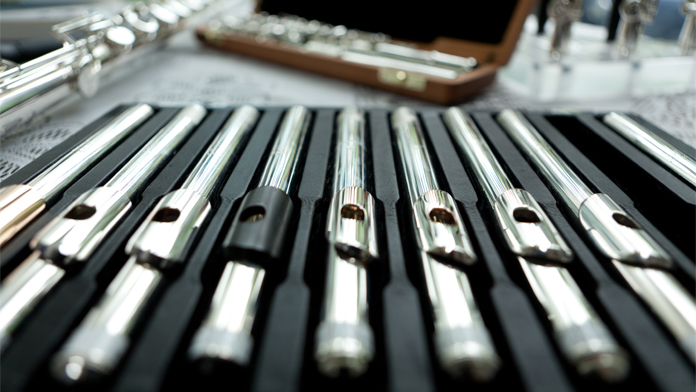 The Flute Confidence series will be an opportunity to work together on specific flute repertoire, with an emphasis in November, on breathing and sonority. Elizabeth guides you through core repertoire by Faure, Poulenc, and Bonis.

STANDARD: CONFIDENT, SKILFUL

Resident: £509 Non-Resident: £388 (25% off for under 27s) Code: 23/364

Booking for Members opens at 11am on Tuesday 16 May, 2023

Non-Member and online booking opens at 9am on Tuesday 13 June, 2023

For details on how to become a Member to take advantage of early booking, see here.
What is the course about?
Elizabeth has chosen three delightful French repertoire pieces to add her tips and recommendations for developing confidence in breathing and sonority. The pieces are: - Gabriel Fauré's Fantasie, Francis Poulenc and Mel Bonis Flute Sonatas.
Course attendees can prepare one movement, or the complete work and will enjoy exploring sonority, colours, expression, and techniques for developing confidence in group and one-to-one sessions. There will also be large and smaller flute ensembles throughout. The course ends with a final day working with pianist Richard Shaw, ready for an optional informal concert performance.
Elizabeth Walker is an Artist with Pearl Flute Europe. She performs regularly on baroque, 8 keyed and modern flutes, primarily in orchestras based in the UK, and has given solo recitals in festivals and conventions in Holland, Toronto, Chicago and Orlando, Switzerland and throughout the UK. She taught for thirteen years at the specialist music school in Wells and runs an annual flute course in Tuscany (www.flutesintuscany.co.uk) which offers tuition, masterclasses and chamber groups to talented young flautists and adults.
She has arranged and recorded music for flute and piano, including her highly successful 'Four Strauss songs' published at Alry Publications; and has written two award winning study books, 'Baroque Flute Studies' (Winner – Best Flute Method NFA 2015) and 'Baroque Studies for Modern Flute' (Winner – Best Flute Method NFA 2017) available from wonderfulwinds.com.
Elizabeth has recorded the Telemann 12 Fantasias "…if you like her sound as much as I do, you will want to listen to …Elizabeth's recent recording of Telemann Fantasias… over and over again".
BRTISH FLUTE SOCIETY Journal – PAN and the Flute Sonatas by J.S. Bach for Quartz Music https://quartzmusic.com and Schubert's works for flute and piano for the record label Devine Music https://www.devinemusic.co.uk using her original Louis Lot flute, no 435, coupled with Chopin's Pleyel piano dating from 1848.
For more information and links to Elizabeth's YouTube recordings can be found at www.lizwalker.co.uk.
Tutor website: www.lizwalker.co.uk
What will we cover?
Basic flute techniques, useful warm-ups and breathing exercises, tonal colours, intonation and performance tips.
What will we accomplish? By the end of this course you will be able to…
Through studying these carefully selected pieces, you will develop and explore breathing techniques and tonal colours, that will add confidence to your playing.
What level is the course, and do I need any particular skills?
A recommended minimum Grade 6 on modern flute would be ideal.
How will the course be taught, and will any preparation be required?
Be familiar with at least one piece from the repertoire list before commencing the course.
Will music be provided in advance of the course?
Participants are requested to download or own a copy of the music. We recommend the following editions, all available online from Just Flutes.
Faure Fantasie - https://www.justflutes.com/shop/product/fantasie-gabriel-faure
Poulenc - https://www.justflutes.com/shop/product/sonata-flute-piano-francis-poulenc
Mel Bonis - https://www.justflutes.com/shop/product/sonata-flute-piano-mel-bonis
Is there anything I need to bring?
No