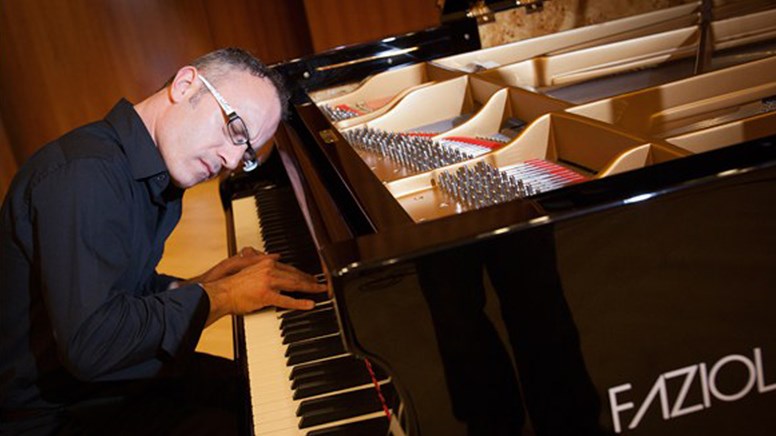 Discover and enjoy playing together some of the most beautiful jazz and Latin jazz songs written by astonishing American composers.

Resident: £349 Non-Resident: £256 (25% off for under 27s) Code: 23/241

Booking for Members opens at 11am on Monday 12 December 2022.

Non-Member and online booking opens at 11am on Monday 9 January 2023.

For details on how to become a Member to take advantage of early booking, see here.
What is the course about?
International jazz pianist and composer Marco Marconi leads this course offering all instrumentalists the opportunity to play together some of the most beautiful American and South American songs composed between 1920 and 1940. During these two decades composers such as Gershwin, Porter, Rodgers, Hart, Waller, Reinhart, Ellington, Basie and many others wrote spectacular songs and music. Marco will talk about these composers and their compositions and demonstrate the diversity of styles between them. During the course Marco will first demonstrate playing the same tune in a variety of different styles (including the original) and give you the opportunity and satisfaction to explore these styles yourself and create something very exciting and new. Often the difference between these styles is very small so Marco will reveal some of the secrets that he has discovered during a long and in depth study of this kind of music.
The course also includes a ticket to Marco's concert on Monday 29 May.
Tutor website: www.marcomarconi.com
What will we cover?
Jazz tunes, Latin jazz tunes and the basic rudiments of improvisation. We'll cover a variety of well-known and less well known jazz pieces.
What will we accomplish? By the end of this course you will be able to…
Play a wide variety of American and Latin American music.
Increase familiarity and feel confident switching between different styles.
Improve your knowledge of different rhythms as well as swing, ballad, bolero, bossa nova, samba and calypso.
What level is the course and do I need any particular skills?
Standard: Learner, Improver, Confident, Skilful
How will the course be taught, and will any preparation be required?
The course will be taught as a group and preparation is not required.
Will music be provided in advance of the course?
Music will be provided by the tutor on the course.
Is there anything I need to bring?
If you are a guitarist or double bass player, please bring an amplifier.
What previous participants said about this course…
"You will have lots of opportunity to play jazz and improvise, and receive helpful guidance, whatever your standard."

"Friendly, supportive. Informative."

"This is a good introduction to jazz improvisation in a relaxed environment, playing beautiful well-known jazz standards."

"Marco is an inspirational and dedicated teacher making sure that everyone was engaged and valued."

"I enjoyed the whole course and Marco is an engaging tutor."