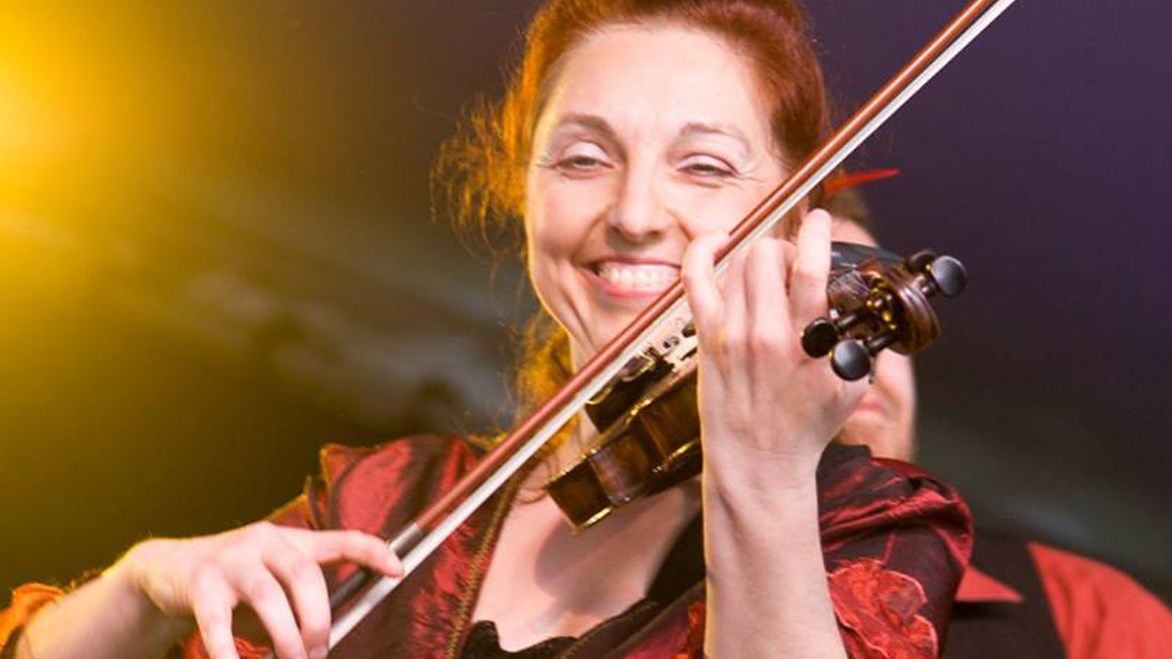 This course focusses on embellishments in Balkan music. We shall learn pieces from Balkan regions, and indulge into ornamentation, phrasing and playing techniques, everything which will make them sound truly Balkan.

STANDARD: IMPROVER, CONFIDENT, SKILFUL

Fee: £45 (25% off for under 27s) Code: 21/OL64
What is the course about?
In this course we shall study a variety of tunes from Romania, Bulgaria and former Yugoslavian regions. This course will focus on the performance ingredients which make a tune not just sound like a great piece from the Balkans, played by Mrs/Mr X from London, but like an authentic traditional dance or melody.
Apart from capturing the energy, one needs to understand phrasing and ornamentation. And whilst the understanding will easily come from listening and possibly dancing or singing along, the ornamentation can cause finger-knots at times. Over the course of 3 weeks, we will go through exercises and practicing methods which will untie those knots.
Most of the basic tunes will be taught by ear, as this is the best way to capture the authentic energy. Sheet music to all the pieces will be sent out in advance, together with instructions which ones will profit from a bit of preliminary practice, and which ones are best left alone, as often our classical notation does not capture the true execution of those pieces.
Whilst we will touch on the accompaniment, so instruments such as piano and accordion can play the complete piece, this course will focus on the tunes. It is suitable for any instrument who can play melodies, including guitars, mandolins, ouds, bowed and plugged strings and wind instruments from any tradition. If your instrument is unusual, please provide me with your notation needs and possibly the range beforehand or drop us a message if the provided sheets do not fit.
What will we cover?
We will learn tunes from Rumania, Bulgaria, Macedonia and probably Serbia. I expect we may cover 2 more complex pieces and 3 simpler/shorter ones. For each piece we will start with the skeleton tune, and then study and practice phrasing and ornamentation, combined with practicing methods how to gain speed and finger flexibility.
The accompaniment chords will be printed on the sheet music, and I will briefly show how to phrase them rhythmically.
What will we accomplish? By the end of this course you will be able to…
By the end of this course you should be able to play a number of Balkan tunes confidently, with suitable ornamentation and phrasing. For some pieces, it still might take a few weeks of your own practice to reach the final speed, but you will have learned methods how to achieve this.
What level is the course and do I need any particular skills?
The level is from intermediate to advanced. You need to know your way around your instrument at lower intermediate level. No previous knowledge of Balkan music is necessary; however, the course is still suitable for people who have previously played Balkan style, unless you have studied extensively with Balkan musicians directly.
How will the course be taught, and will any preparation be required?
Most initial teaching is by ear, however, you will receive the sheet music beforehand, so it is ready to assist whenever necessary. Ornamentation is not notated, as classical signs only fit in some cases – we shall add them together.
Will music be provided in advance of the course?
Sheet music will be sent out one week before the first session. Some preparation before the first session will be useful – instruction shall be sent with the sheet music.
Is there anything I need to bring?
Bring your instrument(s) in good working order, a computer/tablet/phone with a camera and microphone and a stable internet connection is ideal.
What previous participants said about this course…
"Great varied programme. Very challenging for me! But encouraging."

"I'm still on a high from the FANTASTIC week-end you gave us at Benslow Music. You gave so much of your passion for the music, your knowledge, and your gifts as a teacher and player. I drove home without the radio on, as I wanted to hang on to the music that was swirling around in my head from the week-end."

"Tuition was excellent with attention to personal needs."

"Gundula Gruen is an expert enabler (and performer) and fun. She is the only teacher I have met in my 50 plus years of learning and teaching who has cured my learning-by-ear fear. She prepared our course thoroughly, planned for the unexpected, managed our different levels with tact and paced everything beautifully."

"I am just DELIGHTED that I have overcome my fear of learning by ear instead of notation. I loved playing through the music we learned and finding I could remember most of it."