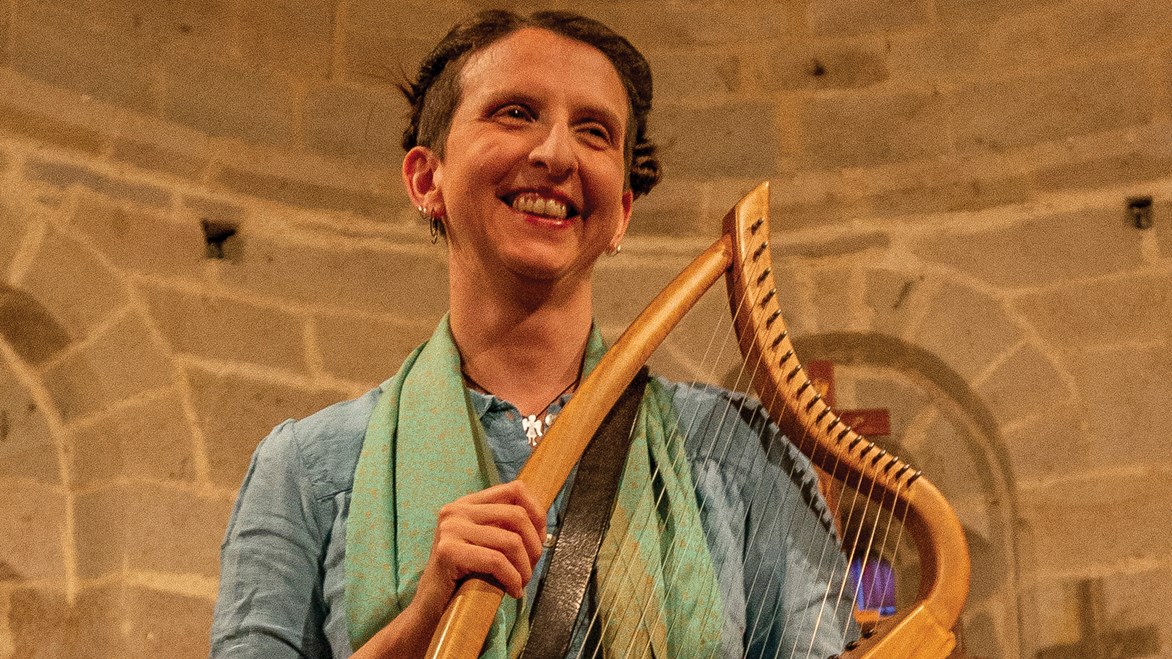 Three workshops to learn and sing together some medieval music for the season of Spring.
Sessions:
Music for Spring Time - Sunday 21 March 2021, 15.00-16.30 GMT (21/OL42)
Music for Lent - Sunday 28 March 2021, 15.00-16.30 BST (21/OL43)
Music for Easter - Sunday 4 April 2021, 15.00-16.30 BST (21/OL44)
Fee: £15 per session per device or £40 for all three sessions (21/OL45)
Please let us know which session(s) you wish to attend using the comments box below.
What is the course about?
In every session, we'll start with a warm up using medieval intonations and pedagogical tools so we get used to the medieval modes. This will be supported by medieval visuals - the manuscripts in which the intonations can be found, many of them are beautifully illuminated too. Then we'll learn together by ear a short plainchant suitable to the season, reading from some of the very earliest musical notation that exists in the West.
Exercising your listening and memorising skills is an excellent practise and very much part of the musical process of the Middle Ages, so this is really central to my approach to teaching and learning.
I'll give some historical background and the titbits that I find interesting about the repertoire we're singing. We will also listen to some recordings to do some critical comparisons.
Throughout, we'll be looking at medieval source material because who doesn't like a nice medieval manuscript?
We'll also sing some slightly more challenging music from the early 16th century for which I'll provide the score – this will be fun for those of you who enjoy sightsinging but everyone will still be able to join in (or simply listen) as we'll learn the key tune together. I'll be playing my harp and/or singing along with those so although you will only hear your own voice, and not the voices of other participants, the other parts will be provided by me!
Here are the key pieces of repertoire we'll enjoy together:
Sunday 21 March (3-4.30pm) - music for Spring time
Ecco la Primavera by Francesco Landini
A 13th century French motet
Sunday 28 March (3-4.30pm) - music for Lent
Crucifixum in carne (an Italian lauda from a manuscript now in South Africa)
Jesu, fili virginis (a carol)
Sunday 4 April (3-4.30pm) - music for Easter
Victime paschali laudes (a plainchant sequence)
Christ lag in Todesbanden (A Lutheran chorale)
Tutor website: leahstuttard.com
What will we cover?
We will sing Gregorian chant, an Italian 14th century piece, a 13th century French polyphonic piece, a medieval carol, a polyphonic Italian lauda and a Lutheran chorale.
What will we accomplish? By the end of this course you will be able to…
You will learn something about medieval music, both sacred and secular, including from the trecento, Ars Antiqua, laude, carols, sequences, and other Gregorian chant. You will also learn to sing a selection of these for fun!
What level is the course and do I need any particular skills?
You don't necessarily need to read music for this course as I like to emphasise listening and memorising, but there will also be some opportunity to sightsing. The most important thing is that you're interested in learning about, listening to and singing medieval music!
How will the course be taught, and will any preparation be required?
These workshops will be online using Zoom so you will need to download that before we begin. You don't need to prepare anything else.
Will music be provided in advance of the course?
No music provided in advance, it will all be on screen during the Zoom workshops.
Is there anything I need to bring?
Your instrument, music, a computer/tablet/phone with a camera and microphone and a stable internet connection is ideal.
What previous participants said about this course…
"Leah Stuttard is a very easy going tutor, full of information, very approachable and helpful."

"This was an excellent mix of information, pictures, audio and video clips as well as an opportunity to sing works outside the mainstream. Leah's enthusiasm for her subject was infectious and she supplied some wonderful handouts."

"Fun and educational if you want to know about early music."

"Getting to know a different sound world was fascinating, along with meeting music pre equal temperament."