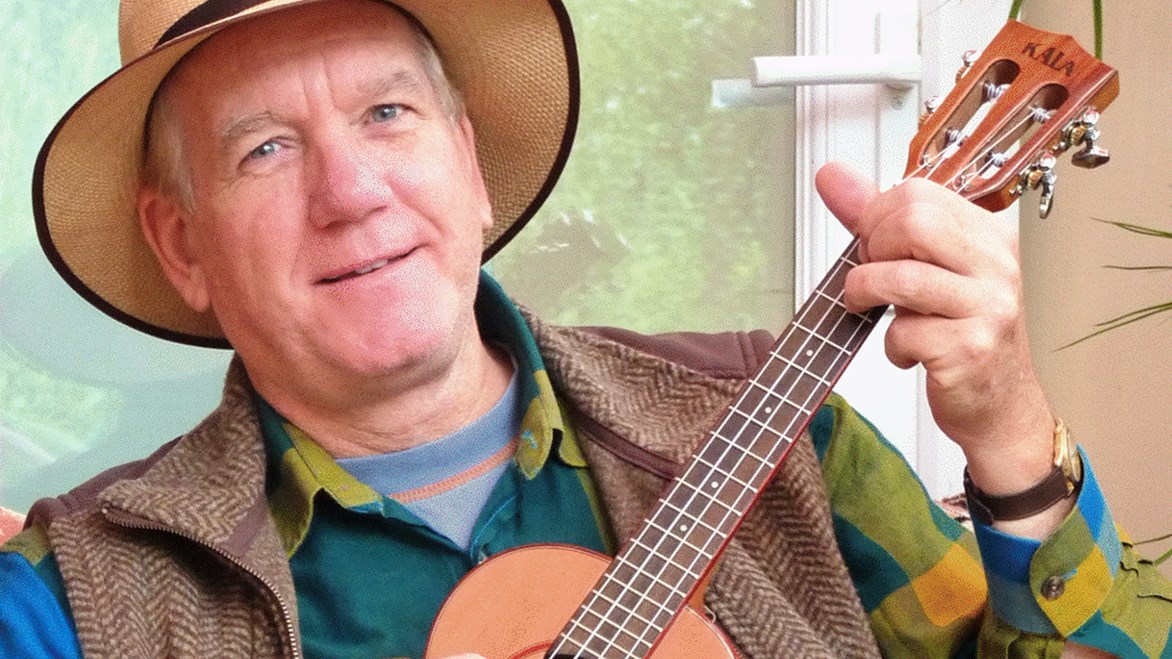 The course will explore new directions for intermediate ukulele players, including beautiful fingerstyle arrangements for tunes/songs, exciting strumming techniques, and some essential chord theory. It will take you well beyond the "3-chord strum", exploring chord-melody techniques and how to arrange tunes/songs in an ensemble.

STANDARD: IMPROVER, CONFIDENT, SKILFUL

Resident: £359 Non-Resident: £260 (25% off for under 27s) Code: 23/286

Booking for Members opens at 11am on Tuesday 16 May, 2023

Non-Member and online booking opens at 9am on Tuesday 13 June, 2023

For details on how to become a Member to take advantage of early booking, see here.
What is the course about?
Using tablature and some accompanying videos, we will begin looking at chord-melody fingerstyle playing for accompaniment and for solo playing. First, we will cover the basics – simple pattern picking, chord theory, etc – then move to 2nd position variations, barre chords and more sophisticated accompaniment techniques. We will also look at how to develop more complex and interesting strumming patterns. Finally, with the help of music and videos sent in advance, we will look at how to develop an arrangement for a song/tune and how best to use different abilities within a small ensemble.
Tutor website: ukuleleoxford.com and Folk Orchestra & Ukulele Oxford - YouTube
What will we cover?
You will learn how to arrange a song/tune for a small ensemble – song introductions, playing with two parts and how to develop short musical breaks. In addition:
- New chords and how they fit together
- Strumming techniques suitable for different styles and songs
- Fingerstyle playing as well as strumming
- How to accompany yourself on a song
- Advice on purchasing instruments, strings, etc
What will we accomplish? By the end of this course you will be able to…
Work with at least two new picking patterns and/or strumming patterns, understand chord theory – why certain chords work together and how to identify all chords within a certain key, and develop your own ideas about how to arrange a song/tune for your own small group back home.
What level is the course and do I need any particular skills?
This is for intermediate players. You will need to know most of the first position chords in the keys of C, F, G , D and A major (but our chord theory session will take you further into this), have a good sense of rhythm and to have already have seen tablature and understand how it works as a guide to playing.
How will the course be taught, and will any preparation be required?
There will be class work mostly in plenary, though you will also be encouraged to join smaller groups for some sessions. The preparation will be to look at the videos sent in advance, have a go yourself and begin to work on some of the exercises.
There will be plenty of one-to-one feedback, though prolonged individual tuition is unlikely due to time constraints. You are very welcome, however, to approach the tutor for any particular technical issues.
Will music be provided in advance of the course?
Yes, music in the form of tablature and some associated videos will be provided in advance. The videos will be posted on YouTube and all participants will be sent a welcome letter that includes a link to each video.
Is there anything I need to bring?
Just an instrument and notebook. But also please print out the tablature you get in advance to avoid extra paper use at Benslow Music.
What previous participants said about this course…
"The tutor was experienced and knowledgeable and ran the course very well."

"The course was thorough and pitched well to all abilities."

"The course content was interesting and enjoyable."

"Jon is a great tutor and a very nice person. His knowledge of music/musical history, theory etc all excellent. His musicianship also great. "