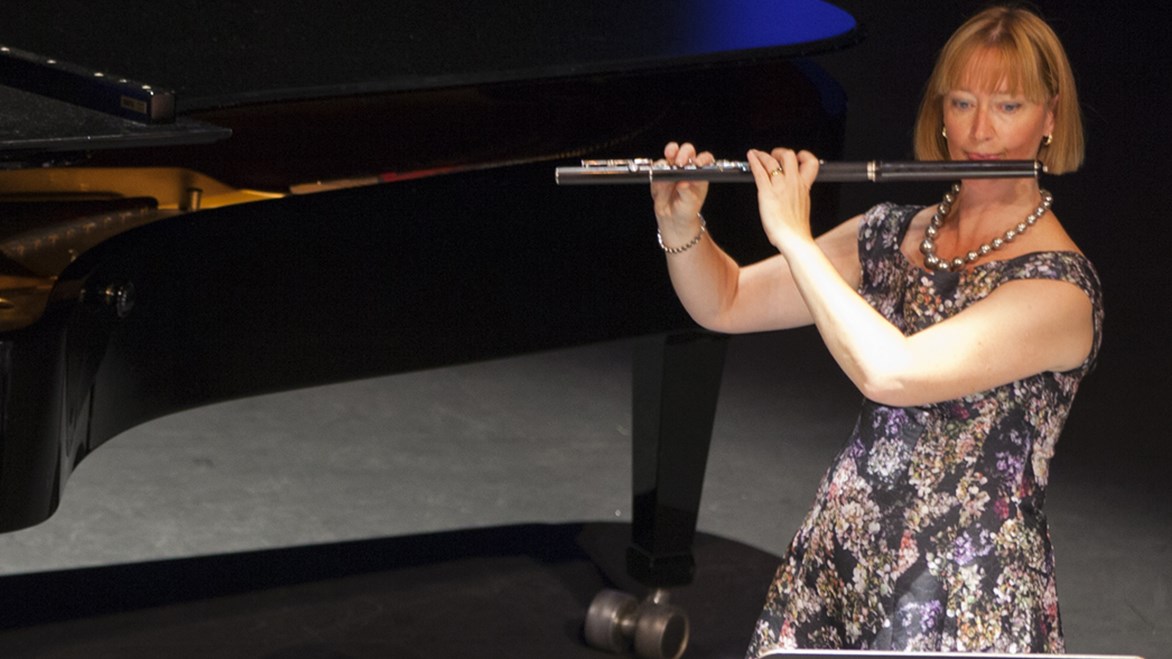 This residential course offers an opportunity to focus on core techniques ahead of the new term, working on repertoire for accompanied and unaccompanied flute. Including ensembles, concert opportunities and optional baroque and classical flute tuition.

STANDARD: SKILFUL

Resident: £556 Non-Resident: £438 (25% off for under 27s) Code: 21/405

Booking for Members opens at 9am on Monday 12 April 2021.

Non-Member and online booking opens at 9am on Monday 10 May 2021.

For details on how to become a Member to take advantage of early booking, see here.
What is the course about?
This course offers an inspiring and refreshing opportunity to refocus and re-inspire after the summer vacation and long disruption from COVID-19. This residential course will be a friendly and relaxed opportunity to work together. Suitable for advanced post grade 8 flute students: senior school, music college or university graduates and undergraduates, flute teachers, or young professional flautists.
Elizabeth Walker (director of Flutes in Tuscany, flute teacher at the specialist music school in Wells, Pearl Flute Artist and historical flute specialist) will start each day introducing her daily warmups and scale patterns, aimed to develop and reinforce tonal colours, flexibility and finger dexterity. This will be followed by a class focusing on a specific aspect or technique found in our core repertoire: such as writing cadenzas, ornamentation, improvisation, memorisation. The morning finishes with a look at some challenging virtuosic flute ensemble repertoire.
In the afternoon there will be optional one-to-one or group baroque or classical 8 keyed flute lessons, (taster sessions also available for those without instruments or prior knowledge) whilst expert piano accompanist Richard Shaw (staff accompanist at The Royal Academy of Music, London) will offer invaluable guidance, accompanying recital pieces that will be later performed in a relaxed and inclusive concert each evening.
Tutor website: www.lizwalker.co.uk and www.pearlflutes.de
What will we cover?
All course participants should suggest one piece of repertoire for inclusion in an evening recital and afternoon sessions with Richard. This should be decided on by 1 August 2021. Additionally, all participants should also bring a Mozart Flute Concerto G or D Major, all the J.S. Bach Flute Sonatas (Barenreiter Edition), Telemann 12 solo Fantasias and Reinecke's Ballad.
What will we accomplish? By the end of this course you will be able to…
Play with a greater awareness of style and historical context. Build and regain confidence from a greater knowledge and experience of performing to each other. Look at the texture, harmony, tonal colours, finger dexterity and balance with the accompaniment.
What level is the course and do I need any particular skills?
Recommend participants are either at music college, previously been to music college or in their final year at school with the intention to attend music college.
How will the course be taught, and will any preparation be required?
We need to know in advance which piece you will be working on, in preparation for an evening recital by 1 August 2021.
Will music be provided in advance of the course?
No, participants are requested to bring their own music. However, baroque/classical 8 keyed flutes will be provided for taster lessons and additional ensemble music will be provided by the tutor on the course.
Is there anything I need to bring?
You will need to bring your own piccolo, alto/bass flutes and any historical flutes you own. (baroque or 8 keyed classical).
What previous participants said about this course…
"An exciting adventure with expert and inspiring tuition in beautiful surroundings."

"An amazing week filled with heaps of flute, friendship, focus and fun in the most beautiful setting which inspires you to learn. The memories I made, and everything I learnt here, I know will last forever."

"New music, new friends, great food, stunning location; what more could one want!"