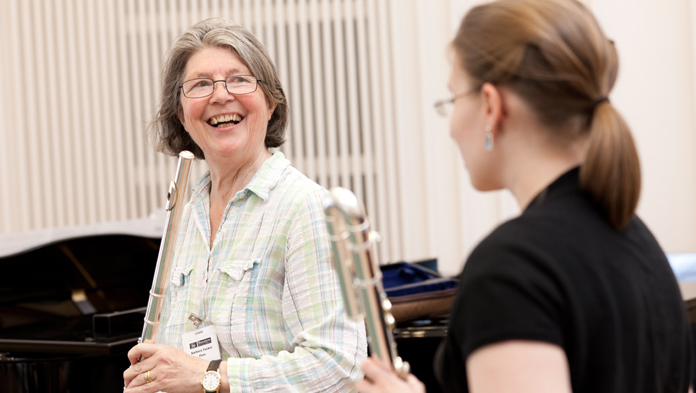 A busy one-day flute course for adult players (maximum ten) of any ability, featuring group warm-ups and workshops, rehearsals as a flute choir and masterclasses focussing on technical tips and musical interpretation.

STANDARD: ELEMENTARY, LOWER/UPPER INTERMEDIATE, ADVANCED

Fee: £78 Code: 20/110
What is the course about?
The popular Zoë Booth offers tips and encouragement to flautists of any standard on this one-day course featuring flute choir, practical workshops and the chance for individual feedback. With piano accompaniment provided by experienced accompanist Rachael Buxton, the course tutors are expert at pinpointing problems and offering efficient solutions to achieve amazing results during a friendly day which begins at 10am, breaks for lunch (included in the price) at 1pm, and ends no later than 5pm.
Tutor website: www.zoebooth.co.uk
What will we cover?
Anticipated topics for discussion will vary according to the day and what comes up in the masterclasses; typically they include: breathing and support; posture; tone; fingers; nerves; ensemble playing; articulation; interpretation; projection; style and interpretation; vibrato; colour.
What will we accomplish? By the end of this course you will be able to…
As well as enjoying a welcoming, inspiring and satisfying day, it is hoped that you will also be able to take away further additional tips – both general and personalised – to develop your own playing and practice.
What level is the course and do I need any particular skills?
Elementary, Lower/Upper Intermediate, Advanced
How will the course be taught, and will any preparation be required?
Approximately one month before the flute day, participants will be sent a short questionnaire to complete summarising their experience, indicating if they will be bringing any additional flutes (piccolo and/or alto) which they'd like to play in the flute choir and to suggest any topics of particular interest to the course tutor. If a participant would like to take part in the masterclass (there is no pressure to do so; there is time for everyone who would like to) they can also make a note of what repertoire (and a second choice piece, in case of doubles) which they are preparing (on the day, there will be time for a short, private run-through with the course accompanist before the masterclass itself). A friendly and supportive atmosphere is encouraged to help everyone take a full part and get the most from the day.
Will music be provided in advance of the course?
Ensemble music – at a level to suit, as indicated by your pre-course questionnaire - will be provided on the morning of the course, so please be prepared to sight-read. Solos (plus the accompaniment parts) for the masterclass are to be brought with the participants.
Is there anything I need to bring?
Just you and your flute (in good working order), any music you'd like to play in the masterclass (and the accompaniment, if applicable) and – if you've suggested you'd like to play them in the flute choir – your piccolo/alto/bass flute(s).
What previous participants said about this course…
"Very informative with lots of helpful hints."

"Music and tutoring were pitched at multiple levels to suit the group so everyone felt involved."

"Zoë Booth, the tutor, was excellent."