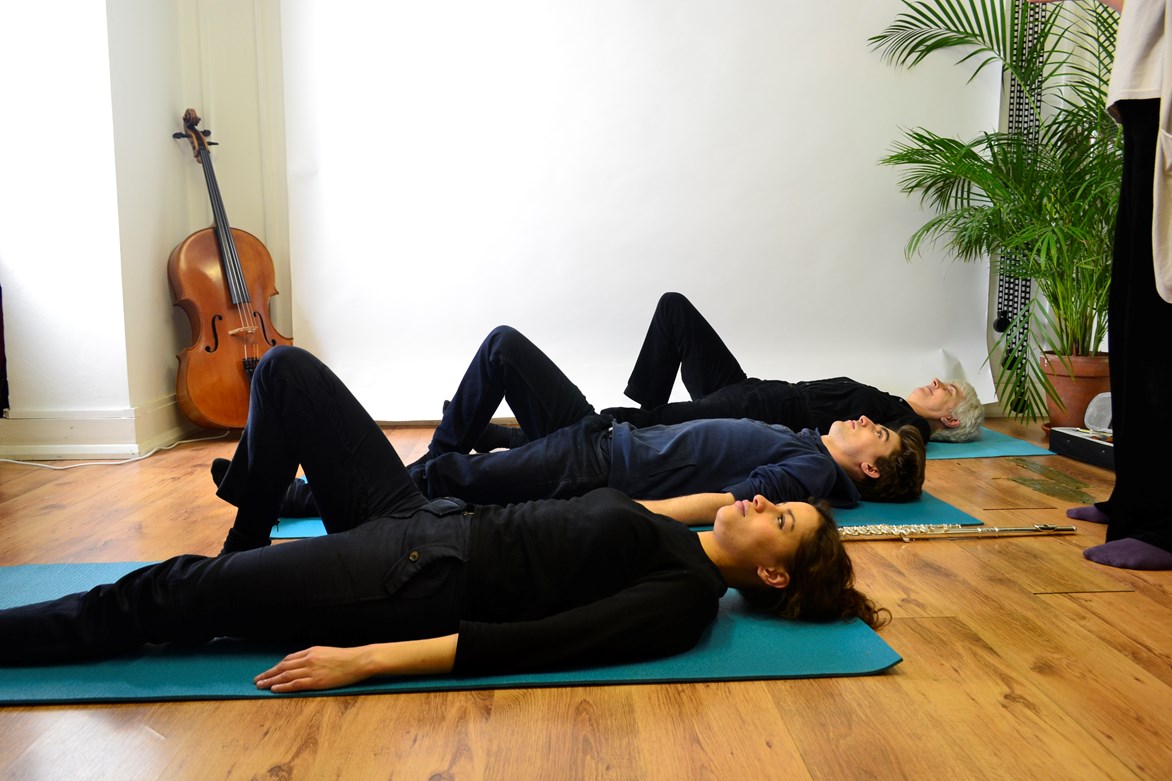 Explore and refresh your relationship to your instrument and performance. Unleash your potential to play with greater ease and pleasure, both physical and emotional, by way of intriguing, illuminating and inspiring movement explorations.

STANDARD: ALL

Resident: £320 Non-Resident: £232 (25% off for under 27s) Code: 21/255

Booking for Members opens at 9am on Monday 11 January 2021.

Non-Member and online booking opens at 9am on Monday 8 February 2021.

For details on how to become a Member to take advantage of early booking, see here.
What is the course about?
In this workshop inspired by the Feldenkrais® Method you will explore how your current habits may be affecting your ease and enjoyment when you play. You will have the opportunity to develop a dynamic balance in sitting or standing which can support and liberate your relationship to your instrument. You will go on to explore how you use your arms and open up pathways to easier movement which can liberate your potential to express yourself through your playing. You will relate easier movement of the arms to what you have learnt about dynamic balance in sitting or standing. This will be a relaxed, non-judgmental, explorative workshop. We will lead you through gentle and easy movement sequences (Awareness Through Movement®) which are designed to increase your awareness of unconscious habits and open up fresh possibilities for change and improvement.
At intervals you will return to your instrument to experience the effects of these movement sequences on your playing. We will also give an accessible introduction to the anatomy of the muscular/skeletal system, in as far as it is relevant to playing an instrument.
The Feldenkrais® Method uses movement to change the brain, to refresh our self-image, to help us learn and improve, and to discover our full potential. Experienced performers, teachers, and Guild certified Feldenkrais® Practitioners, Josephine Horder (cello) and Yeu Meng Chan (piano) are dedicated to improving all aspects of music making and performance.
Tutor websites: www.feldenkrais-westherts.co.uk and www.feldenkrais-essex.com
What will we cover?
1) Exploring Dynamic Balance and Posture in Sitting and Standing
Balanced skeletal support, on the sit bones in sitting or on the feet and legs in standing, creates the conditions for freer movement throughout the body, providing relief from stiffness and tension and liberating your relationship to the instrument and to performance.
2) Exploring the Role of the Shoulder Girdle in the Functioning of the Arms
Understanding the structure of the shoulder girdle is crucial to exploiting the full range of movement available to the arms. Optimal function and movement of the arms is essential in all instrumental playing. In addition, by recruiting more support from the torso and the pelvis, the workload of the arms is spread over a greater area, reducing inefficient effort and the risk of strain or injury.
3) Breathing
Free and mindful breathing is an important tool for reducing stress and anxiety. Additionally a flexible and responsive ribcage supports dynamic movement throughout the body, reducing the chances of tension and injury. Unrestricted breathing lends itself to grounding and centring, which in turn enhances sound production and performance.
4) Visualisation
The skill of visualisation is crucial to developing easy, efficient and healthy movements as a musician. Through focussed visualisation we can imagine and project the pathway to improvement in all areas. The ability to visualise accurately is also an important tool in establishing efficient habits of practising.
What will we accomplish? By the end of this course you will be able to…
By the end of the course you will have an enriched understanding of the importance of a dynamic balance (in sitting or standing) to your ability to play with ease and freedom. A comprehensive experience of the full range of movement available to your arms will enhance your ability to move efficiently and pleasurably around your instrument. You will leave with a variety of tools to support and improve both your private practice and also your performance. You will have a fresh relationship to your instrument and to music making based on a felt experience of integration and wholeness.
What level is the course and do I need any particular skills?
No preparation or special skills required.
All
How will the course be taught, and will any preparation be required?
The topics are explored through Feldenkrais Awareness Through Movement® lessons. These are delivered to the whole group verbally by the teacher and consist of gentle and mindful movement explorations. These lessons may be in standing, sitting or lying down on floor mats.
Prior to the course participants will be sent a short questionnaire which is intended to help the tutors tailor the course to individual needs and interests. Participants are encouraged to bring their instruments and prepare a short piece which will serve as a tester for developments and progress through the course. Their playing and posture will be observed at regular intervals and will form the basis for group discussion as well as peer and tutor feed back. If permission has been given, and if appropriate, the tutors will occasionally give feed back via touch.
Will music be provided in advance of the course?
N/A
Is there anything I need to bring?
Instrument
Loose unrestricted clothing
Mat or thick blanket for lying on the floor
Firm pad, block or book for head support when lying, if needed.
What previous participants said about this course…
"I feel I'm going home with lots of tools and ideas which will gradually filter through into my playing."

"Definite changes in mobility and posture at the keyboard."

"Most helpful were the movement routines and ideas of linkages – pelvis, spine, head and shoulders, with better understanding of the skeleton, Clint (plastic skeleton) was a helpful participant."

"I feel I know much more about the skeleton now – it's really clarified for me."