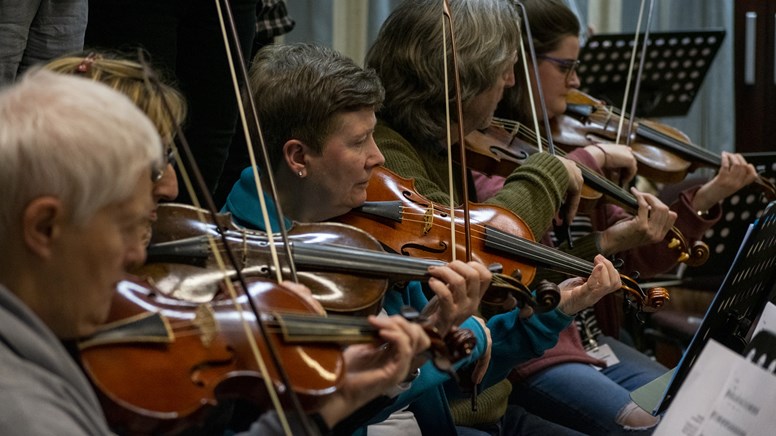 18th century repertoire that would have been performed by the Dresden Hofkapelle, including works by Pisendel, Heinichen and Zelenka; scored for two oboes, bassoon and strings.

STANDARD: CONFIDENT, SKILFUL

Resident: £572 Non-Resident: £435 (25% off for under 27s) Code: 24/334

Booking for Members opens at 11am on Monday 20 November 2023

Non-Member and online booking opens at 11am on Monday 11 December 2023

For details on how to become a Member to take advantage of early booking, see here.
What is the course about?
We are delighted to welcome back Theresa Caudle (violin), Mark Caudle (cello) and Claire Williams (harpsichord) to lead this thoroughly joyful course.
We will be working at A=415 and the course is open to participants on period instruments (we will accept modern set-up stringed instruments with gut strings and baroque bows). We can accept two oboists and one bassoonist, with a maximum of twelve violinists, four viola players, six cellists and one double bassist, plus two harpsichordists and one theorbo player in the continuo team. Players must be of advanced standard, confident sight-readers, and willing to rehearse in some detail. For string players some experience of playing baroque music on period instruments is preferable but not essential. Harpsichordists and theorbo players should be confident reading from figured bass.
Tutor websites: www.canzona.org.uk / www.burghclerebaroque.com / www.baroqueweek.uk www.clairewilliams.co.uk
What will we cover?
Exploration of exciting and innovative but little-known repertoire written for the Dresden Hofkapelle, of which Quantz wrote "it achieved, through the introduction of a mixed style, such refinement of performance that, in all my later travels, I heard none better."
Articulation and phrasing
Ornamentation
Rhetoric - in terms of understanding the structure and how to deliver in performance
Tempo, rhythm and pulse
Recognising the character of different movements and learning how to make technical choices to bring it out effectively
Working with non-equal temperament tuning
Continuo skills
What will we accomplish? By the end of this course you will have
Discovered new repertoire and will have learnt to play more communicatively and expressively thanks to your growing assimilation of baroque performance practice.
What level is the course and do I need any particular skills?
Standard: Confident, Skilful
How will the course be taught, and will any preparation be required?
The course will centre around tutti rehearsals led by all three tutors but there may also be some sectional rehearsals. Familiarisation of the music before the course is encouraged, but not compulsory.
Will music be provided in advance of the course?
Any technically demanding music will be available on this website a few weeks before the course, especially any solo or continuo parts. There may also be music to sight-read whilst on the course.
Is there anything I need to bring?
We are playing at A=415 so please bring your baroque instrument, or if you don't have one then please use gut strings on your modern instrument and a baroque bow. Don't forget your spare strings.
What previous participants said about this course…
"I couldn't rate it highly enough. It was really excellent in every way."

"The course was extremely well organised. It was really challenging for me, but most enjoyable, and the atmosphere and encouragement from both staff & students were very supportive."

"The tutors gave much insight as to how to interpret and play the works giving opportunities for participants to play different parts and to express their opinions."