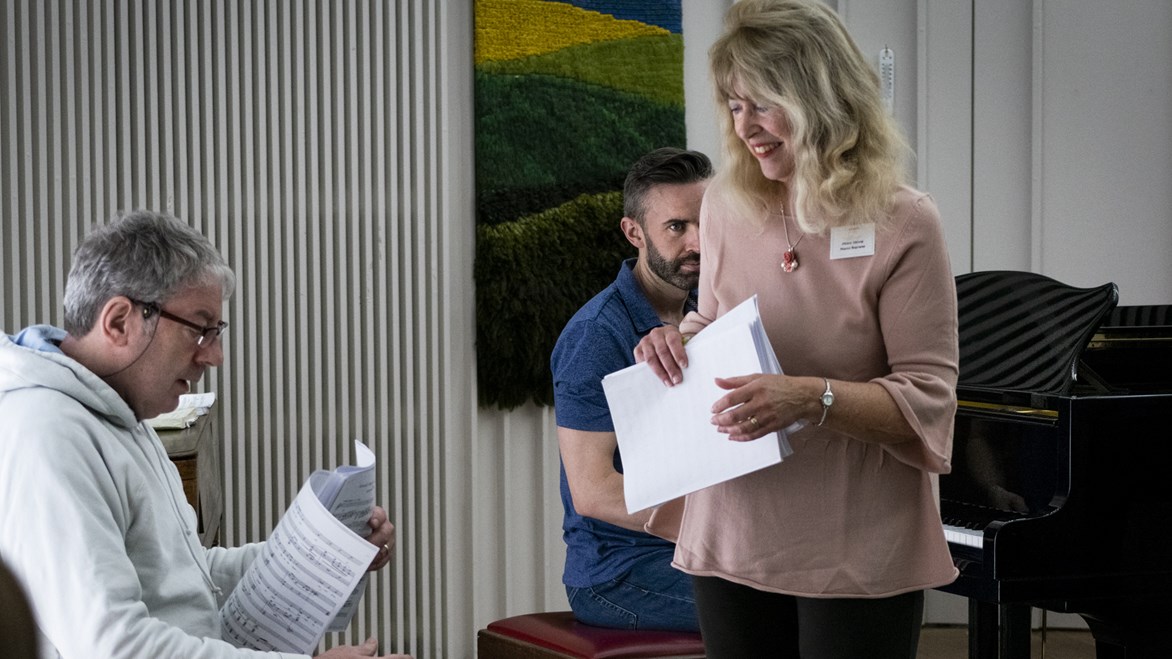 A duo course for singers and pianist working together in partnership.

STANDARD: CONFIDENT, SKILFUL

Resident: £359 Non-Resident: £260 (25% off for under 27s) Code: 23/288

Booking for Members opens at 11am on Tuesday 16 May, 2023

Non-Member and online booking opens at 9am on Tuesday 13 June, 2023

For details on how to become a Member to take advantage of early booking, see here
What is the course about?
We are delighted to welcome back internationally acclaimed tenor and teacher Richard Edgar-Wilson and pianist Marc Verter, who will be leading another course designed for pianists and singers focussing on Art Song in English, German and French. The emphasis will be on "chamber music for two" rather than "diva and accompanist". The course is suitable for pre-formed pairs but individual applicants, both singers and pianists, are also welcome. All participants are asked to bring along three pieces they would like to work on. Between them, the tutors offer a wealth of knowledge and international experience - a weekend not to be missed!
Tutor websites: www.richardedgar-wilson.com/ https://marcverter.com/
What will we cover?
We will work on art songs in German, French and English originally written for voice and piano (no orchestral reductions, transcriptions, opera or oratorio arias please).
What will we accomplish? By the end of this course you will be able to…
Our focus is on how the duo (singer and pianist) works together as equal partners, exploring the chosen repertoire, examining the poetic texts and language, the composers' music and markings, general background and context, matters of style and performance practice, programme planning etc. to engage the imagination and to find ways to enhance and improve the experience of performing and communicating the music. Making each partner in the duo more actively aware of each other's parts and performance issues will play a vital part in the work done.
By the end of the course we hope that the material covered and ideas discussed will enable the participants to further explore and apply the principles in their future music-making, thereby allowing a more satisfying and informed approach and a deeper understanding of what is involved in tackling the song repertoire.
What level is the course and do I need any particular skills?
Standard: Confident, Skilful
How will the course be taught, and will any preparation be required?
After an introductory "getting to know each other" informal session where each duo has the chance to run through a song together, we then run a combination of sessions with each tutor individually and also jointly. All sessions are open to all. We usually end with a final informal (and very supportive) concert where some of the ideas discussed are put into practice. Tutor feedback will be given throughout the course and also the opportunity for peer discussion, particularly during the joint sessions. We prefer conversation to dogma!
Ideally, participants (duos) should prepare and rehearse their chosen repertoire in advance of the course, and come prepared together but we recognize that this won't always be possible. During the course there will of course be further opportunities to practice and rehearse together.
Will music be provided in advance of the course?
No. Participants are requested to bring their own music and make it available to the tutors (and to peers/colleagues where possible). IMSLP can act as a valuable resource as well as Benslow's own extensive music library.
Is there anything I need to bring?
An open mind, a love of song and a willingness to explore.
What previous participants said about this course…
"Both tutors really excellent, with a wonderful knowledge of the repertoire and ability to put you at your ease so you can perform better. Inspiring!"

"Wide range of music, much of it new to me."

"[The tutors]are extraordinarily good. They are very musical and knowledgeable. They were willing to share their ideas with us and encourage us to think and experiment. I learnt a lot from the tutors and I enjoy the course very much."