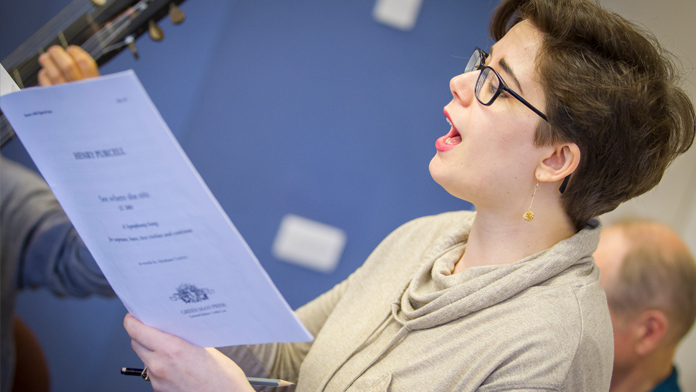 Gregorian Chant is an immersive course for singers and for those with interests in the history of music, theology, meditation, and cultural history, which works through reading, learning and singing the chant.

STANDARD: LOWER/UPPER INTERMEDIATE, ADVANCED

Resident: £420 Non-Resident: £320 Code: 20/328
What is the course about?
Working sessions are occupied reading, examining, learning and singing chosen pieces of expressive solo and choral chants for the Mass and the monastic Office. Each day's work is experienced in the context of the shorter monastic Hour services with simple recitation in English alongside more complex music in Latin.
Within this framework the course dwells on examples of an Introit; a Gradual; Alleluia; Tract, Offertory; and a Communion, as well as examples from the daily Office of Antiphons, Hymns, psalmody and Responds.
Gregorian Chant is the unaccompanied vocal music of the sacred texts of the Western Christian Church.
The music of the Chant is originally from late 7th century Rome and has been in use in the church ever since. The course will use modern printed chant notation which will be fully explained. During the 9th century the invention of a sophisticated notation to set down this orally transmitted Roman chant was a significant moment in European musical history. There will be time for a very basic introduction to this early
Gregorian chant notation and the performance possibilities indicated by it, with audio examples of some of the ways in which it is now recreated for contemporary performance by professional choral groups. Later mediaeval notations and performance styles will also be briefly addressed.
Above all the course aims to sing and work with psalms and biblical texts, to discover how they are used with chant to inform the historical, theological and meditative aspects of Gregorian Chant, which is our earliest music.
Tutor website: www.johnrowlands-pritchard.co.uk
What will we cover?
Chant notation. Solo and choral Roman chant for the Mass (Gregorian Chant in Latin), for the Introit,
Gradual, Alleluia, Tract, Offertory and Communion. Chant for the monastic service: Antiphon, Respond,
Psalmody and Hymn.
What will we accomplish? By the end of this course you will be able to…
Read and sing the chant from modern printed chant notation, and also recognise early 9th/10th century chant notations and some later mediaeval notations. Have a practical experience of singing a number of original Gregorian chants from the Mass, and have experience of reciting together with others the straightforward music of the Office.
What level is the course and do I need any particular skills?
Lower/Upper Intermediate, Advanced
Acquaintance with choral society or church choir singing in Latin is an advantage; and experience of using chant is naturally helpful. Singing experience is welcome though not necessary; former participants considering themselves not to be singers have surprised and enjoyed themselves by simply joining in.
How will the course be taught, and will any preparation be required?
Group work is principally through practical singing and recitation in Latin, and partly in English. Examples of historical performance styles are given through playing of recordings. Varieties of historical notations are presented either on screen or on printed sheets.
Will music be provided in advance of the course?
A course booklet is given to each participant containing all the chant to be used, which will be done at the beginning of the course.
What previous participants said about this course…
"I learnt an enormous amount from an expert in his field."

"Very pleasant, good-natured and accommodating tutor with a well prepared programme. Enjoyed the diversions into the history and context of the music - John is very knowledgeable and was happy to answer any questions, no matter how far from the immediate topic."