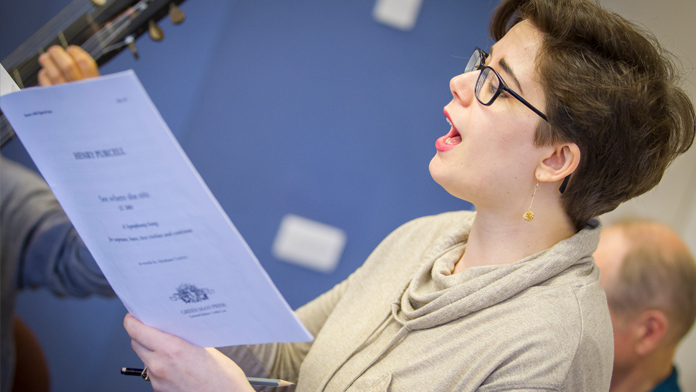 West Gallery music is the often joyful and rhythmic music sung in parish churches in the period 1700-c1850. The course, suitable for singers and instrumentalists, will introduce a wide selection from the repertoire.

STANDARD: LOWER/UPPER INTERMEDIATE, ADVANCED

Resident: £295 Non-Resident: £215 Code: 20/220
What is the course about?
Francis Roads' course is suitable for both singers and instrumentalists who wish to explore this still unfamiliar repertoire. The course is especially suitable for singers who feel that they need practice in holding a part, and players of wind and bowed string instruments who would welcome ensemble experience. West Gallery music will be of special interest to choirs looking to expand their repertoire with straightforward but rewarding material, much of which may be sung by choirs short of male singers.
Tutor website: www.rodingmusic.co.uk
What will we cover?
A variety of pieces in three and four parts will be performed, including hymns, metrical psalms, anthems, canticles and carols. (The repertoire is especially strong in the latter.) Written accounts will focus on the writings of Thomas Hardy, together with other writers.
What will we accomplish? By the end of this course you will be able to…
Sing and play in an ensemble with more confidence; improve sight reading; and become familiar with a number of pieces in this unfamiliar but rewarding genre.
What level is the course and do I need any particular skills?
Lower/Upper Intermediate, Advanced
The music is not challenging, and of intermediate standard. Some sight reading ability, while not essential, is desirable.
How will the course be taught, and will any preparation be required?
The course will be mostly practical, learning to perform music from the West Gallery genre. There will also be information about the history and development of West Gallery music, with quotations from both factual and fictional accounts. See below about preparation.
Will music be provided in advance of the course?
Music will be available beforehand on the tutor's website in both PDF and MIDI formats. Participants are encouraged to download and print it, and to do as much preparation as possible.
Is there anything I need to bring?
Players who play more than one instrument (e.g. oboe and cor anglais) should contact the tutor beforehand to discuss which will be more appropriate.
What previous participants said about this course…
"Most enjoyable, challenging and informative."

"Friendly, lively, and full of enjoyable music and tuneful notation for us to learn and experience, leaving us wanting to do more!"

"Very accessible, interesting and great fun. Very good for improving sight reading and making new friends."