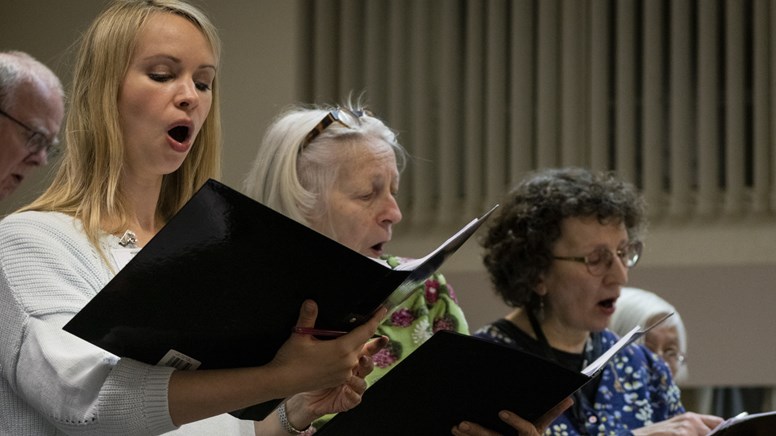 An introduction to some of the wonderful renaissance settings of the Song of Songs, the most poetic and allegorical book of the Bible. Composers include Palestrina, Gombert, Lassus, Clemens non Papa, De Rore and Praetorius.

STANDARD: CONFIDENT, SKILFUL

Resident: £339 Non-Resident: £246 (25% off for under 27s) Code: 23/206

Now open for booking
What is the course about?
This course is designed to give singers the opportunity to sing one-to-a-part renaissance choral music based on the Song of Songs. Much of this music is written in a madrigalian style, and works perfectly as consort rather than choral music. There will be intimate rehearsals, with the tutors on hand to guide singers through complex music. You will be reminded to concentrate on using your voices healthily while being true to the needs of the music. There will also be discussions about text, and the chance to see how different composers treat the same words. Some of the greatest composers of the age across Europe took on the setting of these words, not least Palestrina, Lassus and Gombert, but also Schütz and Franck, Victoria and Tomkins.
Small groups will also come together to tackle polychoral pieces by Guerrero and Praetorius.
Carys Lane and Giles Underwood have many years of experience singing and coaching this repertoire. Both were members of I Fagiolini; Carys for 14 years and Giles for 9. Carys was a founding member of The Cardinall's Musick and sang with The Clerks, The Sixteen and The Gabrieli Consort, as well as The Tallis Scholars. Giles sang with Henry's Eight, Polyphony, Magnificat, Contrapunctus and Gallicantus. Both are founding members of Martlet Voices, an Oxford-based ensemble specialising in contemporary consort music. They are tutors on the Voxemble Summer Course; a new course for young singers looking to make the transition from choral to solo ensemble singers.
Tutor website: https://www.ram.ac.uk/people/giles-underwood
https://www.univ.ox.ac.uk/live-at-univ/music/
What level is the course and do I need any particular skills?
You will need to be able to sing to a relatively high level, hold your line in an ensemble and be flexible and open to new ideas.
How will the course be taught, and will any preparation be required?
The course will be taught in small groups, with one-to-a-part singing. You will be expected to have prepared your music in advance so that there is the minimum of sight-reading on the course itself. Help with be given on score-reading, pitching, good vocal practice and above all singing lyrical lines within an ensemble texture. We will always be encouraging you to sing healthily at all times, while making sure you are able to deliver the text.
Will music be provided in advance of the course?
Links to online scores will be made available via Dropbox, and Benslow will provide hard copies of all the music when you arrive.
Is there anything I need to bring?
Just a healthy voice and an enthusiasm for this wonderful area of the vocal repertoire!