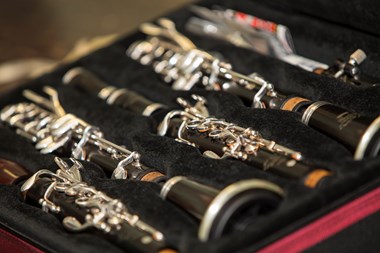 A not-to-be missed opportunity to develop both individualized clarinet technique and musicianship skills in a challenging, rigorous but supportive environment.

STANDARD: IMPROVER, CONFIDENT, SKILFUL

Resident: £480 Non-Resident: £366 (25% off for under 27s) Code: 22/353

Booking for Members opens at 11am on Monday 9 May 2022.

Non-Member and online booking opens at 11am on Monday 13 June 2022.

For details on how to become a Member to take advantage of early booking, see here.
What is the course about?
This course, which carefully caters for a wide ability range, aims to develop your solo and ensemble playing both by working through the pieces you bring along and by presenting you with fresh challenges. You will have the chance to work with the course pianist individually on pieces you have previously prepared, and should you want to share your performance with the group then you can, in a supportive, informal ambience. All areas of performance, including stagecraft and coping with nerves, will be addressed, and we'll also look at practice, rehearsal and sight-reading techniques, issues common at all levels of playing.
What level is the course and do I need any particular skills?
Standard: Improver, Confident, Skilful
What previous participants said about this course…

Accomplished expertise from both tutors, finely tuned to individual needs and preferences. Really appreciated the opportunity to have time to reflect on chosen works and then be supported, encouraged, urged to put ideas into practice."

"A not-to-be missed opportunity to develop both individualized clarinet technique and musicianship skills in a challenging, rigorous but supportive environment."

"It took me out of my comfort zone which I appreciated (afterwards!)"