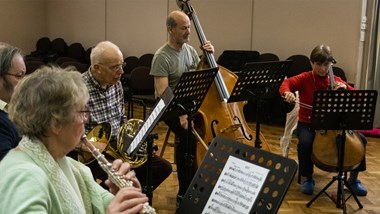 This mixed string, wind (including horn) and piano chamber music course is aimed at the proficient amateur or student (Grade 8 level as a minimum), who will ideally have had experience of having played in ensembles and/or orchestras previously. The minimum ensemble size will be for three players with the largest being for seven.
STANDARD: SKILFUL
Resident: £480 Non-Resident: £366 (25% off for under 27s) Code: 22/338
Booking for Members opens at 11am on Monday 10 January 2022.
Non-Member and online booking opens at 11am on Monday 7 February 2022.
For details on how to become a Member to take advantage of early booking, see here.
What is the course about?
The extraordinarily varied repertoire available to mixed combinations of instruments is a delight for any musician, and much can be learned by playing with musicians other than those of one's own group specialism. The course will be run by Liz Drew, who has run popular wind chamber music courses at Benslow Music for many years. Liz and her fellow piano, string and wind tutors will bring to Benslow Music their vast experience as recognised chamber music players and dedicated coaches and will guide you on your path of musical exploration and understanding with expertise and enthusiasm. During the course there will be the opportunity to hear the coaches perform at least once and to see them in rehearsal.
What will we cover?
Repertoire will be dependent on those attending the course but will most likely include music by Hummel (Septet Op 74 No 1 in D minor), Fibich (Quintet in D major Op 42), Nielsen (Sonata in Vano) and Prokofiev (Quintet Op 39). Examples of possible smaller ensembles include: Farrenc (Trio Op 45), Howell ('Air, Variations and Finale'), Bruch ('8 pieces'), Brahms (Trio in Eb major) and Glinka (Trio 'Pathétique' in D minor). There is a vast repertoire! This is a tiny slice! Do bring your own music too. Come and enjoy a splendid few days of music-making in the glorious surroundings of Benslow Music.
What will we accomplish? By the end of this course you will be able to…
Play with greater confidence and also to direct your own rehearsals with greater purpose and effect.
You will have a greater awareness of how to blend the contrasting timbres inherent in such groupings and to balance and tune within the varied ensembles.
What level is the course and do I need any particular skills?
Willingness to sight read and to feel occasionally challenged. Grade 8 level attendees and up would benefit from this course.
Skilful
How will the course be taught, and will any preparation be required?
Participants will work in a range of different ensemble sizes with a tutor. Familiarity with the larger works detailed above, prior to the course, would be very beneficial, particularly for pianists. It is hoped that a more detailed repertoire list will be available to attendees approximately one month prior to the course beginning.
Will music be provided in advance of the course?
Participants may bring their own music. Music otherwise is provided. Helpful resources: IMSLP has a wide range of parts and scores. Benslow Music members may be able to borrow music from our library.
Is there anything I need to bring?
For flautists a piccolo may be of benefit. Clarinettists will have opportunity to play works using instruments in A and Bb. Otherwise, spare strings, reeds, a pencil and a joy in discovering music are all that are required.
What previous participants said about this course…
"A great opportunity to play interesting and important repertoire with like-minded and similar standard players."

"Excellent selection of music and very well-organised groupings of players. Tutors very supportive where necessary. They 'demand' a high standard which I respond well to."

"It was excellent, challenging but a great choice of music. I learned a lot in terms of ways to improve playing in a group and making the sound more interesting and musical."

"Super organised by Liz Drew and her hard work and commitment and enthusiastic approach to leading the sessions. Good variety in music offered too."