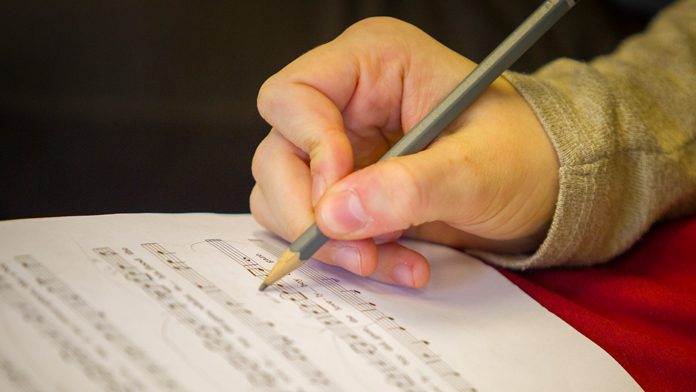 This course helps aspiring choral composers by covering general principles of composition, such as form and harmony, and issues specific to choral composition, such as voice ranges and techniques of text expression. These will be illustrated using a range of pieces from Renaissance motets through to the works of Eric Whitacre and Ola Gjeilo.

STANDARD: IMPROVER, CONFIDENT, SKILFUL

Resident: £339 Non-Resident: £246 (25% off for under 27s) Code: 22/255

Booking for Members opens at 11am on Monday 10 January 2022.

Non-Member and online booking opens at 11am on Monday 7 February 2022.

For details on how to become a Member to take advantage of early booking, see here.
What is the course about?
Other topics covered will be how to make your mark in this highly competitive world. This will cover composition competitions, learning how to produce professional-looking scores, how to build a brand, and how to market your music.
Students will have a valuable opportunity to write and try out a short piece for women's chorus in collaboration with the students of another Benslow course. Not only is hearing your work being sung deeply satisfying, it is ultimately the best way to learn and improve as a composer.
Tutor website: tamsinjones.co.uk
What will we cover?
Harmony, simple counterpoint, arrangement and accompaniment, relevant acoustic issues, text expression,
presentation of scores and performing materials.
What will we accomplish? By the end of this course you will be able to…
You will be able to write a short piece with either a sacred or secular text. You will learn how to ensure that
your music is performable for singers of various levels—this would be particularly helpful for choral directors
or other musicians who may be called on to supply original pieces or arrangements at short notice.
What level is the course and do I need any particular skills?
The course assumes ABRSM Theory Grade 5 and above. You will need to have a fundamental grasp of
triads, primary and secondary chords, keys and modes. Some experience of choral singing would be
valuable.
How will the course be taught, and will any preparation be required?
The course will be taught lecture-style with workshop elements. There will be opportunities to write miniature practice pieces in a variety of genres from Anglican chant to call and response choral song. If possible, choral examples and student work will be sung in-class. There will be opportunities for listening and discussion. There will be the opportunity to compose a short piece for women's chorus and to hear the students from another Benslow course sing through it.
Will music be provided in advance of the course?
Copies of model pieces from various periods in the public domain will be supplied.
Is there anything I need to bring?
Manuscript paper and writing materials.