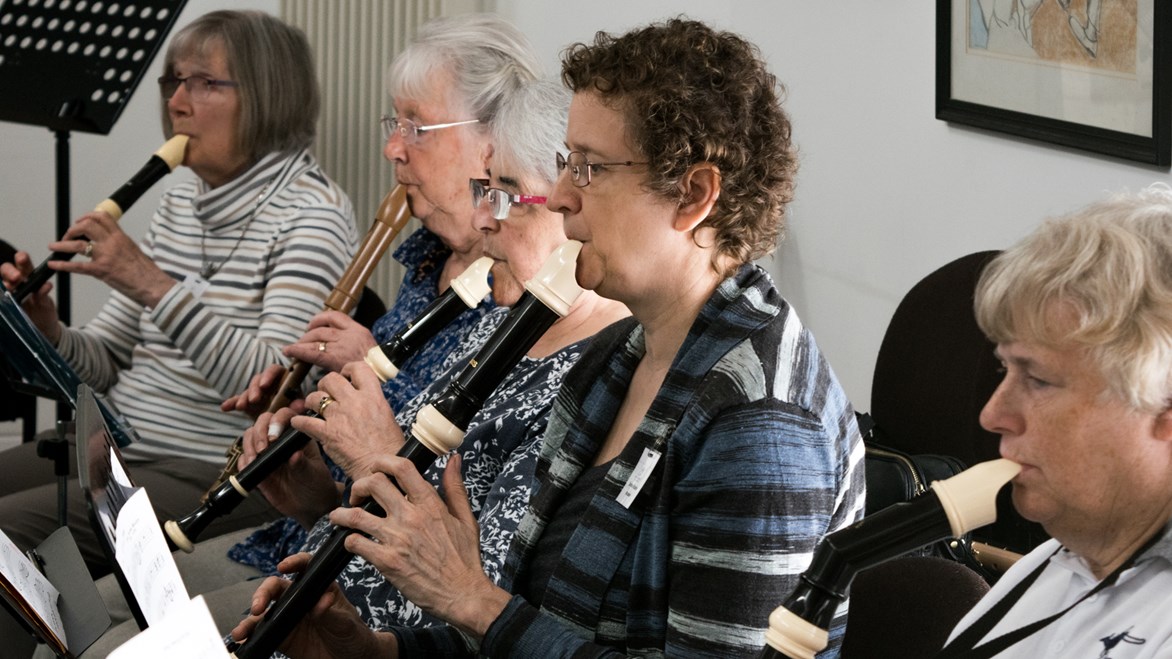 Supportive introduction to playing in the recorder orchestra with two highly experienced recorder specialists. Technique, sectional rehearsals and full orchestral sessions. Students are encouraged to play different sizes of recorder. Suitable for experienced U3A, SRP and ensemble players.

STANDARD: IMPROVER, CONFIDENT

Resident: £320 Non-Resident: £232 (25% off for under 27s) Code: 21/248

Booking for Members opens at 9am on Monday 11 January 2021.

Non-Member and online booking opens at 9am on Monday 8 February 2021.

For details on how to become a Member to take advantage of early booking, see here.
What is the course about?
In this Introduction to the Recorder Orchestra we will explore a varied programme of music from the Middle Ages, Renaissance, Baroque and 20th / 21st century, including some jazzy pieces, which are specifically written for recorder orchestra. Recorder orchestra music is typically in eleven parts with the highest recorder the sopranino and the lowest the contra bass.
Students will be encouraged to play different sizes of recorder. We will include a recorder technique session on Saturday and Sunday and sectional rehearsals to build students confidence when playing in the full orchestra sessions.
The course is particularly suitable for people who are experienced members of U3A, SRP and other ensembles who wish to widen their recorder playing experience and repertoire. More experienced players are welcome to join to take the most challenging parts in the orchestra.
The course is not suitable for beginners and for those who only play descant. An ability to sight read is essential.
What will we cover?
We will cover a wide selection of recorder orchestra music from the Middle Ages to the present day. One recorder technique session per day and sectional rehearsals prepare for the main orchestral playing sessions.
What will we accomplish? By the end of this course you will be able to…
By the end of the course you will be able to play more confidently in recorder orchestras, ensembles and consorts. You will have wider technical knowledge of both playing recorder and of interpreting music.
What level is the course and do I need any particular skills?
The course is lower/upper intermediate. An ability to sight read and to play more than the descant recorder is required. Recorder players who are experienced at playing with others in e.g. consorts, ensembles, U3A or SRP groups are suitable for the course. You do not need previous recorder orchestra experience.
How will the course be taught, and will any preparation be required?
The course will be delivered via group practical work. There will be some technique and sectional rehearsals with the majority of the sessions being full orchestral playing.
Will music be provided in advance of the course?
No, it will be provided by the tutor on the course.
Is there anything I need to bring?
All sizes of recorders that you have, especially bass, great bass and contra bass.