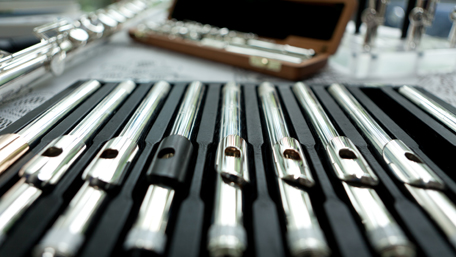 An opportunity for flautists, violinists, violists and cellists to join forces and make chamber music together in a supportive and friendly environment.

STANDARD: CONFIDENT, SKILFUL

Resident: £480 Non-Resident: £366 (25% off for under 27s) Code: 22/342

Booking for Members opens at 11am on Monday 9 May 2022.

Non-Member and online booking opens at 11am on Monday 13 June 2022.

For details on how to become a Member to take advantage of early booking, see here.
What is the course about?
This course is an exciting opportunity for flautists, violinists, violists and cellists to join forces in mixed ensembles. Working with OMBRA musicians Aleksandra Henszel (flute), Victoria Marsh (violin) and Chris Terepin (cello), participants will discover unusual repertoire, explore stylistic performance, and hone general performing and listening skills. Pre-formed ensembles are welcome, as are individual participants (who will be teamed up with others during the course).
The course will include:
- instrument-specific sessions, including warm ups and technique classes;
- ensemble coaching, on both set and free-choice repertoire;
- workshops covering general performance and chamber music skills;
- Q&A with the course leaders, exploring themes that arise during coachings;
- tutors' concert;
- participants' concert.
It offers a relaxed but enthusiastic environment for exploring the stimulating (and sometimes challenging!) world of mixed chamber music. The tutors will set pieces for certain instrument combinations to be prepared in advance, but participants are also encouraged to bring their own repertoire.
Aleksandra, Victoria and Chris have extensive experience in working in chamber groups as well as coaching musicians on performance skills, and are very excited to be joining the Benslow Music family.
Tutor website: aleksandrahenszel.com/ombra
What will we cover?
Participants will have the chance to dive into an interesting corner of the chamber music repertoire. You will play, rehearse, collaborate and experiment! In the process, the course will:
- develop technical and aural skills required to get the most out of mixed instrumental combinations;
- introduce aspects of 'stylistic performance';
- explore general performance skills, helping improve confidence in order to maximise enjoyment of making music with others.
What will we accomplish? By the end of this course you will be able to…
Be sensitive to balancing the sounds of different instruments;
Understand ideas about performing music from different eras and styles;
Have explored new and interesting repertoire;
Be armed with strategies for performance and collaboration;
Have improved confidence in performing and listening.
What level is the course and do I need any particular skills?
Standard: Confident, Skilful.
How will the course be taught, and will any preparation be required?
The course will be taught in three main ways:
- full cohort sessions (e.g. tutti play-through of set piece, Q&A/discussion);
- instrument-specific workshops (e.g. warm-ups, technique clinics);
- ensemble coaching sessions.
There will also be rehearsal time available for ensembles. The tutors will give an evening performance; there will be an opportunity for all participants to perform at the end of the course, although this is not mandatory.
There will be one main set piece, and it is preferred that this be prepared in advance. Other free choice repertoire may be prepared or not, as appropriate.
Will music be provided in advance of the course?
Yes, it will be available on this website to download. Participants are also encouraged to bring their own music.
Is there anything I need to bring?
Just you, your instrument any music you want to bring.
What previous participants said about chamber music courses at Benslow…
"As ever, this course was excellent. The tuition is an excellent standard and the tutors very friendly and encouraging- each bringing something different to the sessions."

"Fun musically and socially, and we were well fed!"

"I love that this course is for preformed ensembles- and that as a result you can really add polish to a piece you've prepared, not just sight read. I really enjoyed the concert- it felt like over the years the regular groups attending have really improved and the atmosphere was hugely friendly and supportive."