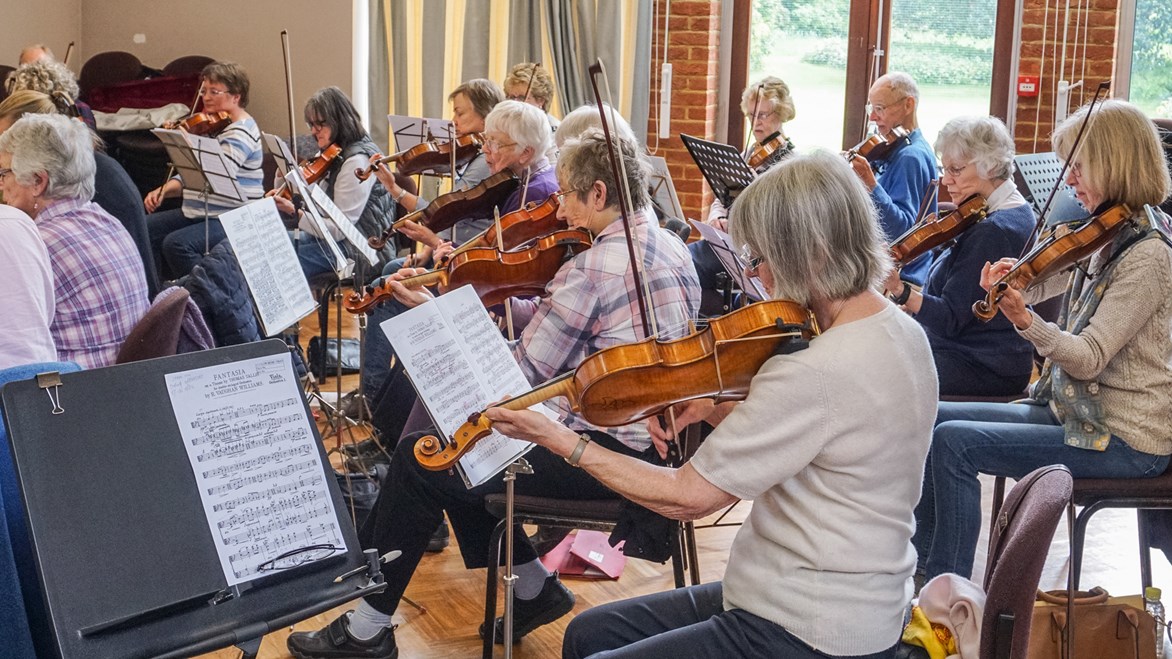 An opportunity to work on rarely-played works for classical orchestra (strings, 2 oboes, 2 bassoons and 2 horns) in a relaxed setting with experienced and sympathetic string player coaches.

STANDARD: CONFIDENT, SKILFUL

Resident: £359 Non-Resident: £260 (25% off for under 27s) Code: 23/287

Booking for Members opens at 11am on Tuesday 16 May, 2023

Non-Member and online booking opens at 9am on Tuesday 13 June, 2023

For details on how to become a Member to take advantage of early booking, see here
What is the course about?
String Orchestra Plus returns again in 2022 with Nic Fallowfield, Richard Muncey, Jenny Curtis and Clare Bhabra - colleagues in the Tedesca Quartet and among the most popular Benslow Music tutors. We once again invite players to join them in an exploration of music which seldom gets an outing in amateur orchestras.
Tutor website: www.tedesca.co.uk
What will we cover?
This year we are looking for an orchestra of strings plus two oboes, two bassoons and two horns will be working on Haydn Symphonies No 42, 67 and Boccherini Symphony No 26 in C minor.
What will we accomplish? By the end of this course you will be able to…
By the end of the course you will feel that you know a great deal more about our set works and their inner workings.
What level is the course and do I need any particular skills?
Standard: Confident, Skilful.
How will the course be taught, and will any preparation be required?
The course will focus on tutti sessions, although some sectional work may be necessary.
Will music be provided in advance of the course?
The parts will be available to download here before the course.
Is there anything I need to bring?
You, your instrument and music!
What previous participants said about this course…
"Excellent, good-humoured tuition, with many very useful tips. The highly skilled tutors really made it an enjoyable experience."

"A friendly but professionally led course."

"The rapport between the tutors and their open and encouraging attitude to participants made the course most enjoyable."

"Amazing music, and amazing tutors, so we achieved far above what we could ever hope on our own."