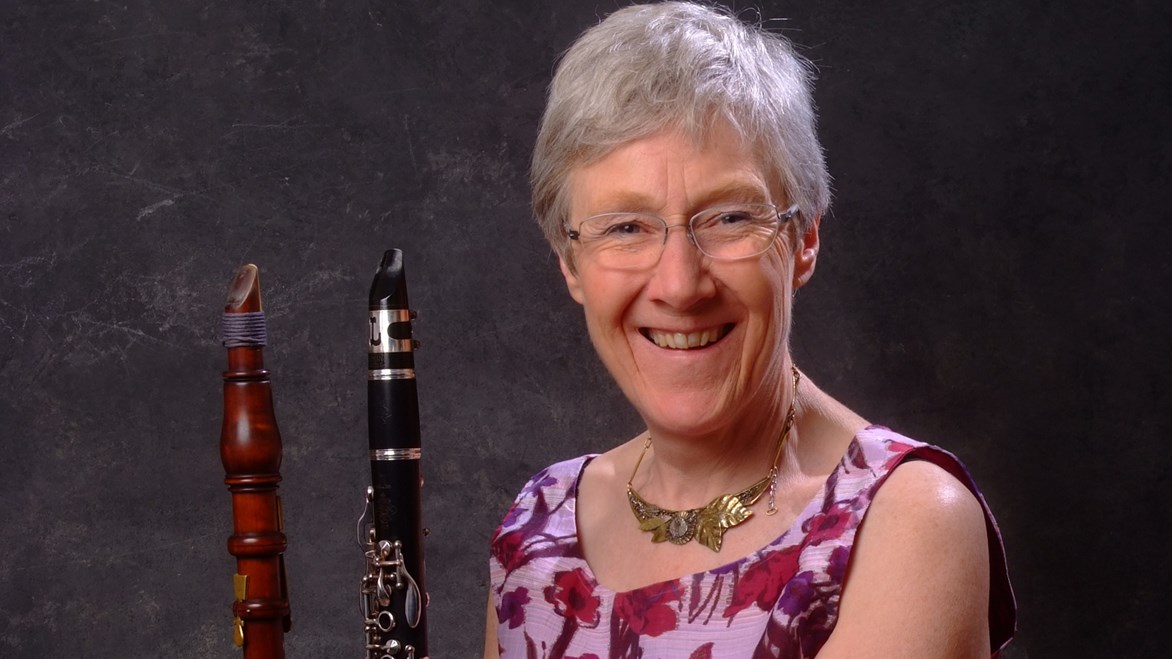 Join clarinettists David Campbell, Margaret Archibald and Ian Scott with pianist John Flinders on their long-established clarinet course. Sessions include clarinet choirs, small ensembles, masterclasses and individual piano rehearsals for every player.

STANDARD: IMPROVER, CONFIDENT, SKILFUL

Resident: £349 Non-Resident: £256 (25% off for under 27s) Code: 22/247

Booking for Members opens at 11am on Monday 10 January 2022.

Non-Member and online booking opens at 11am on Monday 7 February 2022.

For details on how to become a Member to take advantage of early booking, see here.
What is the course about?
Clarinettists David Campbell, Margaret Archibald and Ian Scott explore clarinet music of many kinds joined once again by collaborative pianist John Flinders, especially renowned for his interpretation of the clarinet and piano repertoire. Course members will be allocated places in clarinet choir and small ensembles; offers to play Eb, alto, bass and contra-bass clarinets in the choir are welcome. Pre-formed ensembles can be accommodated and all other players will be allocated places in quartets or other small groups. Tutors share their time between groups and if players feel they need a high level of tutor support they should request this in advance. The tutors' public recital on the Saturday, for which all participants receive entry as part of the course fee, will this year include works that feature larger members of the clarinet family alongside Bb or A clarinet, notably Glinka's Trio Pathétique and William Hurlstone's Trio in G minor both arranged for clarinet, bass clarinet and piano, and Mendelssohn's charming Konzertstücke for clarinet, basset horn and piano. All course members will have the option of a short private rehearsal with John Flinders andmay like to work in pairs to rehearse works for two clarinets and piano including from the tutors' concert programme. The Saturday afternoon masterclass with David and John will give course members a platform to share study of these ensemble works; the parallel performance workshop with Margaret and Ian will offer less confident performers the chance to study sections of the same repertoire.
What will we cover?
By the end of the weekend all course members will have played in clarinet choirs, rehearsed in quartets or other small ensembles, worked at a piece with piano including either in a masterclass or workshop situation and attended the tutors' recital, with an optional session to play music for Eb or bass clarinets or basset horn.
What will we accomplish? By the end of this course you will be able to…
Emphasis throughout the weekend is on the sheer joy of taking part in music-making with others of like mind. Tutors will help with note accuracy and counting, intonation, tone quality, interpretation and period style and above all with collaborative awareness in rehearsal and performance.
What level is the course and do I need any particular skills?
Players of intermediate and advanced level will enjoy sight-reading the range of works on offer with secure counting particularly important. Less confident players are also welcome and should request to be included in ensembles with a high level of tutor support when applying.
Will music be provided in advance of the course?
Tutors provide music for the choir and bring their own private collections of small ensemble music. Course members should provide their own music if they wish to take part in the masterclass or performance workshop. Music will not be provided by tutors in advance. IMSLP has a wide range of parts and scores. Benslow Music members may be able to hire the music from our library.
Is there anything I need to bring?
Players should bring their Bb clarinet and any other clarinets such as Eb, C, A, alto, basset horn, bass or contrabass that they would like to play. They should ensure that they have several reeds that they know work, cleaning cloths, cork grease, a peg and a music stand.
What previous participants said about this course…
"Quartet tuition from Margaret was a high point as were the sessions with John Flinders and David and Ian's feedback and tips."

"The tutors were very engaged with the needs of the course members, their methods were very motivating. I especially enjoyed being able to choose music to work on in smaller groups from the wide range of scores the tutors brought with them."

"Fun, just the right amount of playing, supportive, caters for all abilities."

"A really good way to get back into playing or focus on what you need as an individual to improve your playing and have fun doing it."