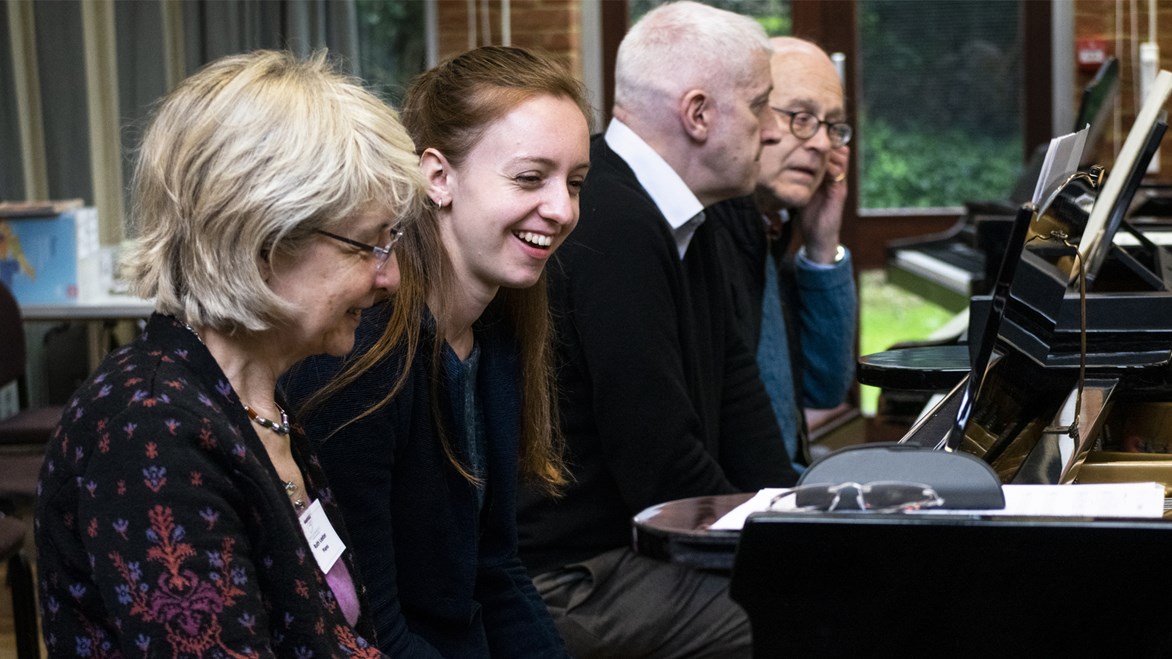 Analysis of techniques involved in sight-reading with reference to particular examples provided, following this with practice in solo, accompanying and duet playing.

STANDARD: LEARNER, IMPROVER, CONFIDENT, SKILFUL

Resident: £339 Non-Resident: £246 (25% off for under 27s) Code: 23/229

Booking for Members opens at 11am on Monday 12 December 2022.

Non-Member and online booking opens at 11am on Monday 9 January 2023.

For details on how to become a Member to take advantage of early booking, see here
What is the course about?
Christopher and Suzie return to Benslow Music for another popular piano sight reading course. The course is organised into two streams – one for the more advanced players and one for those of more modest achievements – and if you're not sure where you fit in, there is the flexibility to move between the streams during the course. The tutors provide a wide range of music with various arrangements to enable course members to select the music at their level. There will be discussions on the techniques involved in sight-reading together with exercises to facilitate this with plenty of duet playing, as one of the best ways to improve your responses to reading, together with sight-reading in ABRSM exam conditions. You will be participating actively throughout the course and will be playing on your own, in duets or small groups and large mixed ability groups. And above all you will have a renewed confidence in your abilities.
What will we cover?
A wide range of music from all eras – solos, duets and trios.
What will we accomplish? By the end of this course you will be able to…
By the end of this course you will have gained a better understanding of what is involved in sight-reading together with knowledge of how to put this into practice.
What level is the course and do I need any particular skills?
Standard: Learner, Improver, Confident, Skilful
How will the course be taught, and will any preparation be required?
There will be opportunities to give and receive peer feedback. Tutor feedback is also a key component of the course.
Students are asked to prepare by sight-reading from many different styles and periods before coming on the course in order to speed up their reaction time and note-finding. No specific preparation required.
Will music be provided in advance of the course?
Participants will be provided with many examples throughout the course. There is no requirement for students to bring their own music.
Is there anything I need to bring?
Writing materials for note-taking.
What previous participants said about this course…
"Really helpful challenging course and great fun! Tutors very helpful, encouraging & knowledgeable. Lots of different music including duets, solo pieces and exercises. Lots of great tips."

"Two tutors and splitting the group allowed for good balance of confidence building and new challenges. Both tutors were excellent, worked very well together and both very sensitive to the needs of the participants. It was fun to start and finish as a whole group. We were lucky that small course numbers helped us to gel socially too. Have come away with more confidence and list of music so can use to work on my weaker areas. Exercises were varied and well graded as we improved."