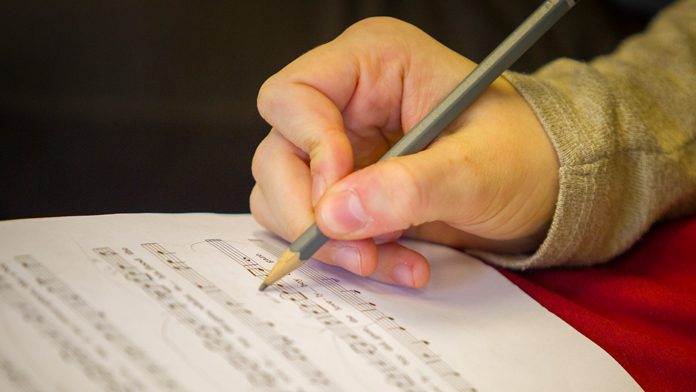 Jon Bennett is a published composer, award-winning songwriter and member of Moonrakers. This weekend course will provide you with the skills necessary to compose your own lyrics and melody and give you an opportunity to play with other musicians. Suitable for intermediate/advanced players of any instrument, though as a songwriter you may be a beginner.

STANDARD: CONFIDENT

Resident: £402 Non-Resident: £292 (25% off for under 27s) Code: 24/234

Booking for Members opens at 11am on Monday 20 November 2023

Non-Member and online booking opens at 11am on Monday 11 December 2023

For details on how to become a Member to take advantage of early booking, see here
What is the course about?
To provide you with the approach, theory, structure and tools necessary to write your own tunes and lyrics. This will include (a) Chordal theory and Ideas for a strong melody; (b) Chordal progressions to work with; (c) Lyrical suggestions and an exploration of song structures. The style will be primarily folk/singer-songwriter but can be adapted to other styles. Jon's own songs have been in the contemporary folk idiom, so this will be the 'default' style. You can either bring your own unfinished song ideas, or work from scratch.
What will we cover?
We will cover three aspects of songwriting: (1) Song structure: the shape of the song – chorus, verse, middle-8, etc. (2) Chord progression within a particular key; different modal scales/chords that suit a particular style of song; (3) Lyrics: how to find your subject, the song "hook" and structure. How to avoid the cliches!
If you already have some work in progress, we can provide a critical appraisal and feedback. We promise you will have a very sympathetic and encouraging small audience!
What will we accomplish? By the end of the course you will be able to…
Armed with the necessary tools, you will be able to write and perform your own song, with critical appraisal and further ideas offered. By the second day, some of your own ideas may emerge and you might like to test these with the group. We're not expecting a finished product within a weekend – just the initial sparks and ideas.
What level is the course and do I need any particular skills?
If you play an instrument, you'll need to be at least at intermediate level (e.g., able to play basic chords). However, you may be purely a lyricist, in which case we could work with you on a tune. Some instruction can be provided for Instrumentalists on phrasing, strumming techniques and rhythm for the tunes.
How will the course be taught, and will any preparation be required?
The course will enable students to ask questions, demonstrate their compositions and interact with each other and the instructor. It will be conducted in three phases over two days. Each day will be broken into three 2-hour sessions – two in the morning, one in the afternoon.
Phase 1: Instructional element: how to begin the process of tune writing. Tuition, questions, ideas.
Phase 2: Instructional element: how to begin the process of lyric writing. Tuition, questions, ideas.
Phase 3: Finalizing your song(s): presentation of compositions either as a solo or ensemble, with appraisal from the group. If you don't yet have something to offer, not to worry – plenty of additional ideas will be presented and discussed.
Will music be provided in advance of the course?
No music will be provided in advance. If you already have a song on paper, we can photocopy this to share. If not, we will endeavor to play by ear.
Is there anything I need to bring?
Initially, you will work with a flipchart and our eyes/ears. Between sessions you will have the opportunity to collaborate with fellow participants.