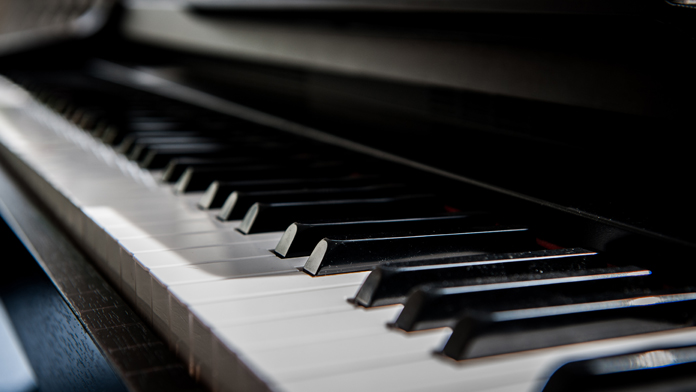 A hands-on course for pianists who wish to explore jazz and improvisation, based on the tutor's best-selling book 'Beginning Jazz Piano (Pts 1 and 2), published by Schott Music.

STANDARD: IMPROVER, CONFIDENT, SKILFUL

Resident: £365 Non-Resident: £265 (25% off for under 27s) Code: 24/203

Booking for Members opens at 11am on Tuesday 29 August 2023.

Non-Member and online booking opens at 11am on Monday 18 September 2023.

For details on how to become a Member to take advantage of early booking, see here
What is the course about?
It is aimed at pianists with little or no jazz experience who wish to develop improvisation skills, learn the basics of jazz and blues harmony and explore playing in a variety of jazz styles. Time will also be spent listening to some of the key players in jazz. Topics covered are described in these two videos:
Part 1: https://youtu.be/-heaV--ZbcQ
Part 2: https://youtu.be/oj8rhHJ1sT4
Please note the course is not suitable for beginner pianists.
Tutor website: Tim Richards
What will we cover?
• Basic jazz harmony and chord symbols.
• How to improvise over one chord only, and over two alternating chords.
• Simple jazz tunes in swing, blues and latin styles. • Modes and pentatonic scales.
• Bass lines and chord voicings.
• Simple accompaniment and improvisation techniques.
• Reading from lead sheets.
What will we accomplish?
By the end of this course you will be able to:
• Accompany someone by playing left-hand bass lines, with chords in the right hand
• Play a few simple jazz tunes with left-hand accompaniment
• Use simple improvisation techniques to construct your own solos
• Have a better knowledge and appreciation of important jazz pianists and their styles
What level is the course and do I need any particular skills?
Although no previous jazz experience is required you will need reasonable keyboard skills, the ability to play hands together and a good sense of rhythm. You should also be able to read music.
How will the course be taught, and will any preparation be required?
This is a hands-on course; several pianos will be available in the room. You will play solo and with others. You will also have access to the practice rooms. The tutor will provide guidance, tips, suggestions and will give feedback. No specific preparation is required.
Will music be provided in advance of the course?
No, we'll be using the course book 'Beginning Jazz Piano (Pts 1 and 2)', published by Schott Music.
Additional handouts may be provided by the tutor.
Is there anything I need to bring?
The course book: 'Beginning Jazz Piano (Pts 1 and 2)', published by Schott Music.
The tutor will have some copies available for sale.
What previous participants said about this course
This is a new course, but you can read a review of the book here.