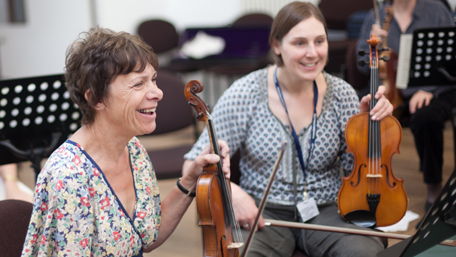 Join workshop leader Anna Lusty, together with specialist tutor Ros Woodin, on an introductory day for beginners in string ensemble playing.

Fee: £87 (25% off for under 27s) Code: 22/105
The sessions are aimed at introducing and exploring skills that enable us to play music together with other beginner adult string instrument learners. All classical string instruments are welcome (violin, viola, cello and double bass). No prior experience is needed, it is for those who have had a few lessons – up to grade 3 level.
What is the course about?
Primarily, this day workshop is all about experiencing and enjoying the wonderful and enriching sensation of playing music together in a string ensemble. This workshop has grown out of an informal termly get together from a recent adult beginner string project called Benslow Late String Starters*, providing a safe, non-judgemental environment.
This workshop day is all about getting comfortable with playing in a group environment. During the day you will have the chance to play altogether in a big ensemble, as well as explore different string ensemble skills in smaller groups. We will guide you through how to listen and respond to other instruments and musical lines. Other skills that will be covered include the challenge of peripheral vision and listening whilst playing, as well as becoming acquainted with intonation awareness in string ensembles.
What will we cover?
By the end of the workshop day, all course members will have had the opportunity to play in a big string ensemble, as well as in a smaller group. These smaller groups will range in focus from an introduction to chamber music, to targeted exercises exploring beginner ensemble skills such as intonation and group pulse games.
What will we accomplish? By the end of the course, you will be able to…
Emphasis throughout the day is on the sheer joy of taking part in music-making with others of like mind. Regardless of whether this is your first ever time playing with others, or you regularly play in groups, this workshop will give you both awareness and 'ways in' to developing ensemble skills. Tutors will help with note accuracy and counting, intonation, tone quality and interpretation and above all with collaborative awareness in rehearsal and performance.
What level is the course, and do I need particular skills?
From complete beginner level to grade 3 level, Players should be able to read open string notation and simple notation as a minimum level of musical literacy. There will be differentiated parts to appropriately challenge course members.
Will music be provided in advance of the course?
Tutors will provide music for the larger ensemble 6 weeks in advance and will bring some collections of small ensemble music.
Is there anything I need to bring?
Players should bring their instrument, along with any other necessary items for instrument upkeep such as rosin, spare strings etc. We also recommend bringing a pencil and eraser.