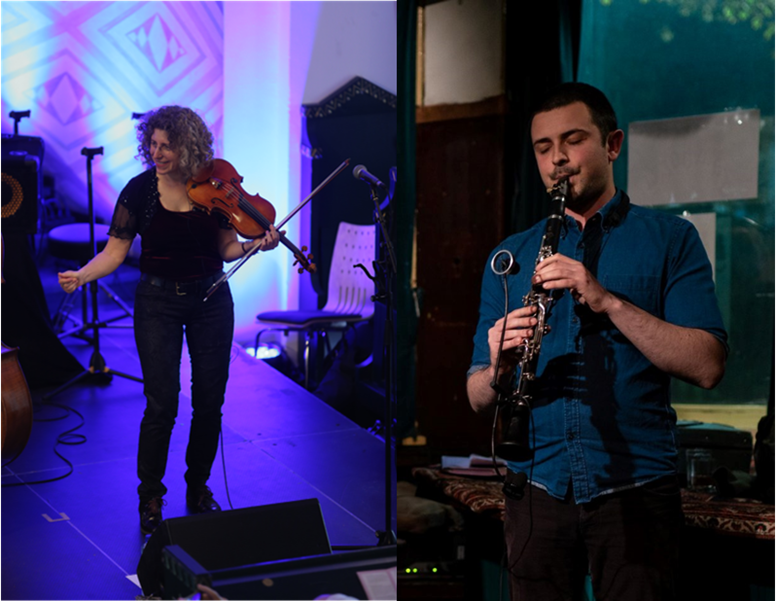 Immerse yourself in the celebratory and soulful music of Jewish eastern Europe. Course tutors will introduce you to the elements that make this genre unique via a selection of fantastic repertoire provided as sheet music.

STANDARD: IMPROVER, CONFIDENT, SKILFUL

Resident: £412 Non-Resident: £302 (25% off for under 27s) Code: 24/247

Booking for Members opens at 11am on Monday 20 November 2023

Non-Member and online booking opens at 11am on Monday 11 December 2023

For details on how to become a Member to take advantage of early booking, see here
What is the course about?
Ilana Cravitz and John Macnaughton present a course designed for instrumentalists (including keyboard players) from all musical backgrounds - classical, folk, world or jazz. Applicants must be of at least roughly Grade 4 level (no formal qualifications needed but a knowledge of scales and arpeggios will be useful), and an ability to read music is essential as the course will be taught mainly using written music. There will also be opportunities to learn by ear for those who would like to. The coaching is all about interactive learning, concentrating on repertoire and attention to melody, accompaniment and ornamentation. Where appropriate dance elements are also introduced to the course. Oral and aural learning methods will help those unfamiliar with it acquaint themselves to the style more quickly – though we hope for many return visitors! Putting music into its historical context is an important part of the course, as is the telling of stories of musicians past and present.
Tutor website: www.ilanacravitz.com
The course fee includes entry to the tutor's concert on the Monday evening.
What will we cover?
Klezmer modes.
Different types of tunes and dances.
The sound of traditional klezmer.
What will we accomplish? By the end of this course you will be able to…
Recognise a common klezmer mode.
Understand how rhythm and tempo work in klezmer dances/music.
Play some traditional ornamentation.
Recognise the tempo and rhythmic differences between the four most common klezmer dance genres.
What level is the course and do I need any particular skills?
Ability to read music required.
Standard: Improver, Confident, Skilful.
How will the course be taught, and will any preparation be required?
The course will be taught in groups of various sizes, including instrumental sections and large and small ensembles. No preparation is required.
Will music be provided in advance of the course?
Tunes for the course and a modes sheet will be provided in advance as downloadable pdfs. Students should print out music to bring, or liaise with Benslow for printing.
Is there anything I need to bring?
Recording device and a pencil.
What previous participants said about this course…
"It's a great way of expanding your musical experience and freeing your playing."

"It's an immersive but utterly unintimidating experience which gives you the chance to get up close with fantastic musicians living and thriving in one of the world's most special folk traditions."

"Great diversity of tutors and their musical skills – major individual talents."