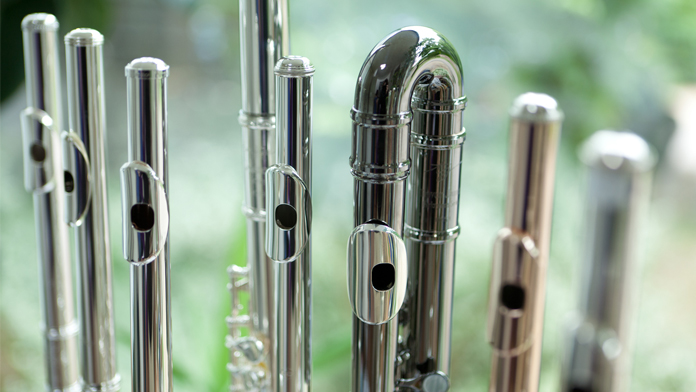 Explore the standard (and not so standard!) repertoire for flute and harp with the encouraging support of experienced tutors Lisa Nelsen and Keziah Thomas.

STANDARD: IMPROVER, CONFIDENT, SKILFUL

Resident: £320 Non-Resident: £232 (25% off for under 27s) Code: 22/223

Booking for Members opens at 11am on Monday 18 October 2021.

Non-Member and online booking opens at 11am on Monday 15 November 2021.

For details on how to become a Member to take advantage of early booking, see here
What is the course about?
The flute and harp duo is a well-established chamber combination with a fantastic breadth of repertoire which will be explored in detail over the weekend. We will delve into standard works by Mozart, William Alwyn, Ilbert, Whibley and Rota and also look at the process of improvisation on folk songs and candenzas for the Mozart Flute and Harp Concerto. Other duo works are welcome. Ready formed duos are invited to bring their own repertoire but we also welcome harpists and flautists who are new to this combination and are keen to experience this music. Tutors Lisa Nelsen (Aquilae Duo) and Keziah Thomas (Aoyama Duo) have a vast amount of experience as chamber musicians and tutors and will lead the group through warming up, technique work and performance skills.
Tutor website: www.lisanelsen.com www.keziah.co.uk
What will we cover?
Warming up as soloists and as a duo. Ideas for effective rehearsing, performance skills and exploring repertoire for flute and harp.
What will we accomplish? By the end of this course, you will be able to…
Have a thorough overview of the breadth of repertoire for flute and harp. Established duos will have explored the musical elements, technique and context of their repertoire and the whole group will have studied a confident approach to rehearsing as a duo.
What level is the course and do I need any particular skills?
This course would best suit intermediate harpists and flautists of Grade 5+
How will the course be taught, and will any preparation be required?
The course will be taught in whole group sessions, masterclass settings and smaller group individual work with tutor feedback.
Will music be provided in advance of the course?
Participants are invited to bring any repertoire for flute and harp that they are keen to play on the course, other excerpts of pieces will be provided.
Is there anything I need to bring?
Instruments, music, excerpts