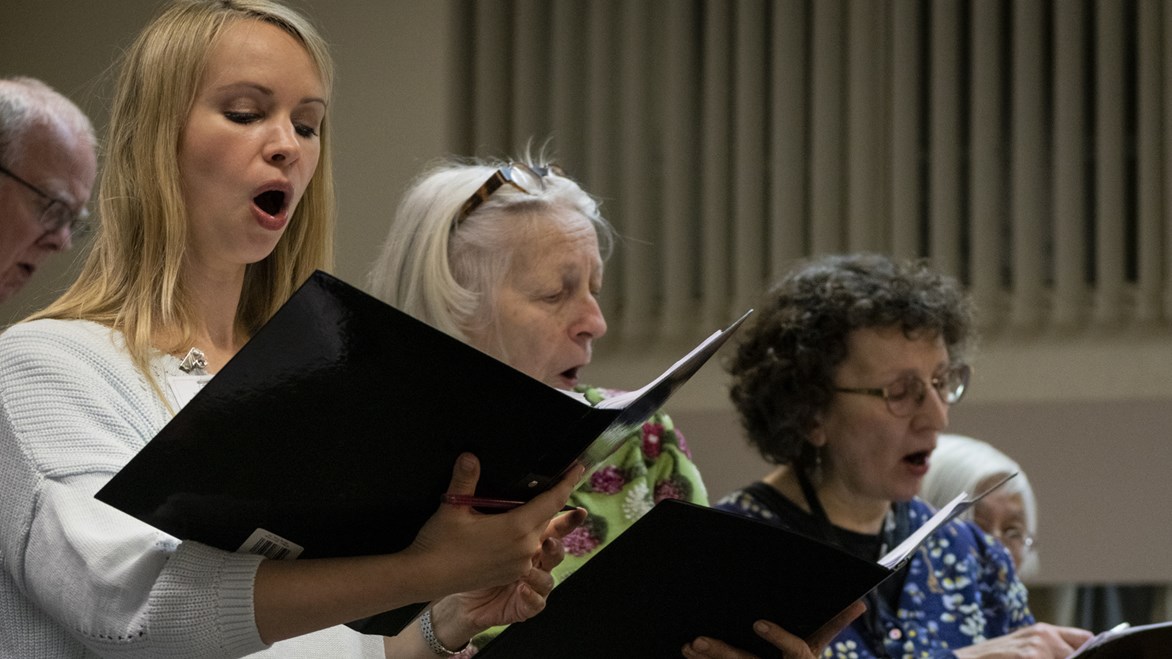 A practical course introducing some techniques and routines to help those with a somewhat hazy grasp of music notation in its application to singing - without using any instruments other than the human voice.

STANDARD: BEGINNER, LEARNER

Resident: £320 Non-Resident: £232 (25% off for under 27s) Code: 22/216

Booking for Members opens at 11am on Monday 23 August 2021.

Non-Member and online booking opens at 11am on Monday 20 September 2021.

For details on how to become a Member to take advantage of early booking, see here.
What is the course about?
Do you struggle in your choir because you cannot sing at sight? Perhaps you are inhibited from auditioning for a choir because written music seems too much like a foreign language to you? Barbara will offer some simple tools to get you going and help to dispel the mystique (or possibly phobia!) of reading music. Rhythm and pitch notation will be explored with the help of tonic sol-fa and hand signs. Some basic theory, including understanding key and time signatures, will be introduced along with the practical work, to set you on the road for fuller participation in choral singing - and you'll be given hints for regular follow-up practice! A small additional charge of £8 - £10 for exercise sheets and a sight singing book is payable directly to Barbara at the course.
What will we cover?
Rhythm – time signatures; relative note values; clapping rhythms of spoken language; keeping a steady pulse; simple & compound time.
Pitch – using hand signs with tonic sol-fa to 'embody' and familiarize pitch relationships, intervals and developing a sense of key.
Theory – clefs and key signatures; how to find the key note to establish where Doh is; how to adjust for minor keys; accidentals; common musical terms.
What will we accomplish? By the end of this course you will be able to…
Clap simple rhythms from written notation.
Work out what key a piece of music is in and locate the key note.
Work out how to put tonic sol-fa names to simple familiar tunes.
Work out how to sing intervals in simple unfamiliar tunes, both from music notation and from tonic sol-fa symbols.
Practise singing with hand signs, in the pentatonic as well as major and minor scales.
What level is the course and do I need any particular skills?
Beginner, Learner.
No previous skills are required. This is a course to acquire some basic skills, so is suitable both for beginners and those who have sung in choirs for some time, but have relied on following others and never really known how to connect the written notation to their own voice!
How will the course be taught, and will any preparation be required?
It will be group practical work and also - space willing - dividing into smaller practice groups, for more individual focus. However, it will be informal, supportive and non-competitive; no-one needs to sing entirely on their own unless they wish to.
Tutor guidance will incorporate feedback throughout, but groups will be encouraged to give peer feedback to develop more concentrated listening, and gain confidence to work on their own.
Will music be provided in advance of the course?
No, it will be provided by the tutor on the course.
Is there anything I need to bring?
Notebook, pencil (preferably 2B) and rubber. £10 to cover handouts.
What previous participants said about this course…
5/5 "A way of starting to learn to sight sing, presented in an unthreatening way. Explanations clear and attention given to all participants."