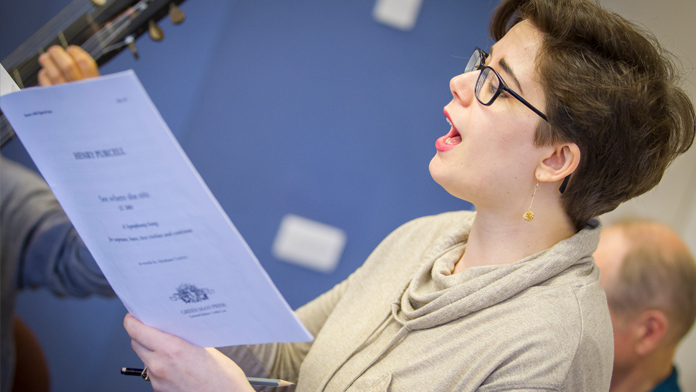 Every singer needs knowledge, tools and techniques to enable them to maintain the optimal functionality of their voice. You will learn how to create your own vocal tool-box so you become a 'self-reliant' singer.

STANDARD: IMPROVER, CONFIDENT, SKILFUL

Resident: £320 Non-Resident: £232 (25% off for under 27s) Code: 22/212

Booking for Members opens at 11am on Monday 23 August 2021.

Non-Member and online booking opens at 11am on Monday 20 September 2021.

For details on how to become a Member to take advantage of early booking, see here.
What is the course about?
In the golden era of the Bel Canto, a student would typically work exclusively with their teacher on a daily basis and would never practice unsupervised. For many reasons, this model is not sustainable for the modern singer. We now have a wealth of knowledge from sports and voice science research. We can give singers precise tools and techniques to tackle typical problems which might occur. A simple regime of exercises which target vocal muscles will be taught. The singer will then learn how to apply any of these techniques to the music they singing. The benefit of this is that the singer can be self-reliant in maintaining vocal function and this will allow the singer freedom to be able focus on musical matters with confidence.
The singer's tool-box includes techniques and regimes for
Warm-up and cool-down
What is being warmed up and why? What are you trying to achieve?
Learn the benefit of cooling down to relax tired muscles and avoid vocal fatigue or injury.
Semi-occluded vocal tract exercise (bubbling)
Breathing
Tongue root tension
Constriction
Evenness across the registers
Improving timbre
Improving stamina
Tutor website: www.inspectorvoice.co.uk
What will we cover?
We teach singers how to analyse their songs towards optimizing their vocal function. Singers will learn how to apply the techniques which they will learn to deal with common problems as listed above. This will show them how they can then focus on musical matters and interpretation and allow their confidence as a performer to grow.
What will we accomplish? By the end of this course you will be able to…
Trouble-shoot technical problems for yourself and use the "toolbox" to become a self-reliant singer who is morein control of their own voice and is able to optimize its function. The skills you learn will stay with you for a lifetime and help the longevity of your singing life as evidenced in the primary research of RMM . Benefit from having had the combined experience of two singing specialists to share their expertise and love of the human voice and repertoire with you.
What level is the course and do I need any particular skills?
This course will be for intermediate to advanced singers who are able to prepare art songs or arias in advance of the course to work on during the course.
How will the course be taught, and will any preparation be required?
There will be some group work, and some individual work delivered in a masterclass. Feedback will given by the tutors and the students will also be encouraged to enter into discussions and comment on performances.
Will music be provided in advance of the course?
No, participants are requested to bring their own music: please prepare two or three arias/songs. Helpful resources: IMSLP has a wide range of parts and scores. Benslow Music members may be able to hire the music from our library
Exercises/vocalises will be provided by the tutors.
Is there anything I need to bring?
Comfortable clothing for vocal and breathing exercises.
What previous participants said about the course:
"Very useful… your teaching that day shifted my thinking somewhat .. my voice was so much better. The top A's were much easier to achieve, But surprisingly it made the low notes (which I've always struggled with) much more accessible."

"I thought the whole session hit all the right notes (if you'll excuse the pun!) It was informative, but fun, there was plenty of room for practical demonstration."

"I enjoyed the workshop. I found the structure accessible and the exercise with partner worked well. I also found the variety of questions and individual elaborations interesting."

"Just right…totally relevant and useful.. …absolutely relevant to continuing health irrespective of singing."

"If there are further sessions I would be pleased to attend. Thanks for your help, passion and enthusiasm towards making us better singers."

"The content and pace were just right. Plenty of variety and timing impeccable. I found it easy to follow For myself I found it invaluable."