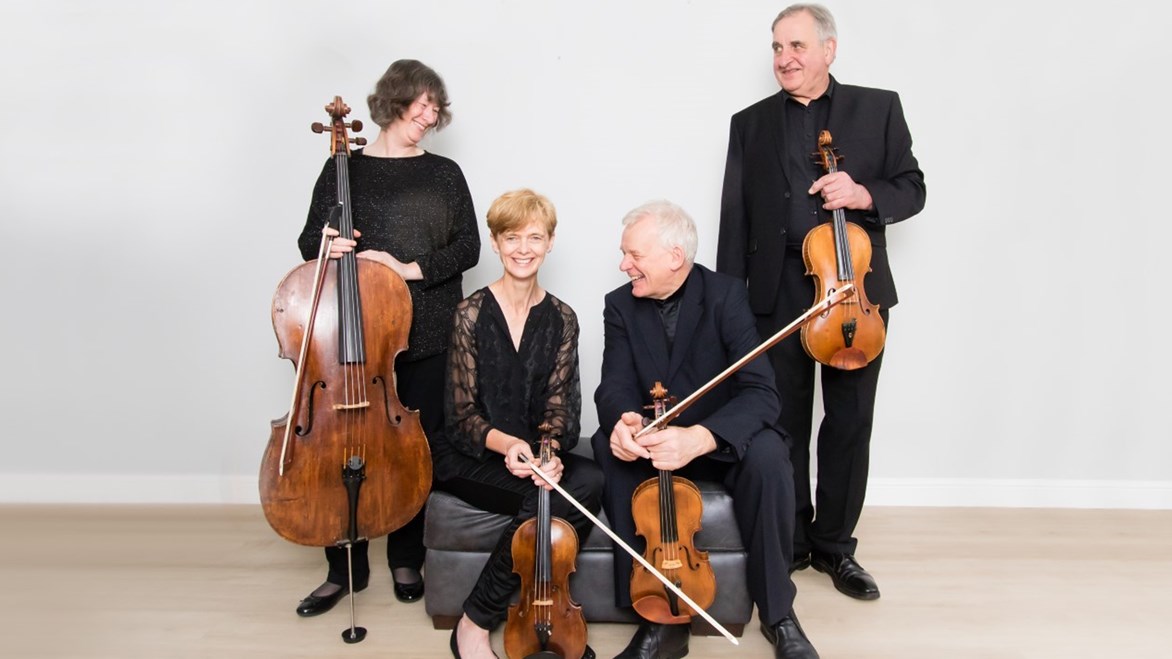 An opportunity for pre-formed piano trios, piano quartets and piano quintets to be coached by a professional string quartet and pianist. String quartets (or trios) are also welcome: they will receive coaching from members of the ever-popular Tedesca Quartet and in addition will have the opportunity to play with the acclaimed pianist Charles Matthews.

STANDARD: CONFIDENT, SKILFUL

Resident: £490 Non-Resident: £376 (25% off for under 27s) Code: 23/301

Booking for Members opens at 11am on Thursday 1 September 2022.

Non-Member and online booking opens at 11am on Thursday 29 September 2022.

For details on how to become a Member to take advantage of early booking, see here.
What is the course about?
This course is for string chamber groups, with or without piano, to be coached by members of the Tedesca Quartet and the pianist Charles Matthews. There will also be the option of exploring new repertoire with one of the tutors sitting in to play and coaching from within the group. So a piano trio might become a piano quartet, a piano quartet might find themselves playing piano quintets, and string quartets might find themselves playing viola quintets with Richard Muncey for a session, or perhaps the Schubert two-cello quintet with Jenny Curtis. Pre-formed string quartets will also have the option of playing a piano quintet with Charles Matthews. A pre-formed string trio will have the option of playing a quartet with Nic Fallowfield or Clare Bhabra. The course fee also includes entry to the concert given by the tutors on the Wednesday evening, in which the main work will be the Piano Quintet by Franck.
Please note that this course starts with a coached session at 4.30pm on the first day and will finish after lunch on the final day.
What will we cover?
The pieces you have prepared in advance and some pieces with which you might be less familiar, as outlined above.
What will we accomplish? By the end of this course you will be able to…
By the end of the course you will have received much advice both technical and musical and been shown new ways to go about rehearsing when preparing with your group. You will feel you know a great deal more about the pieces you bring and had different ways of thinking about the music suggested to you.
What level is the course and do I need any particular skills?
Players of Higher Intermediate and Advanced level will get the most from this course. You will need to have prepared your pieces so as to be able to play confidently as an ensemble. Experience in chamber music will be very helpful and confidence to sight-read new repertoire will enhance your enjoyment of the course.
How will the course be taught, and will any preparation be required?
The course will be a mix of straightforward coaching and coaching from within the group by one of the tutors. This has always proved invaluable in promoting confidence, new approaches to playing, and getting an insight into the world of professional chamber music. The more prepared you can be in your chosen repertoire, the more you will gain from the coaching. Please note that this course starts at 5pm on the first day.
Will music be provided in advance of the course?
No, participants are requested to bring their own music. Helpful resources: IMSLP has a wide range of parts and scores. Benslow Music members may be able to hire the music from our library.
Is there anything I need to bring?
Your instrument plus parts and scores of the pieces you will be working on. Pencil and rubber. Fearlessness and a spirit of adventure!
What previous participants said about this course…
"Amazing experience, the Tedesca are brilliant, so encouraging."

"The coaching is always outstanding from the Fab Four. Always. By the last day I am playing beyond anything I might have expected or previously experienced."

"Don't panic! There can be no kinder tutors than the Tedesca Quartet - they are very patient and guide participants through their sessions with good humour."