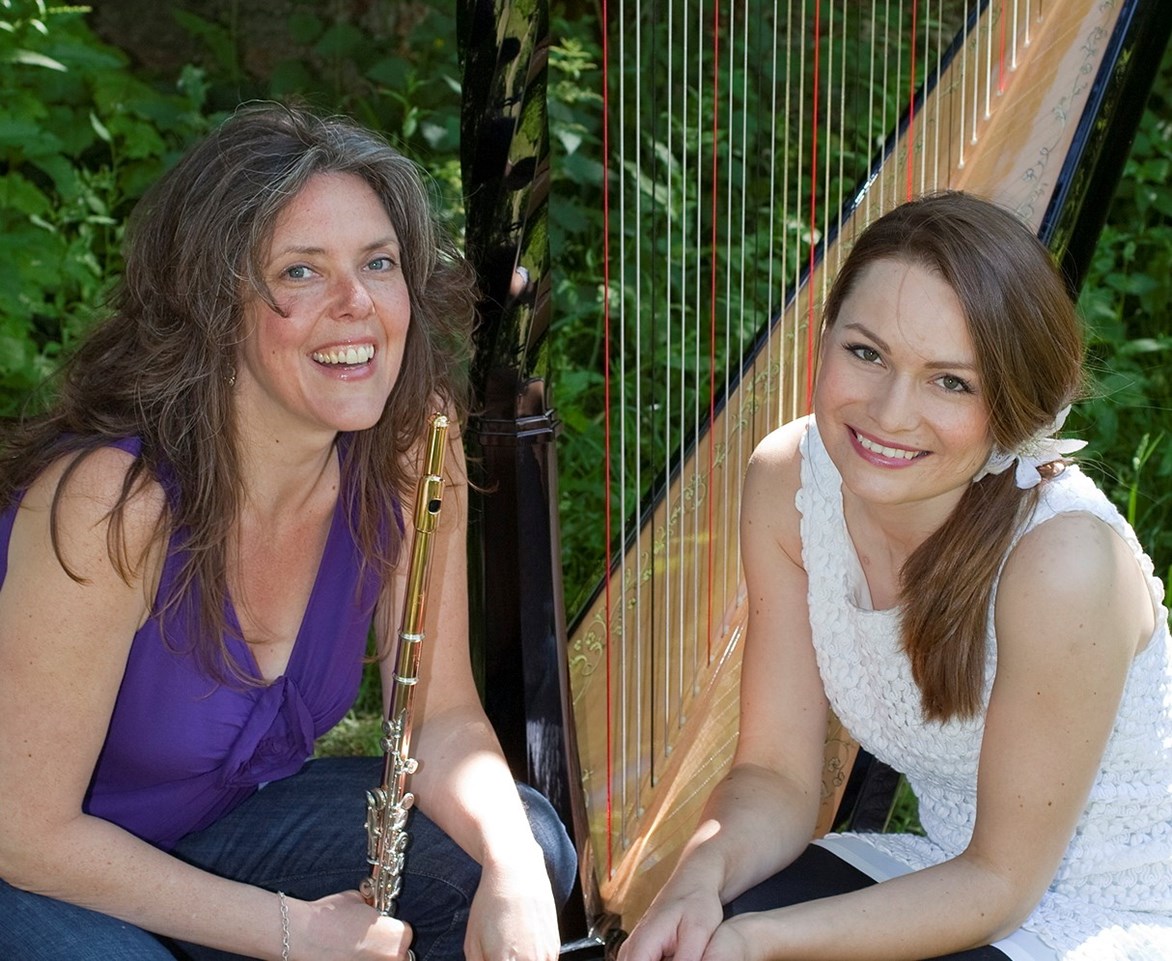 Open to individuals and pre-formed duos:
For flautists at Grade 5+ level
For lever/pedal harpists at Grade 5+ level

STANDARD: IMPROVER, CONFIDENT, SKILFUL

Fee: £150 (25% off for under 27s) Code: 21/OL67
Lisa and Ellie would like to bring an opportunity to work on pieces for this combination, as well as introduce new approaches to practising challenging passages in music for flute and either pedal or lever harp. The repertoire is extensive for this beautiful combination of instruments, and so is the portable nature of possibilities of venues and events to play and perform together. Lisa and Ellie look forward to working closely with you on excerpts from the most famous and accessible pieces from the flute and harp repertoire. Their course focuses on: exploring the repertoire and trying out as many textures as possible, approaching challenging passages in practise, and their 'Ten Tips for watertight ensemble playing' for this combination. Please consider this course and discover the chamber music that Aquilae Duo thrive on!
The course will comprise of individual flute or harp sessions, as well as combined group sessions with the option of breakout rooms for musicians who are willing to be paired to try out a specific passage and share their ideas. Ellie and Lisa will also have a course concert platform where the duo perform some of the repertoire as well as allowing the students have the chance to show what they have worked on in a low pressure, supportive environment.
The repertoire (music will be provided ahead of the course): Fantasia on Greensleeves by Vaughan Williams, Kōjō no Tsuki by Rentaro Taki, short excerpts from the Mozart Flute and Harp Concerto, Alywn's Naiades, Takemitsu's Toward the Sea III (alto flute) and students' can bring their own choices when time allows. We will cover evenness of fingers, timbres that complement and contrast, and fiddly bits of the pieces that are difficult to put together. If you have always wanted to play flute and harp repertoire, come and discover the possibilities with Aquilae Duo!
Lisa and Ellie met over 13 years ago to play for a concert that a friend had arranged, and they haven't looked back. The chemistry between the two is mesmerising, and their communication and performances have been heralded as beautifully exciting with something for everyone. Ellie is a passionate ambassador for the harp and its music. She is an international prize-winning artist who has performed everywhere from Shanghai to New Orleans, and is a leading expert in contemporary music. She is an active composer and arranger who performs and records with her folk band Ranagrí, Voces8, Orchestra of the Swan and hip hop producers including Cassell the Beatmaker and Freemonk. Lisa grew up in Western Canada on a pig farm, and has lived in the UK for over 30 years. She is internationally known as a soloist, chamber musician and mentor in performance, having performed and taught extensively in The Netherlands, Sweden, Norway, Finland, Greece, Italy, Hong Kong, Kuwait, UAE, USA, Canada as well as the UK. She is the Chair for the British Flute Society and a Professor of flute for Junior Guildhall School of Music in London. Lisa is also a champion of contemporary music, but thrives in the chamber groups she works with, learning and growing with all the new programmes of repertoire. Lisa has been teaching at Benslow for at least 10 years, and would like to introduce the members to Ellie's infectious artistic style.