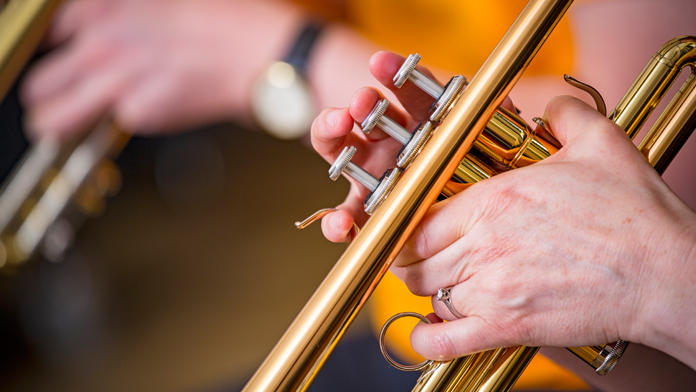 After such a successful course last year, we're delighted to welcome back Chris Pyne for this follow-up course for beginners and improvers. This course is primarily for players who have always wondered if it were possible to learn jazz but just feel that the whole thing is just too daunting. We'll continue to develop our skills and Chris makes the entire subject of jazz improvisation approachable in a very practical way.

STANDARD: IMPROVER, CONFIDENT, SKILFUL

Resident: £320 Non-Resident: £232 (25% off for under 27s) Code: 22/234

Booking for Members opens at 11am on Monday 18 October 2021.

Non-Member and online booking opens at 11am on Monday 15 November 2021.

For details on how to become a Member to take advantage of early booking, see here
What is the course about?
We will start by playing a few easy jazz arrangements (all written notes to begin with) then we take our first steps into the uncharted world of jazz improvisation! But Chris will be with you every step of the way and he has a rock solid, nuts and bolts approach to this seemingly arcane world and before you know it you will be improvising in a totally authentic way and understanding how to approach various different styles of jazz.
What will we cover?
General music harmony, jazz theory, melodic composition, playing an improvised jazz solo in several different styles.
What will we accomplish? By the end of this course you will be able to…
Play a jazz solo in a variety of jazz styles.
What level is the course and do I need any particular skills?
No special knowledge required – but an interest in jazz will help and a playing ability of around Grade 4/5 minimum.
How will the course be taught, and will any preparation be required?
Mainly in a group but individuals will want to try the various techniques independently.
Will music be provided in advance of the course?
No, it will be provided by the tutor on the course.
Is there anything I need to bring?
Just your instrument!
What previous participants said about this course…
"Chris is the right man for the job. A good mix of skills for handling people who have different levels of musical knowledge and want to learn about improvising. I appreciated the fact he was happy to build in requests for help on particular topics (e.g. jazz voicing on the keyboard, saxophone techniques)."

"Brilliant course - Chris was fantastic, really understood how to introduce jazz and improvisation in manageable steps, enthusiastic and fun."

"A really fun experience that makes first steps into jazz playing easy and rewarding."

"A fantastic opportunity to pin point and overcome gaps in our individual experience and knowledge and then have a go at improvising across different styles of jazz in a really supportive environment."