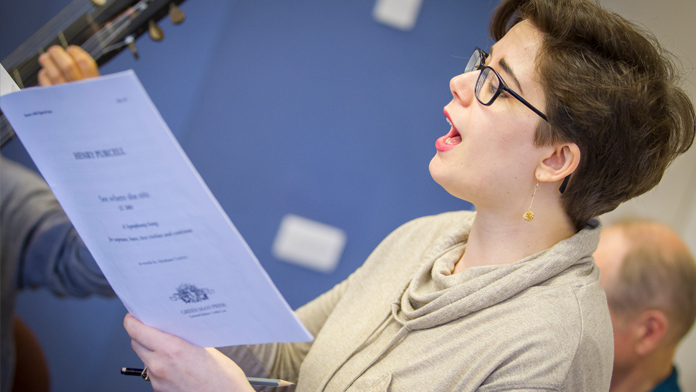 Concentrating on vocal repertoire of the period 1650-1750, this course will encompass all areas of technique, style and performance presentation.

STANDARD: SKILFUL

Resident: £453 Non-Resident: £345 (25% off for under 27s) Code: 21/333

Booking for Members opens at 9am on Monday 11 January 2021.

Non-Member and online booking opens at 9am on Monday 8 February 2021.

For details on how to become a Member to take advantage of early booking, see here.
What is the course about?
In the history of Western music, the Baroque period was arguably THE period for the greatest development of the human voice. From the extravagant floridity of "opera seria" to the delicate "sensibilité" of the French chamber cantata and the intimate pathos of English song, the repertoire offers a huge range of interpretative possibilities and technical challenges, which we will explore in depth. We hope to collaborate with the concurrent Baroque orchestra course during the free time. Singers: please bring instrumental parts for any music that you would like to perform.
Tutor website: www.nicholasclapton.com
What will we cover?
The entire gamut of European vocal music from c1650-1750.
What will we accomplish? By the end of this course you will be able to…
Students will acquire an increased knowledge of the possibilities of this vast repertoire, its particular technical demands and rhetorical language.
What level is the course and do I need any particular skills?
This is a course for advanced singers.
How will the course be taught, and will any preparation be required?
One-to-one practical sessions with the whole group present.
Will music be provided in advance of the course?
No, participants are requested to bring their own music. Participants are encouraged to explore repertoire beyond Handel/Vivaldi/Purcell/Rameau and other famous names – there is a truly enormous repertoire worthy of investigation.
Helpful resources: IMSLP has a wide range of parts and scores. Benslow Music members may be able to hire the music from our library.
Is there anything I need to bring?
Extra copies of your repertoire for both tutors.