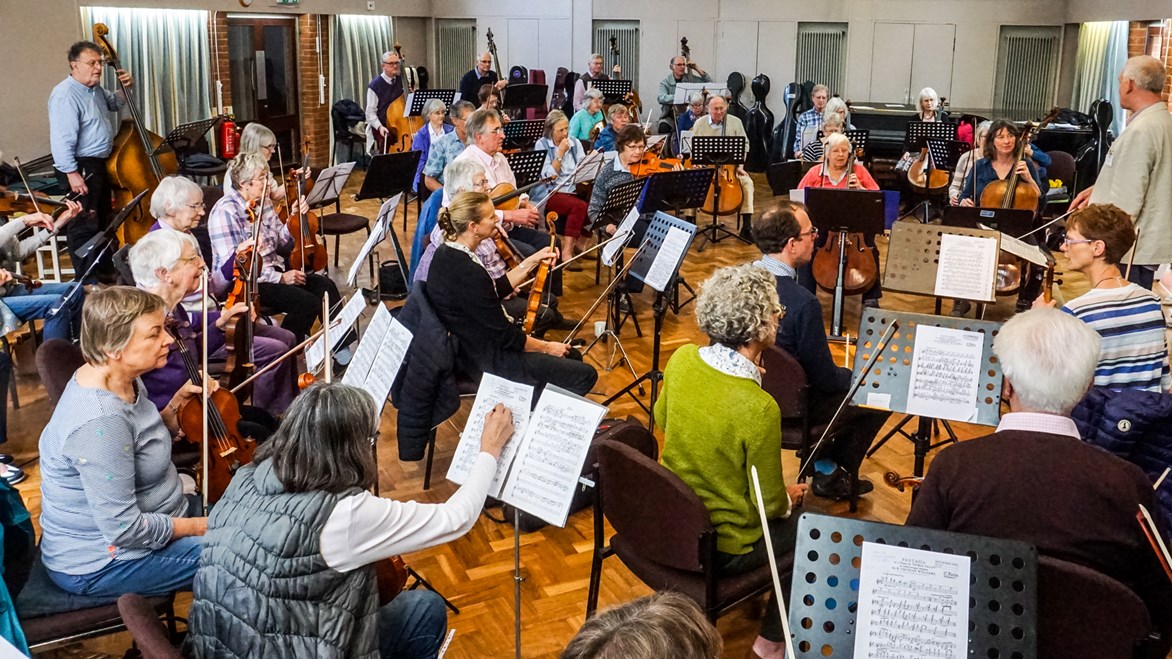 An intensive three-day course working on repertoire for String Orchestra, Wind Ensemble and Chamber Orchestra. The idea behind this course is to have a go, have fun and experience and enjoy the music.

STANDARD: IMPROVER, CONFIDENT, SKILFUL

Resident: £509 Non-Resident: £388 (25% off for under 27s) Code: 23/345

Booking for Members opens at 11am on Monday 27 February 2023.

Non-Member and online booking opens at 11am on Monday 27 March 2023.

For details on how to become a Member to take advantage of early booking, see here.
What is the course about?
Exciting young conductor Sam Scheer, and experienced viola player and orchestral tutor, Ruth Cohen are back by popular demand to lead this Chamber Orchestra Course. This time we will be working on Mozart Symphony No. 35, The Haffner. Parts for this work are available to download from the IMSLP website, so participants can download and practise in advance. We will also split the winds and strings and work on The Holberg Suite for Strings by Grieg, and a wind version of the Brahms St. Anthony Chorale Variations transcribed by Ray Thompson - for flutes, oboes, clarinets, bassoons, and horns, and trumpets can be included. Scanned parts will be available. Ruth and Sam are also happy to arrange and coach chamber groups in free time afternoons if there is demand.
What will we cover?
The focus will be on building the confidence of players as both individuals and string/wind ensemble and chamber orchestra members, to get to know some wonderful repertoire, and to develop a sense of camaraderie.
What will we accomplish? By the end of this course you will be able to…
Feel confident playing the chosen repertoire, to be able to engage with the group as an integral member of the orchestra and to celebrate the joy of making music together.
What level is the course and do I need any particular skills?
Improver, Confident, Skilful. You should be prepared to have a go, not be frightened to make mistakes and to have fun!
How will the course be taught, and will any preparation be required?
The course will be taught in wind, strings and full rehearsals and feedback and support will be provided throughout the course. Whilst there is no need for preparation in advance, players may wish to look at the music before the course to get maximum enjoyment during the course.
There may also be opportunities for chamber music or masterclasses - which Ruth and Sam will happily either play along with or help direct and coach.
Will music be provided in advance of the course?
Yes and downloadable from IMSLP.
Is there anything I need to bring?
Just you and your instrument!
What previous participants said about this course…
"Sam and Ruth were wonderfully patient and encouraging." "So much fun - I actually felt euphoric!" "One of the best courses I have ever been on." "I would strongly recommend this course - you will love it!"