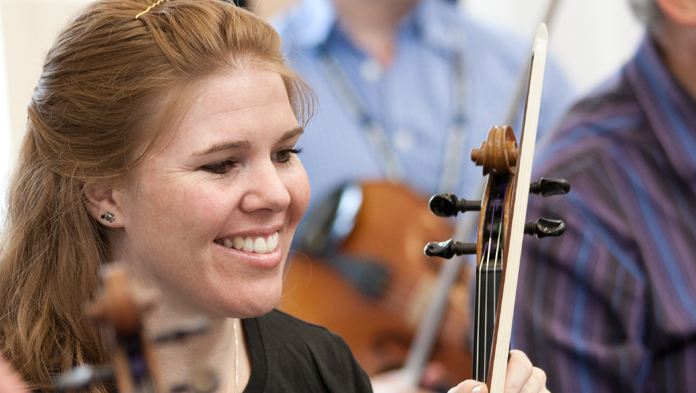 An opportunity to explore issues that stop you playing as well as you can: including physical tension; performance anxiety; or just the feeling that you want to express yourself better. A fun course looking at serious issues.

STANDARD: IMPROVER, CONFIDENT, SKILFUL

Resident: £339 Non-Resident: £246 (25% off for under 27s) Code: 23/223

Booking for Members opens at 11am on Thursday 1 September 2022.

Non-Member and online booking opens at 11am on Thursday 29 September 2022.

For details on how to become a Member to take advantage of early booking, see here.
What is the course about?
The course is an exploration of your relationship with your instrument. What drew you to it? What do you love about it? What do you hate? Does it give you pain? Let's see if we can do something about those aching muscles and that tension. We can do better than just making them go away. We can find the underlying reason so they don't come back! Does performing make you nervous? What symptoms do you get? Shaking? Paralysed? Hot? Cold? Distracted? We will look at these and how they can help us. Yes, help! Do you feel stuck with the notes on the page? Wish you could express them better? Wish you could express your musical self better? Let's do it! This course looks at all these issues. There is no set syllabus - it changes with the people there and what they need. The course is like a musical improvisation - with fruitful starting points and sound technique, but flexible and spontaneous, and able to explore emerging pathways thoroughly. It is tailored to your individual needs as they emerge. There will be some yoga, sometimes before breakfast! Please wear loose clothing and prepare a piece to perform.
Tutor website: www.freeyourplaying.com
What will we cover?
This depends partly on what issues and interests the participants bring. But we will certainly cover physical awareness and flexibility, mental attitudes to performing, performing ideals and dreams (and what stops you achieving them), performance anxiety, freedom from the printed page, and ensemble and listening skills.
What will we accomplish? By the end of this course you will be able to…
We aim to give each participant insight into their particular performing issues and the tools to deal with them in the future.
What level is the course and do I need any particular skills?
The course is for intermediate players upwards on any instrument or voice, especially those who would like to explore performing issues or expand their musical possibilities.
How will the course be taught, and will any preparation be required?
We will work as a group and individually. We will play together as a group, using our own instruments, voice, body, and instruments new to us.
There will be opportunity for individuals to play in front of the group in a safe performing space. The tutor will advise, suggest remedies to problems, and facilitate peer feedback.
It would be helpful if participants prepare something to play.
'Play' is an important element of the course more generally, as an antidote to much of the pressures and seriousness of performing publicly.
Will music be provided in advance of the course?
No, participants are requested to bring their own music.
Is there anything I need to bring?
Your own instrument and music. Loose clothing for some of the physical aspects.
What previous participants said about this course…
"I wanted help with performance nerves. I got that help and more! Martin did literally free up our playing, introducing a more playful attitude to playing our instruments."

"Martin is very skilled: addressing difficult personal issues with tact, insight and respect. I knew I would make progress on this course, and I did so, significantly."

"The tutor was amazing and he created a very safe environment."