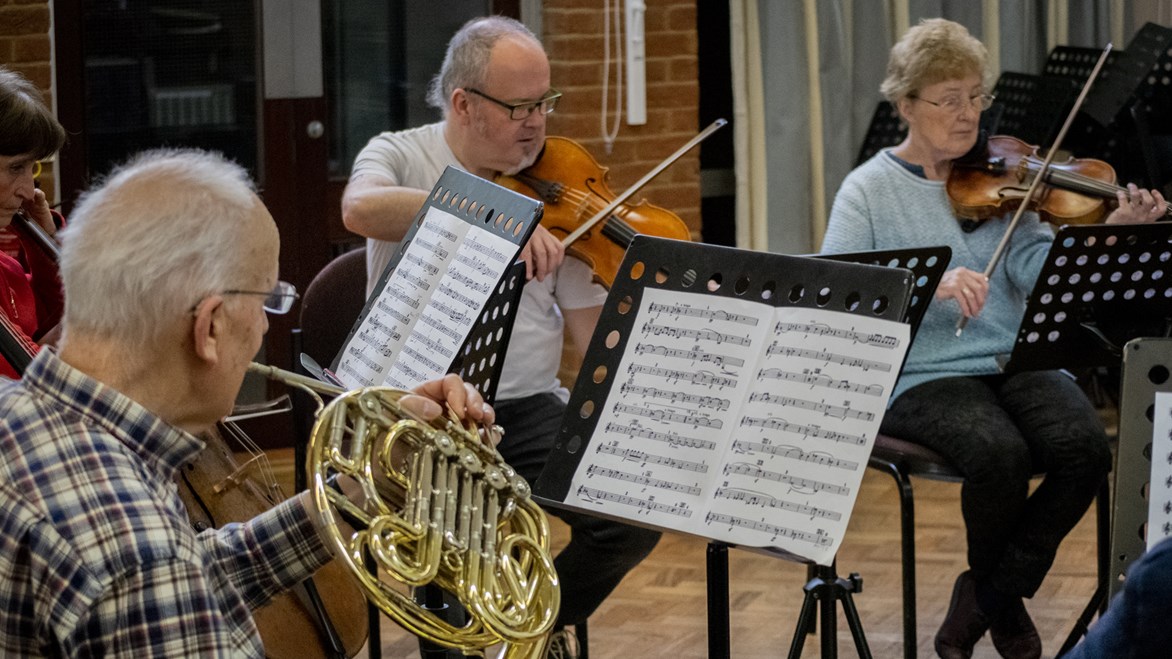 Requires enjoyment of sight-reading as well as reasonable skill levels, ability to keep going and enjoyment of exploring music one would otherwise not get to play. An inspiring course to share music with other pianists, string and wind players, and super tutoring to ensure everyone enjoys themselves.

STANDARD: SKILFUL

Resident: £453 Non-Resident: £345 (25% off for under 27s) Code: 22/R02

Booking for Members opens at 11am on Monday 23 August 2021.

Non-Member and online booking opens at 11am on Monday 20 September 2021.

For details on how to become a Member to take advantage of early booking, see here.
What is the course about?
Steve, Margaret, Nigel and Brenda return for another brilliant mixed chamber music course. As usual we seek flute, oboe, clarinet, bassoon and horn players, string players (including double bass) and pianists. Please apply as individuals even if you are bringing along with you a pre-formed group. Balancing this course can be tricky, so please be patient if we have to delay confirmation of your place. You are most welcome to suggest your own repertoire (please let us know what you would like to play when booking), but what we finally get to play will depend on who comes. In every session the tutors will programme several ensembles tackling both familiar and less well-known repertoire, sometimes with relevant follow-up sessions; therefore good sight-reading and solid ensemble confidence are required at a general playing standard of Grade 7 and above. If you have any queries about your standard please don't hesitate to get in touch.
Tutor website: www.stevebingham.co.uk
What will we cover?
Sight-reading, ensemble playing, rhythmic accuracy, musical interpretation, and more!
What will we accomplish? By the end of this course you will be able to…
You will explore a varied range of popular and unknown repertoire and improve your sight-reading skills.
What level is the course and do I need any particular skills?
Skilful
How will the course be taught, and will any preparation be required?
Pre-preparation of any chosen works, or works agreed in advance with the tutors. The course will be taught in groups of varying sizes with tutor feedback engagement.
Will music be provided in advance of the course?
Bring any own choice music and the rest is provided on the course.
Is there anything I need to bring?
Just you and your instrument!
What previous participants said about this course…
"Excellent as always - the tutors strike the right balance and give lots of encouragement and support which is ideal."

"Fantastic opportunity to play new (to me) chamber music repertoire for strings, wind and piano to a high standard. Steve Bingham masterminded the ensemble groupings with amazing skill. The tutors were excellent and inspiring."

"Good repertoire, wide variety and all enjoyable to play. The tutors all did whatever it took to help us through the pieces, including conducting and playing in the group."