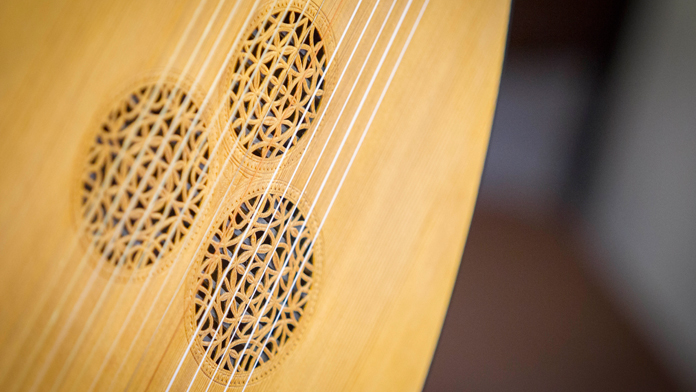 Plenty of opportunities to play at all levels of ability, and to socialise with like-minded early music enthusiasts.

STANDARD: LEARNER, IMPROVER, CONFIDENT, SKILFUL

Resident: £375 Non-Resident: £275 (25% off for under 27s) Code: 24/212

Booking for Members opens at 11am on Tuesday 29 August 2023.

Non-Member and online booking opens at 11am on Monday 18 September 2023.

For details on how to become a Member to take advantage of early booking, see here.
What is the course about?
Our annual Lutefest, organised in association with the Lute Society, gives lutenists of all standards the opportunity to explore the treasures of the lute and lute-in ensemble repertoire. We also welcome singers, renaissance flautists, recorder players and viols to enjoy non-stop lute songs, broken consorts and four-voice ayres with lutes. There will be ensemble and solo work, and individual teaching is offered – we'll be exploring choruses from English masques and court theatricals, plus easier music from the Spanish Cancionero del Palacio. Needless to say we can also more or less guarantee some ad hoc late night madrigal singing in the bar. Included in the course fee is a ticket to Fred Jacob's recital on the Friday and we are again offering the opportunity to extend the experience with an optional early arrival.
Tutor websites: Jacob Heringman Lynda Sayce Sara Stowe Matthew Spring
What will we cover?
Lute and lute-in-ensemble music of all kinds; our versatile tutors can offer tuition and coaching on any kind of lute-family instrument.
What will we accomplish? By the end of this course you will be able to…
Participants have lots of fun discovering new repertoire, playing unfamiliar lutes, and generally find the tuition and coaching extremely helpful.
What level is the course and do I need any particular skills?
Learner, Improver, Confident, Skilful
How will the course be taught, and will any preparation be required?
Individual lessons run in tandem with masterclasses, chamber playing, lute orchestra, and drop-in lutes, viols and voices class.
Will music be provided in advance of the course?
Plentiful music will be available on the course; for individual tuition participants tend to bring a piece they have been practising, and may bring favourite chamber works; music for lutes, viols and voice can by purchased commercially before the course, though will be provided anyway; some lute orchestra scores may be sent out as PDFs, though it will be provided anyway.
Is there anything I need to bring?
Bring just yourself, your instrument, music and an ambition to enjoy yourself!
What previous participants said about this course…
"Could not have been better. Inspirational, friendly, world class..."

"A good way to learn a huge amount in a short time and to meet like minded players."

"Inclusive, wide-ranging, exposure to many aspects of lute playing and renaissance music suitable for all levels of players."

"I thought the musical content was amazingly high, I was given masses of inspiration. The teaching too was inspired, extraordinary subject knowledge, patient and well-focused teaching."