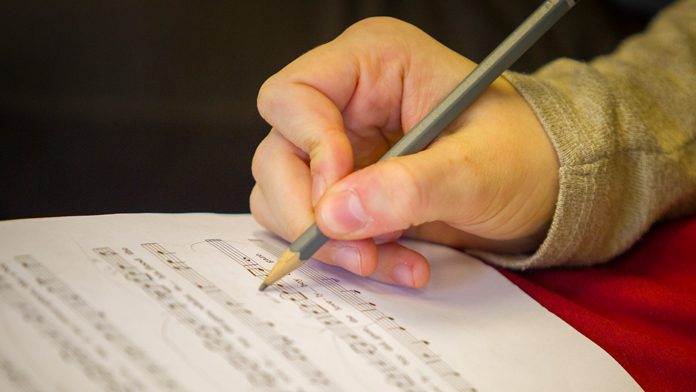 This course allows composer participants a window in their busy lives to get to grips with a particular compositional aim and to work it through with player participants on the concurrent course.

STANDARD: CONFIDENT, SKILFUL

Resident: £440 Non-Resident: £335 (25% off for under 27s) Code: 21/319

Booking for Members opens at 9am on Monday 12 October 2020.

Non-Member and online booking opens at 9am on Monday 9 November 2020.

For details on how to become a Member to take advantage of early booking, see here.
What is the course about?
We're delighted to welcome back the charismatic and internationally-recognised composer Simon Holt for this intensive course focused on composition. Simon will offer his unique input in a friendly and mutually supportive atmosphere. Participants are asked to bring along works-in-progress, as well as examples of previous work. Any pre-course preparation will be specified in good time, if any, and we hope to collaborate with the concurrent course so you can hear your music played by fellow amateur musicians. If you are able to bring an instrument with you, please let us know.
What will we cover?
The course is geared entirely to the needs of the participants and this will be discussed with you on arrival. You will learn how to work towards finishing a piece in a safe, non-threatening, non-competitive and non-judgmental environment; a place to make mistakes and learn from them.
What will we accomplish?
By the end of the course you will be able to finish a piece when up against a tight deadline and up to a professional standard. You will have opened some doors in your imagination that you hadn't considered before.
What level is the course and do I need any particular skills?
The course is aimed at composers of an upper intermediate to advanced knowledge of music with a strong musicality and some grounding in music theory. An ability to write out scores and knowledge of instruments is preferable, although we will be working with players participating on the course running concurrently and as such there will be opportunities to work with them on techniques.
How will the course be taught, and will any preparation be required?
It all rather depends on how many are in attendance on the course as to how events proceed, but it is to be hoped that, for the most part, the participants will be working towards having the piece(s) they write on the course rehearsed and performed by the end of the three or so days. I shall give feedback as and when and will invite the other participants to join in with that process.
Will music be provided in advance of the course?
No, but if participants wish to play either their own pieces or pieces that they think might be of interest to the others on the course, then it is to be encouraged that they bring cds and scores of said pieces.
Is there anything I need to bring?
Recordings of past pieces and scores if possible. A computer with composition software capable of making pdfs of parts and scores, in order that the pieces written can be rehearsed and played on the course, with minimum fuss. But, pencils and paper are still valid!
What previous participants said about this course…
"The course was engaging, and inspiring. I thoroughly enjoyed the time spent with Simon, and the other composers. I've come away from it with newfound inspiration to compose."

"Simon's style and overall enthusiasm is very helpful."

"It was illuminating to be exposed to contemporary music that I would not normally come across or be attracted to."