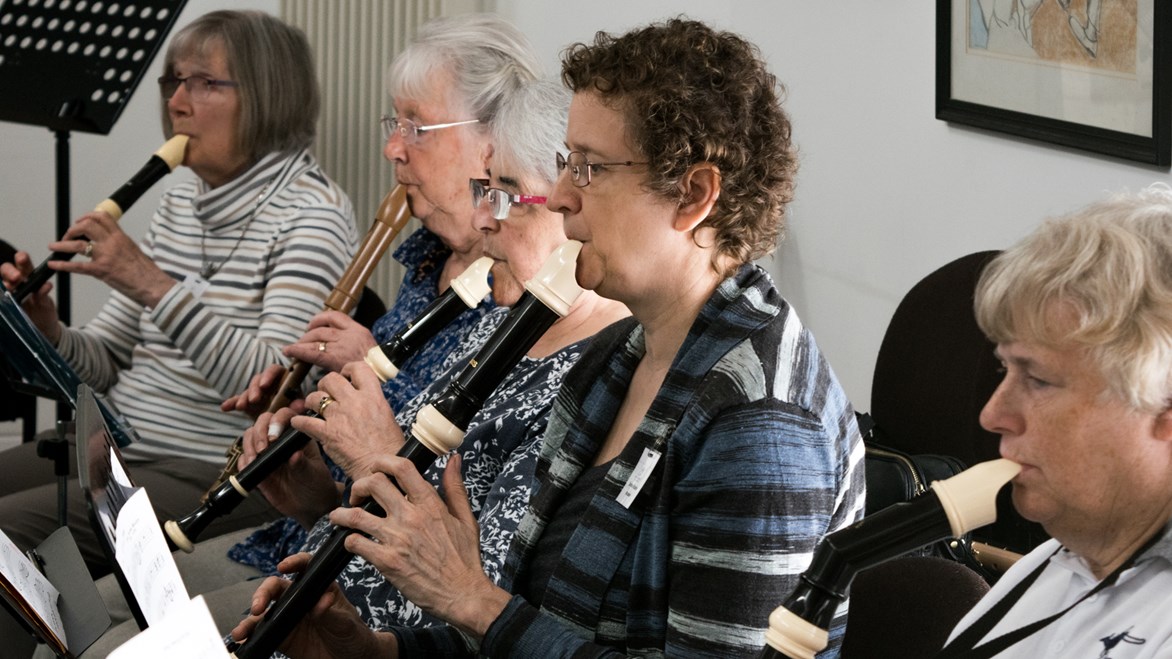 Come and enjoy Springtime Recorders! Intermediate ensemble, one to a part playing and group technique sessions all delivered in supportive, fun sessions.

STANDARD: IMPROVER, CONFIDENT

Resident: £520 Non-Resident: £395 (25% off for under 27s) Code: 24/313

Booking for Members opens at 11am on Tuesday 29 August 2023.

Non-Member and online booking opens at 11am on Monday 18 September 2023.

For details on how to become a Member to take advantage of early booking, see here.
What is the course about?
Alyson Lewin returns to Benslow Music together with colleague Caroline Jones for another confidence building course designed to offer sympathetic and helpful teaching across the broad-range of recorder repertoire. You should be of intermediate standard and above, a reasonable sight reader and competent at playing at least two sizes of recorder (please specify when booking which sizes you will bring). There will be several opportunities for one-to-a-part playing: please feel free to bring music for these sessions, and all other music will be provided.
What will we cover?
Ensemble playing covers music from the medieval period through to the 21st century, whilst also delivering good ensemble playing technique. Technique sessions are based around one baroque trio sonata covering topics such as breath control, finger technique, tonguing, phrasing and ornamentation.
What will we accomplish? By the end of this course you will be able to…
To approach a wide range of music in a more informed manner with the knowledge to interpret the music and the technical ability to work on a piece and improve it.
What level is the course and do I need any particular skills?
Improver, Confident
How will the course be taught, and will any preparation be required?
The course will be delivered by practical group work. No preparation is required.
Will music be provided in advance of the course?
No, music will be provided by the tutors on the course.
Is there anything I need to bring?
Recorders, especially the larger instruments for ensemble playing.
What previous participants said about this course…
"Interesting having tutors with different presentation styles. Relaxed and informative sessions."

"The mix of pieces played was interesting and varied both in style and difficulty. The tutors gave useful tips for breathing and playing."

"The tutors were both excellent and extremely supportive. I feel that I have learned a lot from the course and increased my confidence when playing with others. The small group, one to a part, sessions were also useful and tutors supported groups well. My thanks to both tutors; they are excellent."