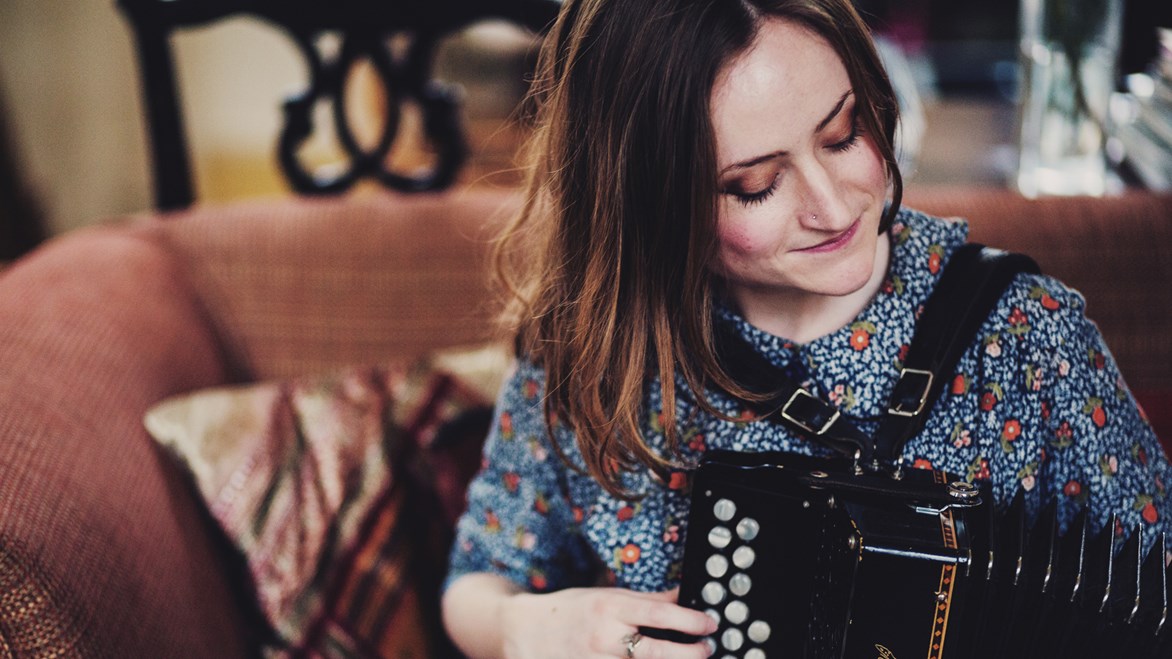 A chance to delve into the rich traditions of English folk song, covering stylistics, learning by ear, harmonisation and context, as well as collaborating with instrumentalists on the folk music course.

STANDARD: IMPROVER, CONFIDENT, SKILFUL

Resident: £450 Non-Resident: £345 (25% off for under 27s) Code: 21/303

Booking for Members opens at 9am on Monday 12 October 2020.

Non-Member and online booking opens at 9am on Monday 9 November 2020.

For details on how to become a Member to take advantage of early booking, see here.
What is the course about?
There are a wealth of traditional English folk songs, from lyrical tales of love and loss to ancient dark ballads, jolly tales of sailors and pirates to fantastical tales of the supernatural. Spend the course finding your inner folk singer and exploring stylistic techniques, listening to archive recordings of traditional singers and creating your own vocal harmonies. Workshops will be taught as a class with lots of opportunity for working in smaller groups and learning useful tools for solo singing, and we'll be working alongside the folk courses so there will be the chance for collaboration. No previous experience of singing folk songs is required and songs will be learnt by ear with texts provided. The fee also includes entry to the tutor concert on the Wednesday evening.
The course will be taught by singer, musician and workshop leader Hazel Askew. She has worked as a performer on the folk scene for many years, most notably with BBC Radio 2 Folk Award nominated vocal trio Lady Maisery and traditional English folk duo The Askew Sisters. She was also part of 10 piece female supergroup Songs of Separation, who recently won Best Album at the 2017 BBC Radio 2 Folk Awards. Hazel is a committed folk educator and often leads projects for the English Folk Dance and Song Society's adult, youth and schools programmes She has also led workshops and courses for organisations including BBC Proms, Barbican Creative Learning, Shakespeare's Globe Theatre, Folkworks, Soundpost Music, Aldeburgh Young Musicians, Dartington Summer School, Benslow Music, Morley College and various festivals around the country.
Tutor website: www.hazelaskew.co.uk
What will we cover?
Together we will learn a range of different styles of traditional songs from England and connected traditions, delve into the history of folk songs and their social context, learn stylistic techniques and experiment with harmonisation, as well as collaborating with instrumentalists on the folk music course in creating an arrangement of a folk song.
What will we accomplish? By the end of this course you will be able to…
Sing a range of folk songs by ear (with lyric sheets), understand the history of the folk song collectors and the social context of some songs, have a go at making your own harmonies for traditional songs, use certain tools and techniques to arrange and edit your own folk songs for voice or with instruments, and research your own folk songs and know how to approach them.
What level is the course and do I need any particular skills?
For Lower/Upper Intermediate and Advanced levels
No prior experience of singing folk music is needed for this course and it's open to everyone who is comfortable using their singing voice and wants to explore using it in a folk style.
How will the course be taught, and will any preparation be required?
The course will be taught by ear with lyric sheets available and participants will be encouraged to make their own recordings of songs is desired. We will primarily learn songs initially as a group, before delving deeper by listening and analysing recordings of traditional songs, and learning about ornaments and other stylistic techniques. There will be chances to work in smaller groups or possibly solo, as well as collaborating with the folk instrumentalists on the folk music course. There will be chances to get feedback from the tutor. No specific preparation is required before the course.
Will music be provided in advance of the course?
No, it will be provided by the tutor on the course.
Is there anything I need to bring?
It will useful to have a recording device to keep a record of the melodies, as well as a notebook and pen.
What previous participants said about this course…
"A good way to get to know English folksong better and to grow in confidence in singing it, as well as enjoying it through conjunction with the instrumental and dance courses."

"Hazel was excellent, attentive and thoughtful, with a lovely voice."