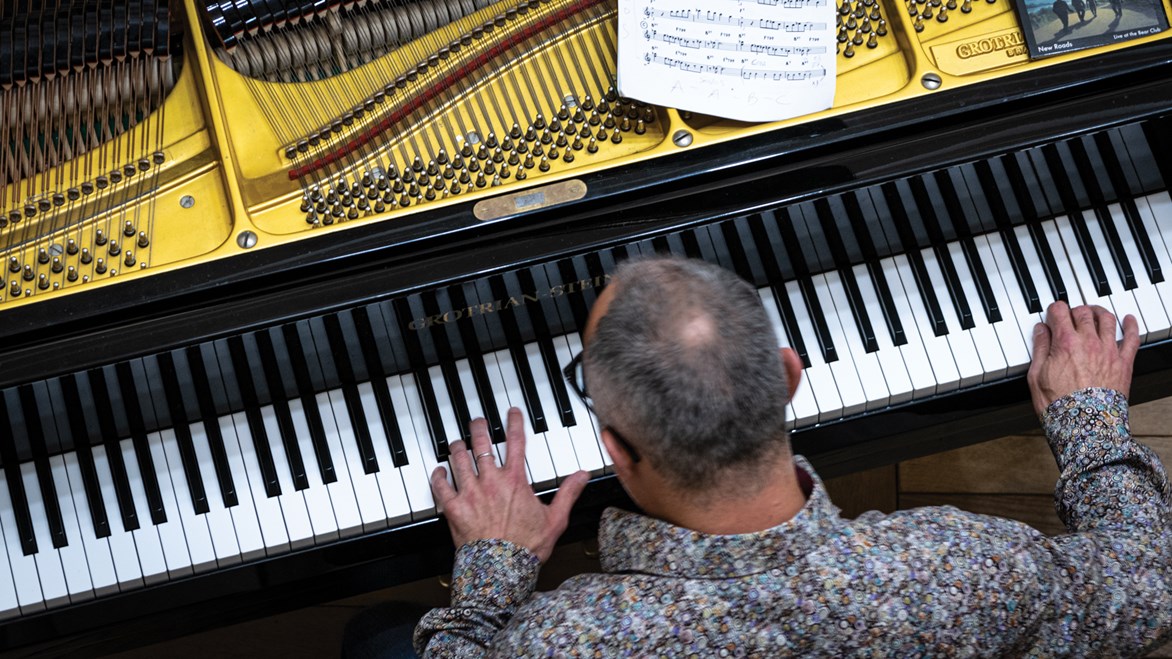 Explore the sonic landscape of Blues. Learn in-depth about tunes from through ensemble workshops, listening sessions of classic recordings, and instructor demonstrations.

STANDARD: IMPROVER, CONFIDENT, SKILFUL

Resident: £310 Non-Resident: £225 (25% off for under 27s) Code: 21/206

Booking for Members opens at 9am on Monday 12 October 2020.

Non-Member and online booking opens at 9am on Monday 9 November 2020.

For details on how to become a Member to take advantage of early booking, see here.
What is the course about?
International jazz pianist and composer Marco Marconi leads another course offering all instrumentalists the opportunity to develop their relationship with this spectacular genre of music. He will introduce participants to the fascinating world of blues and teach how to improve your improvisation using pentatonic and blues scales. Not many people know how stunning a solo can be when made using just five notes of the pentatonic scale. Marco will take you on an unforgettable journey from its origins in the Deep South of the United States to the present day. A weekend not to be missed!
Tutor website: www.marcomarconi.com
What will we cover?
This course will introduce participants to the fascinating world of blues and use these pieces as a means to develop each student's style and knowledge as a jazz improviser and accompanist.
What will we accomplish? By the end of this course you will be able to…
By the end of this course students will have a deeper understanding of blues and have more confidence as a jazz improviser and ensemble player.
What level is the course and do I need any particular skills?
Improver, Confident, Skilful.
How will the course be taught, and will any preparation be required?
Students will play with one another in ensembles coached by the course tutor and will also have the opportunity to play directly with the tutor as well. In addition, there will be listening sessions of classic and modern recordings of this music to give students a wider perspective of how this music can be played. Students will also get a chance to hear the course tutor demonstrate examples of different ways to improvise over these pieces.
Will music be provided in advance of the course?
Yes, it will be available on this website
Is there anything I need to bring?
Just bring your instrument.
What previous participants said about this course…
"The course was fun, relaxed and very friendly."

"Excellent: the tutors were enthusiastic and took a personal interest in us."

"An opportunity to improve your harmony and improvisation skills; to play with other musicians of varying standards both in formal and informal sessions and to socialise out of hours with course attendees and tutors."

"Relaxing and stimulating environment, comfortable yet demanding on your skills."