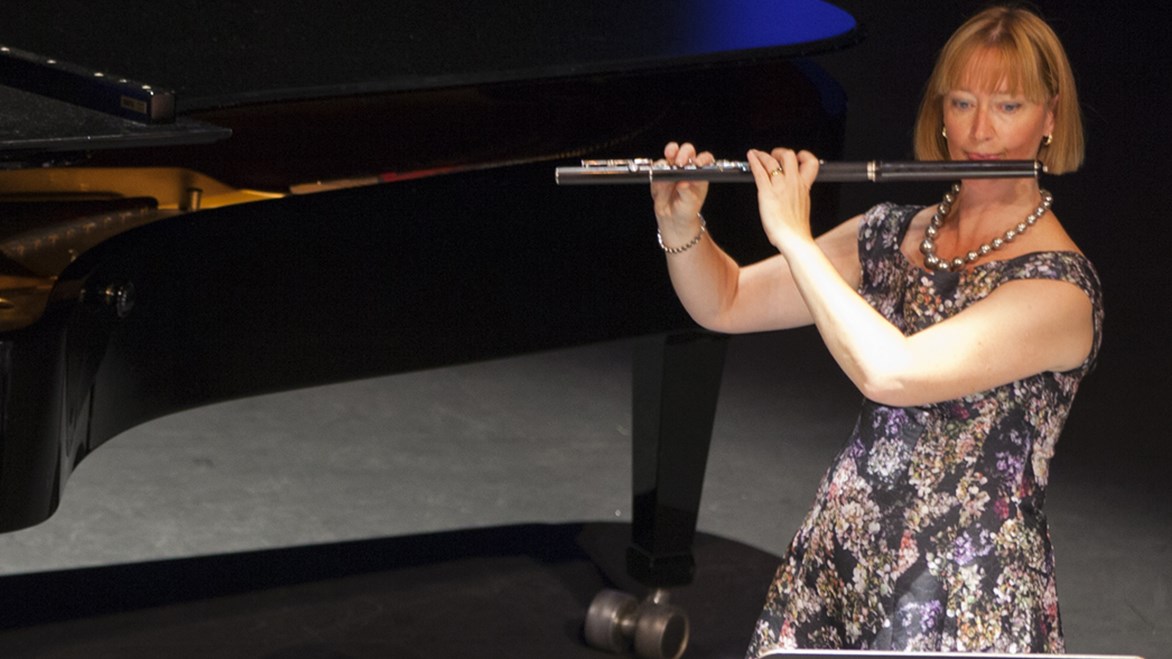 Log-in daily for online open classes, followed by an individual lesson based on key French repertoire for solo flute.

STANDARD: LOWER/UPPER INTERMEDIATE, ADVANCED

Fee: £275 (25% off for under 27s) Code: 20/OL50
What is the course about?
A five-day online flute course for baroque and modern flautists, looking at key repertoire for solo flute from France, including Marin Marais – Les Folies, Boismortier - 6 Suites, Debussy - Syrinx, Ferroud - Trois Pièces, Honegger - Dance de la Chevre and Ibert - Pièce. In the course we will explore both modern and baroque flute techniques including tone, expression, ornamentation and phrasing, some flute makers and their influence and discover what became known as the 'The French Flute School'.
Each day will start and finish with a group log-in to Zoom Meeting room for flute warm-ups, technical advice, demonstrations, listening and discussion. Work sheets and guidance for each day will be circulated before and during the course via email.
There will also be a daily 30-minute one-to-one session with the tutors and the final day will include masterclasses and a chance for individual 'concert' performances.
Elizabeth Walker performs regularly on baroque, 8 keyed and modern flutes, primarily in orchestras based in the UK, and has given solo recitals in festivals and conventions in Holland, Toronto, Chicago and Orlando, Switzerland and throughout the UK. She teaches at the specialist music school in Wells and runs an annual flute course in Tuscany (www.flutesintuscany.co.uk) which offers tuition, masterclasses and chamber groups to talented young flautists and adults. She is an Artist with Pearl Flute Europe.
She has arranged and recorded music for flute and piano, including her highly successful 'Four Strauss songs' published at Alry Publications; and has written two award winning study books, 'Baroque Flute Studies' (Winner – Best Flute Method NFA 2015) and 'Baroque Studies for Modern Flute' (Winner – Best Flute Method NFA 2017) available from wonderfulwinds.com.
Elizabeth has recorded the Telemann 12 Fantasias "…if you like her sound as much as I do, you will want to listen to …Elizabeth's recent recording of Telemann Fantasias… over and over again".
BRTISH FLUTE SOCIETY Journal – PAN and the Flute Sonatas by J.S. Bach for Quartz Music https://quartzmusic.com and Schubert's works for flute and piano for the record label Devine Music https://www.devinemusic.co.uk using her original Louis Lot flute, no 435, coupled with Chopin's Pleyel piano dating from 1848.
For more information and links to Elizabeth's YouTube recordings can be found at www.lizwalker.co.uk.
Sarah Murphy is a flautist, composer and music facilitator based in Northern Ireland. Elizabeth and Sarah met and studied together at the Royal College of Music as a junior exhibitioner and then at Guildhall School of Music and Drama.
Sarah has a portfolio career working as an international performer, workshop facilitator and music consultant and increasingly as a commissioned composer.
As a performer Sarah has a varied career playing classical flute as a chamber musician and freelance orchestral flautist and in addition has played a variety of ethnic flutes as part of contemporary and world music groups. Sarah works with Arts Council Ireland as a Creative Associate Artist for their Creative Schools programme. She has a private practice in Derry Northern Ireland, is the Flute tutor for University of Ulster and teaches annually on the Flutes in Tuscany summer course.
In 2010 Sarah co-founded Wall2Wall Music, a music company which designs and delivers creative music workshops based around collaborative composition and performance. Her most recent project is a Per Cent for Art commission funded by the department of education and skill in Ireland which involves exploring Global citizenship with the children of Scoil San Phroinsias in Galway and creating new music with them. The performance was due to take place in Galway in June 2020 and due to the current school closures has been reimagined into an online virtual project.
Tutor website: www.lizwalker.co.uk / www.sarahmurphy.org.uk
What will we cover?
Basic flute techniques, useful warm-ups and breathing exercises, tonal colours, baroque style, French style and interpretation, use of Zoom technology.
What will we accomplish? By the end of this course you will be able to…
Through studying these great pieces, you will be able to interpret and perform French solo flute music with a sense of style and flair. All flautists can dip in and out of all the listed repertoire pieces or choose to focus on just one solo.
What level is the course and do I need any particular skills?
This course is suitable on baroque and/or modern flute, although a recommended minimum Grade 5 on modern flute would be ideal.
How will the course be taught, and will any preparation be required?
Be familiar with at least one piece from the repertoire list before commencing the course.
Will music be provided in advance of the course?
Participants are requested to download or own a copy of the music. We recommend the following editions:
15 Flute Solos from the 20th century (contains the Debussy/Honegger/Ferroud) DF01591300
Marin Marais Les Folies – BA3311
Boismortier 6 Suites – Schott FTR15
Ibert Pièce – AL19306
Is there anything I need to bring?
A flute and access to a computer or laptop with a built-in microphone/speaker and camera.
What previous participants said about this course…
"An excellent course, which has opened my mind in all sorts of ways to Baroque music and the period. Both Liz and Sarah were very supportive, encouraging, immensely knowledgeable and fun!"

"A unique way to explore music through technological connectivity. A mix of group activities, warm ups, analysis and individual lessons with inspirational tutor. A chance to perform too.

"This proved to be a really effective way to learn due to the lively and interactive tutor Liz and fellow international participants. A truly shared experience. The Telemann fantasias were completely brought to life this week and the time spent exploring them together very special (social and supportive)."

"Liz Walker was fab and the course content perfect for me. It was also good to have the second tutor, Sarah Murphy, for a different perspective."

"This is proving a great way to learn. Great escapism too!"