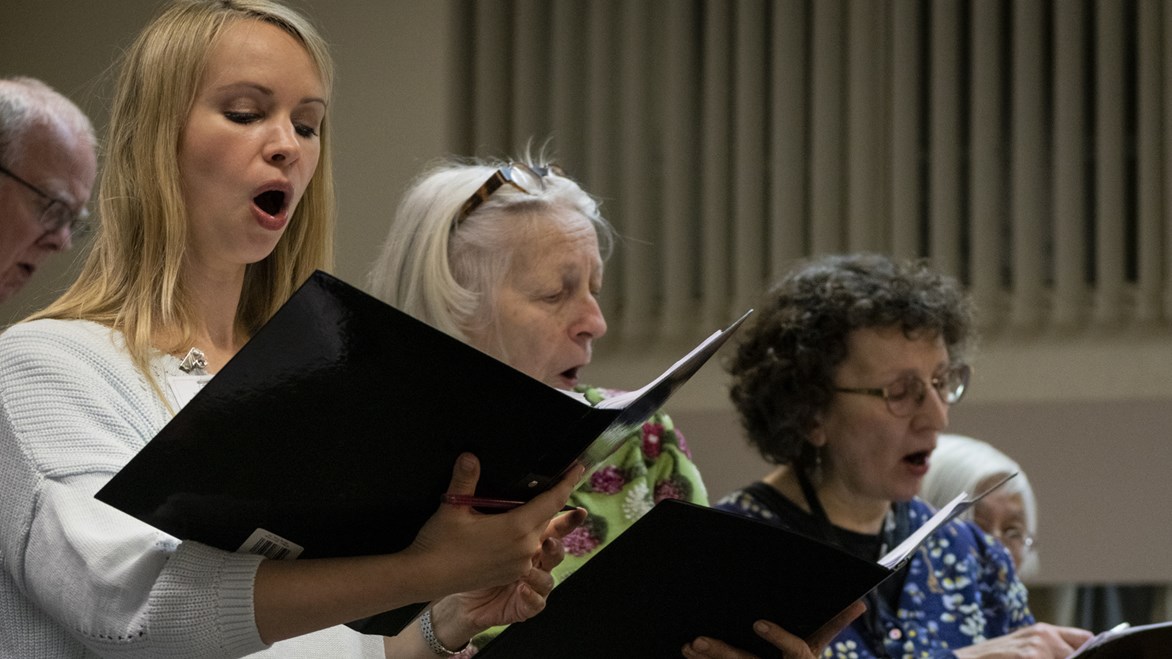 Discover Bach's St John Passion, with conductor and musicologist Joseph Fort. Joseph will introduce you to the fascinating inner musical workings and rich history of this eighteenth-century masterpiece. Whether you have sung this piece a hundred times or never heard it before, this course will shed new light and introduce new features to hear in this wonderful music.

STANDARD: ALL

Fee: £120 (25% off for under 27s) Code: 21/OL76
What is the course about?
The St John Passion by Johann Sebastian Bach is surely one of the great compositional masterpieces of the eighteenth century. Written in part to 'prove himself' shortly after his appointment as Cantor of Leipzig's Thomaskirche, Bach's music here is not only deeply moving but also ingenious in its compositional construction, with various symbolic aspects hidden within the score. In this online course, conductor and musicologist Joseph Fort will offer an in-depth guide to The St John Passion, showing many musical features that you can listen out for, as we listen to a recording of the work. Singers are welcome to sing along at home!
We will also explore some of the music and culture that inspired Bach's composition of this work, together with some of the models that he drew on. We will consider the text that Bach sets. We will also look in depth at the circumstances of the first performance, and will consider reception history ever since, which cemented Bach's fame and popularity across Europe and beyond.
For those who know and love The St John Passion, this course will introduce some new ways of listening to this music and some new insights into its history, and for those who know it less well it will provide a clear guide to this masterpiece.
Tutor website: www.josephfort.co.uk
What will we cover?
In-depth guide to the music of Bach's St John Passion;
Comprehensive history of St John Passion's composition and its influences;
Exploration of early performances of St John Passion and the performance traditions of which these were a part;
Singing the music of Bach and his contemporaries.
What will we accomplish? By the end of this course you will be able to…
Have a deeper knowledge of The St John Passion's musical workings, and be able to recognise particular musical features in the work;
Know much more about historical performances of The St John Passion and consider how this knowledge might inform ways in which we perform the piece today;
Singers will have aspects of their performance developed (depending on each individual performer—e.g. stylistic elements, linguistic elements, etc.).
What level is the course and do I need any particular skills?
Although this course is aimed at choral singers who can read music and may well have sung The St John Passion, it also aims to be accessible to any individuals who enjoy listening to music and want to learn more about it. The ability to read music is needed to engage fully with the course, although much of the content (e.g. the historical side) does not need this.
How will the course be taught, and will any preparation be required?
The course will be taught online via Zoom, with two sessions of 1.5 hours per day. On each day there will be a 50:50 split between discussion of the work's music and its history. There will be opportunities for questions throughout.
Participants would do well to listen to a recording of The St John Passion beforehand, to (re-)familiarise themselves with the music.
Will music be provided in advance of the course?
A vocal score can be downloaded in advance from:
https://ks4.imslp.info/files/imglnks/usimg/e/e3/IMSLP28900-PMLP44395-Bach_-_Johannes_Passion,_BVW245_-_vocal_score.pdf
Is there anything I need to bring?
Access to a computer with a built-in microphone and camera. Participants who are using their own personal vocal score might also want to have a pencil nearby, to mark points of interest!
What previous participants said about this course…
"A lovely balance between listening to the information and listening to the music and also the chance to sing along. I have learned such a lot about Brahms himself and the Requiem, which is one of my favourite choral pieces. There was such a lot I did not about the work and I found the analysis of the score absolutely fascinating and eye-opening."

"Very knowledgeable tutor who also has a clear voice with excellent diction. The pace of the course was just right as was the balance between talking and singing/ listening."

"Serious expertise put over in a very accessible and friendly way. A good balance of talking (with illustrations) and music."

"Joe is an excellent tutor; knows how to 'balance' each session - and knows his topic inside out!"

"The three days passed very quickly. Joe is an excellent presenter. His delivery and pacing of the content were excellent and the sessions were a well balanced mixture of musical analysis, historical background, visual aids and anecdotes. I have learned so much about this work."

"An excellent presenter and a very well-paced course. Despite the wealth of information it never felt hurried or stressful."

"It gave me information about musical composition as well as giving wonderful insights into Haydn's works and The Creation in particular. The style of tuition was the right pace with plenty of time for interaction."

"A very stimulating mix of music analysis, historical information about the music of the time and the composer putting the piece in a wider context as well as interesting anecdotes. A wonderful combination of depth and breadth. Also suitable for non-singers (at least in the online form)."