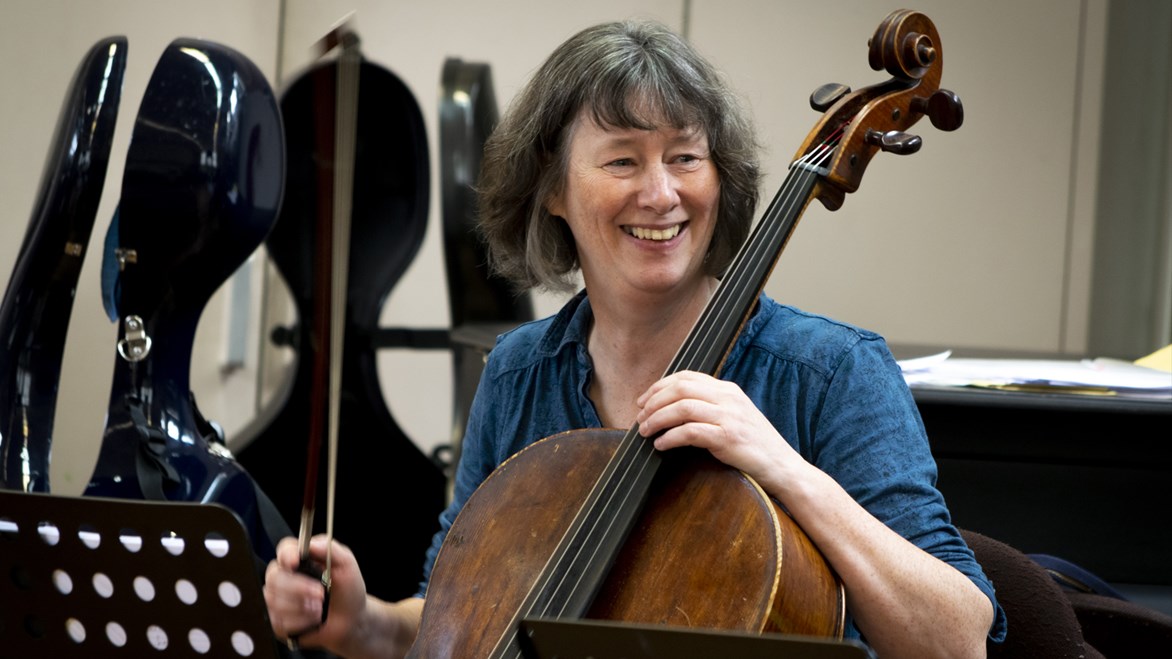 This is an online cello course for all levels. It is aimed at cellists who would like a structured timetable of online lessons and courses over a four week period.

STANDARD: ALL

Fee: £420 (25% off for under 27s) Code: 21/OL50
What is the course about?
The course is an opportunity to focus on your cello playing in a supportive and structured way. There is the additional benefit of learning from others as a cello community under the careful guidance of experienced tutor, Jenny Curtis. It will consist of two weekend online courses (1-2 May 2021 and 29-30 May 2021) at either end of a four week period. Between these more intensive weekends there are three individual lessons and three group Q&A sessions. There will be a total of seven individual half hour lessons during the online course.
What will we cover?
The course will be tailor-made for the participants. For this to be effective it will be helpful to know what pieces and scales you are studying at the moment, what aspects of playing you find difficult, how long you've been playing and how fluent you are at reading music.
What will we accomplish? By the end of this course you will be able to…
At the start of the course we will establish what each person wants to achieve over the four week period. You will then be given constructive guidance of how to achieve your aim with specific practice techniques and exercises. Each participant will also have one or two pieces to work on during the course. Jenny will help each participant to choose their pieces unless you have specific pieces you wish to play. There will be regular contact with Jenny in the form of online individual lessons and a Q&A forum each week.
By the end of the course you will notice an improvement in specific techniques and have an understanding of how to practice constructively. There will also be an opportunity to perform the pieces you have worked on in the final weekend course if you wish.
What level is the course and do I need any particular skills?
All levels.
How will the course be taught, and will any preparation be required?
We will start with a weekend course. Each day will have the same format. there will be two one hour sessions in the morning working together as a group going over cello technique, practice technique, preparation for exams/performances, scales etc. Later in the day each participant will be given a half hour individual lesson.
At the end of each day there will be an hour as a group to cover any additional material and questions that may arise. After the initial weekend course there will be a weekly half hour individual lesson arranged at a mutually convenient time and a weekly group Q&A session to discuss how things are progressing. The course will conclude with another weekend together online in the same format as the first weekend.
For preparation for the course Jenny will need information on what you are playing at the moment and what you would like to improve in your playing. This will enable Jenny to assess which technical exercises we will explore on the weekend courses.
Will music be provided in advance of the course?
Jenny will provide details of technical exercises etc to be covered in the group technical sessions one week prior to the start of the course.
Is there anything I need to bring?
Your instrument, access to a computer/laptop/tablet/phone with a built-in microphone/speaker and camera, and a stable broadband connection is ideal.
What previous participants said about this course…
"Very friendly, always helping you to play better in a constructive way, lots of fun!"

"Jenny is 24 carat, full of helpful advice and makes anything seem possible."

"Brilliant! Jenny Curtis is a quite outstanding teacher. The music was very well chosen and enjoyable to play with the right amount of difficulty to keep us all on our toes. I loved every minute of the course."